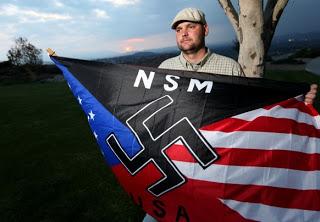 The Washington Post reports
The 10-year-old son of a neo-Nazi leader told his younger sister that he planned to shoot their father, then a day later took a gun from his parents' bedroom and fired one bullet into his father's head as he slept on a couch, a prosecutor alleged Tuesday.
The boy's father, Jeff Hall, was an out-of-work plumber who as regional leader of the National Socialist Movement headed rallies at a synagogue and a day labor site.
In opening statements at the murder trial, Riverside County prosecutor Michael Soccio dismissed the notion that Hall's neo-Nazi beliefs contributed to his son's behavior, as the defense maintains, and instead said the boy, now 12, was a violent child who had been kicked out of every school he attended.
Defense attorney Matthew Hardy countered in his opening statement that his client had grown up in an abusive and violent environment and was conditioned to believe it was right to kill people who were a threat.
Hall taught his son to shoot guns, took him to neo-Nazi rallies and once to the Mexican border to teach him how to "make sure he knew what to do to protect this place from the Mexicans," Hardy said.
"If you were going to create a monster, if you were going to create a killer, what would you do?" he said. "You'd put him in a house where there's domestic violence, child abuse, racism."
Hardy also claimed the boy's stepmother Krista McCary, who is expected to testify, goaded the boy into killing Hall because Hall was planning to leave her for another woman. Hall sent her text messages on the night he was shot saying he would divorce her, Hardy said.
Fortunately for the boy he lives in California, a civilized state, where juvenile crimes are handled in juvenile court. It's only too bad that spending the rest of his youth in a maximum security facility will only make him worse. I don't see much hope for him.
The gun was unsecured in the bedroom. Do you think that was a factor?  I do.
Please leave a comment.