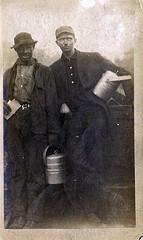 photo : Janet Lindenmuth
Well, the mighty men and mining musems aren't actually in Murau – but are in the Murau region. At Predlitz – Turrach to be more precise. In case you're wondering, this is just along the Mur river valley from Murau, at the foot of the towering Turracher Höhe.
Historical Iron
Way back in 1256, Ulrich von Liechenstein held the sovereign right to mine in the Murau district (which included the area around Turracher Höhe). It looks like he never actually did anything with it though!
From 1657 there is evidence that prospecting for copper ore began and in 1662 the first tappings were performed. Business built gradually until the Napoleonic Wars added a spark of light and ignited business big time during the first 2 decades of the 19th century. New technologies and streamlined working methods saw an explosion of activity in iron production.
Murau's mighty men
The mighty men of Murau district – about 60 in total – only mined in winter, yet also manned Styria's largest iron smelting facilities, which were also Europe's most modern!
Lugging bags of coal up to the furnace posed a problem, so mining activity was understandably curtailed when other needs dictated.
But all good things come to an end and so it was with Murau mining. A downturn in the economy coupled with rising coal costs and taxing transport tarrifs, resulted in the furnace finally being shut in 1909.
Mining of other minerals like high grade anthracite coal continued until the 1950′s and '60′s, but by the end of the 20th century all that was left of  Murau mining was a museum or two.
Murau's Mineral and Mining Museums
In 1960 a tiny mineral museum (privately owned) was established, 'Alpin+Art+Gallery', which grew over time and remains to this day. In Turrach, at the foot of Turracher Höhe,  the 'Holz und Eisen' Museum hosts exhibitions related to mining in the area. Other artefacts of the industry can be seen in the 'Eisenhaal' at Castle Murau.
Tourism is now the trade of the Turracher Höhe!