The little man is still rear facing in his car seat so obviously when I'm driving I can't see what he's up too. We've used a plain mirror attached to the rear seat for as long as I can remember so I knew he was safe and watch his cheeky little face. I was recentlysent the Munchkin Magical Firefly mirror to try out. It's a much better upgrade to the one we were using and has many more features than the plain mirror we were using before.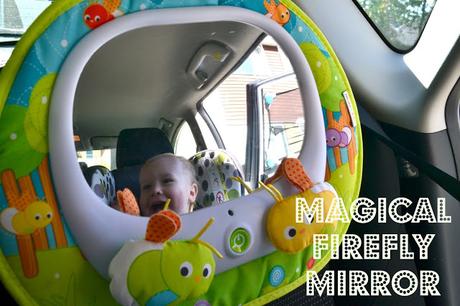 The mirror attaches easily to the rear seat and keeps your little person entertained whilst allowing you to keep a watchful eye.
It fixes quickly and easily over the head rest of the seat and is secure with no excessive shift or movement.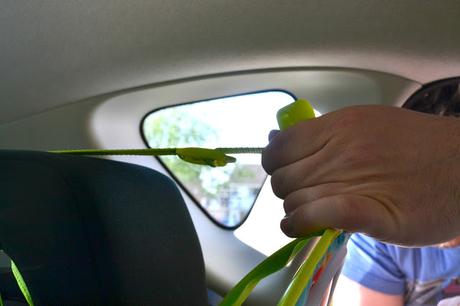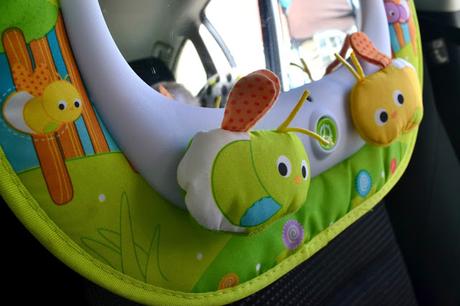 The mirror has two modes :- entertaining mode has a lively range of music and light shows behind the mirror whilst the soothing mode plays calm and relaxing sounds that help your child drift off to sleep. Each mode runs for 24 minutes and can be controlled by a small remote which can be attached to the sun visor in the front.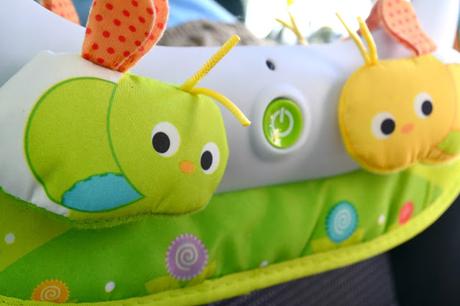 The mirror surround is bright and eye catching and the little man loves trying to grab hold of the fireflies as he's getting in or out of the car. He's also obsessed with looking at himself and sticking his tongue out so will happily sit looking into the mirror while pulling faces, it doesn't even have to be turned on!
The remote control allows you to change the music lights and volume from the front of the vehicle and means you don't need to pull over to skip certain music.
The mirror itself is shatter resistant which offers reassurance should you be unfortunate enough to be involved in an accident.
I really like the mirror, the sounds aren't annoying, the light shows keep the little man entertained, the remote control is really handy and saves time changing songs and the mirror itself means I can keep a close eye on what the little mans up to. This is a great safety product for car safety while traveling. I wouldn't be without ours now.


*We were sent the mirror for review purposes. Opinions are my own*