This is a totally fattening decadent dinner, but if you haven't ever tried them you really need to :)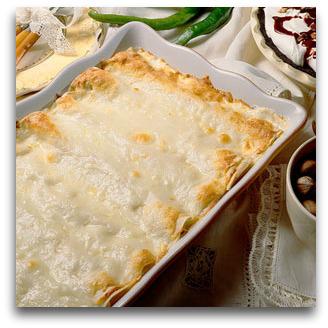 Ingredients:
Chicken Mixture:
2 cups cooked chicken
5 drops hot pepper sauce
1/2 cup Greek olives
1/2 cup green chili pepper
garlic
salt
Cream Sauce Ingredients:
3 cups whipped cream
2 cups chicken bouillon
Other stuff you will need:
3 cups Monterey Jack cheese
12 Corn Tortillas
Mix ingredients for Chicken mixture together.  Heat about 2 tsps of oil in a frying pan, dip tortillas briefly in hot oil, turn once and remove from pan. Drain on paper towel, dip tortillas in cream sauce to cover, remove. Add chicken filling and cheese, roll and place in casserole dish. Do this will all tortillas or until you have amount you need to serve. Once pan is full with enchiladas, add with remaining sauce and cheese. Place in 350 degree oven for twenty minutes. Don't cook longer. Serve immediately.