These were so easy, it took me about 10 minutes to put them together, and 20-30 minutes to bake.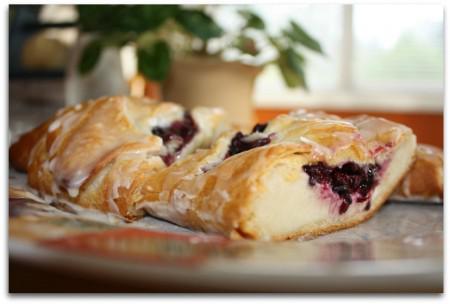 Ingredients:
1 tube crescent rolls (the ones I bought were orignial size, I would get the jumbo crescents next time, and there was enough creamcheese for two packages)
1 8-oz. package cream cheese, softened
1/2 cup granulated sugar
1 teaspoon vanilla extract
3 tablespoons all purpose flour
Your favorite fruit (I used about 1 1/2 cups of blackberries)
Icing:
1 cup powdered sugar
3-4 tablespoons heavy cream
splash vanilla extract
Mix the cream cheese, sugar, vanilla and flour together in a bowl.
Roll out the crescent rolls onto a cookie sheet with parchment paper on it. Make sure all the seams are pressed together tightly, you will have a rectangle shape.
Spread cream cheese mixture down the middle of the the dough, add fruit on top of cream cheese mixture. Now you will have a bit more than an inch of dough left on each of the sides. Slice the dough in a diagonal lines, and fold these over on top of your cream cheese mixture so it has a braided look to it.
Bake for 20 to 20 minutes @ 375 degrees.
Mix last three ingredients together for glaze and drizzle over the pastry.
I found this recipe on Pinterest last week, and in turn found this awesome website called Lauren's Latest that started the recipe!! She has way better pictures there if the directions are a little unclear here, I was on my second day of woodcutting when I made them to take with us, and didn't have time to take anymore pics :) and hers are great!
Enjoy!!