I wanted a treat that wasn't full of sugar, but still tasted great!! These muffins fit the bill perfectly, add a little dollop of butter on a nicely warmed up muffin…mmm, delicious!!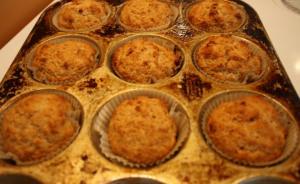 Ingredients:
3/4 cup (175 mL) natural wheat bran
1/2 cup (125 mL) milk
1/2 cup (125 mL) Ontario Maple Syrup
1 egg
1/4 cup (50 mL) vegetable oil
1-1/4 cup (325 mL) whole wheat flour
3 tsp (15 mL) baking powder
1/2 tsp (2mL) salt
1/3 cup (75 mL) chopped walnuts
Preparation:
Combine bran, milk and maple syrup. Mix in egg and oil. Combine remaining ingredients and add first mixture to this until just moistened. Spoon batter into greased muffin tins. Bake at 400ºF (200ºC) for 20 minutes.
Enjoy!!!