Want to add your recipe to Munchie Mondays? Add your link here.
This is one of my all time favorite things to eat, and with summer nearly here and the tomatoes planted, I can hardly wait for my first taste…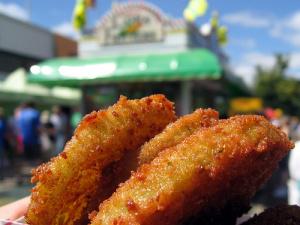 INGREDIENTS:
3 medium, firm green tomatoes
1/2 cup all-purpose flour
1/4 cup milk
2 beaten eggs
2/3 cup cornmeal
1/4 cup olive oil
1/2 teaspoon salt
1/4 teaspoon pepper
METHOD:
1. Cut unpeeled tomatoes into 1/2 inch slices. Sprinkle slices with salt and pepper. Let tomato slices stand for 15 minutes. Meanwhile, place flour, milk, eggs, and cornmeal in separate shallow dishes.
2. Heat 2 Tbsp of olive oil in a skillet on medium heat. Dip tomato slices in milk, then flour, then eggs, then bread crumbs. In the skillet, fry half of the coated tomato slices at a time, for 4-6 minutes on each side or until brown. As you cook the rest of the tomatoes, add olive oil as needed. Season to taste with salt and pepper.
Enjoy, they are sooo delicious!!