Cheese and Onion Tea biscuits are the subject this week :)
My kids adore these easy to make buns, and they are easily adaptable to add whatever you like to the recipe!!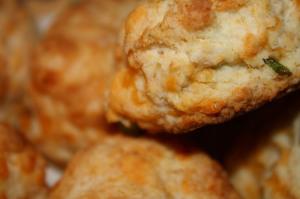 Here is what you will need:
2 cups all purpose flour
3 tsp. baking powder
2 tsp sugar
1/2 tsp cream of tarter
1/4 tsp salt
1/2 cup shortening
2/3 cup milk
1 cup grated cheddar cheese chopped green onion to taste, I use about a 1/4 of a cup.
Stir together flour, baking powder, sugar, cream of tartar and salt. Cut in shortening till mixture resembles coarse crumbs. Make a well in the center and add milk all at once. Stir just til dough clings together. Knead gently on a lightly floured surface for 10 to 12 strokes. Roll or pat to 1/2 inch thickness. Cut with a 2 1/2 inch biscuit cutter, or a small glass, dipping cutter in flour between cuts. Transfer to an ungreased baking sheet covered with parchment paper. Bake in a 450 degree oven for 10 to 12 minutes or until golden brown.
Serve warm, makes 10~12 biscuits.