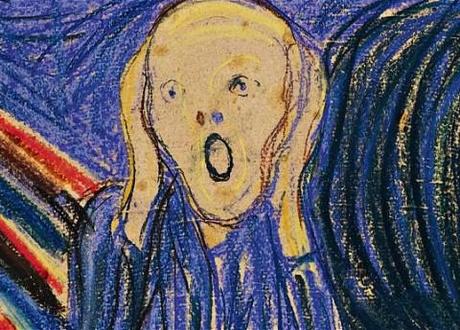 A detail from Edvard Munch's The Scream.
The background
The Scream, Edvard Munch's 1895 expressionist painting, has sold at auction for $119 million (£74 million), at Sotheby's in New York. Breaking all previous records, it's been picked up by an anonymous bidder, after 12 minutes of bidding by seven bidders. The picture is one of four by the Swedish artist – and was the only one still privately owned, and the only one to include a poem by Munch written on the frame. It belonged to Petter Olsen, whose father had been friends with Munch. Two of the other versions were stolen from museums, in 1994 and 2004; but both were recovered, reported the BBC. Gawker suggested that the buyer might have been the royal family of Qatar, though this is unconfirmed.
"I was walking along a path with two friends – the sun was setting – suddenly the sky turned blood red – I paused, feeling exhausted, and leaned on the fence – there was blood and tongues of fire above the blue-black fjord and the city. My friends walked on, and I stood there trembling with anxiety – and I sensed an infinite scream passing through nature."  Edvard Munch's poem.
Why is it so important?
Professor Martin Kemp says that the reason the painting speaks to us so much is because of "the sheer power of the image … the communicative power which manages to transmit … that elemental power," he told the BBC. Mark Hudson on The Telegraph analysed its power. He said that it was on a par with the Mona Lisa, and that even though it had been parodied to death, it's still "resonant" today. The reason why is that when it was painted, art was experimenting, but it still was "comprehensible." And what's great about The Scream is that  "it speaks simultaneously of artistic liberation and of our ever greater understanding of who we are. "
The expression on Edvard Munch's 'The Scream' is how I feel when I hear that there are still people who can afford £74m for one painting.

— John O'Farrell (@mrjohnofarrell) May 3, 2012
Munch's brushes with insanity
It helps "to be crazy", said Slade Sohmer on HyperVocal. Munch was born in the cold of the Norwegian winter, with religious parents and a mother who died. Munch was prone to hallucinations. Munch's biographer, Sue Prideaux, told the BBC that he painted the work when he was very unsuccessful at the age of 30, and added that Munch lived near the asylum where his sister was sectioned. Which also happened to be next to the abbatoir.
Most expensive paintings
It's hard to judge what was the most expensive artwork sold without adjusting for inflation, but the top three in recent years are these:
Picasso's Nude, Green Leaves, and Bust, which sold for $106.5 million in 2012.
Picasso's Boy with a Pipe, which went for $104 million in 2004.
Alberto Giacometti's sculpture, Walking Man I, which also went for $104 million, in 2012.