Is it true what they say – that all Mumford & Sons songs sound the same?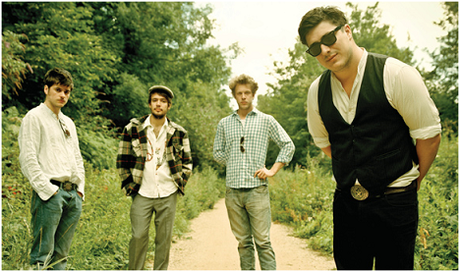 Mumford & Sons
This was one of the main criticisms targeted at the English folk rock band after the release of their highly-acclaimed debut album, Sigh No More.  While many listeners embraced the band's unique blend of rich vocal harmonies, old-timey storytelling, and bluegrass and folk instrumentation, others were quick to point out that each song followed roughly the same formula.
Rather than trying to shed this criticism and shake things up for their sophomore album, Babel finds Mumford & Sons sticking to what they know.  Like Sigh No More, Babel features songs with slowly -building verses, love-related lyrics, huge octave-jumping choruses, and intense crescendos aided by the use of rapid-fire banjo.
Midway through the album, the songs start blurring together. Even if you're trying to keep track of which track you're on, you'll find yourself struggling. "Is This 'Lover of the Light' or 'Lovers' Eyes?'" you'll ask, and there will be no way of knowing until Marcus Mumford's powerful voice proclaims "I'll be your gold…to have and to hold…lover of the light!" during the rollicking chorus.
In short, the answer to the question at the beginning of this post is a resounding "Yes."
However, despite all this, Babel is our "You Gotta Check This Out" Pick of the Week.  While many of the songs sound alike, each one makes for rich, emotional listen when taken as a single unit.  The builds are done masterfully.  The combination of stricken-lover lyrics and the desperation in Marcus Mumford's voice make each song resound with passion. We recommend downloading individual songs from the album and mixing them into playlists with music by other artists – starting with "Babel," "I Will Wait," and "Lover of the Light."
What do you think??