Healthy multi-grain seed bread
I love making my own bread. Making bread is a joy and a passion,the smell of freshly baked bread filled in the house makes you happy and first sight of the wonderful baked bread fresh from your oven makes you feel awesome .Bread baking is not a tough task if you get the right recipe and good yeast then in one or two trails you can get your perfect bread recipe.
To make bread few things should be taken care of – the quality of yeast, the temperature of water in which you have to mix the yeast should be right ,too hot temperature can kill the yeast and if the yeast will not froth properly then discard it and make a fresh one again. Kneading should be done properly for about five minutes, over and under proving should be avoided as it also effect the result. Rest every thing is quite simple so bake and enjoy your fresh bread!
I do bake Basic white bread , Sun dried tomato ,olive and herb bread is my daughters favorite bread so I make it often, My personal favorite is Olive and rosemary Foccacia and Blueberry Muffins.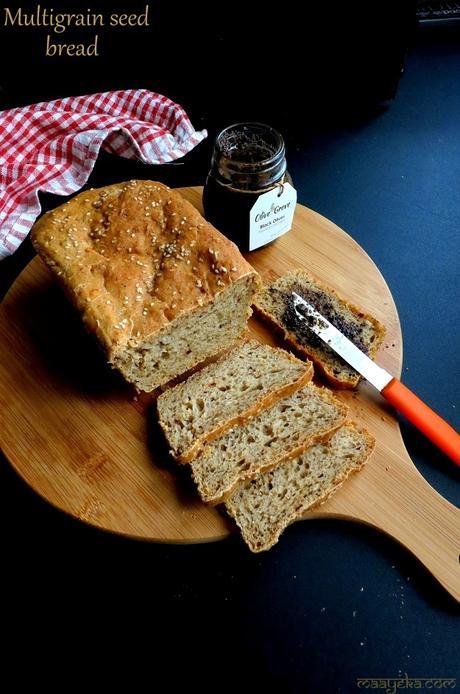 To make this Multigrain bread I have used finger millet/ragi flour and maize flour/ makki ka atta but you can use any healthy flour to add in this bread .Sunflower seeds ,pumpkin seed or even char magaz/melon seeds can be added as par your preference and availability of ingredients  at home.
Multigrain seed bread
healthy multi-grain and seed bread
Course

Breads, Breakfast

Cuisine

International Cuisine
Servings Prep Time
1loaf 15minutes
Cook Time
40minutes
Servings

Prep Time

1loaf 15minutes

Cook Time

40minutes
Ingredients
1/2

cup

whole wheat flour/atta

1

cup

Refined flour/maida

2

tbsp

oatmeal

2

tbsp

Maize Flour / Makki Ka Atta

1

tbsp

Finger millet flour /Ragi Flour

1.5

tsp

Flax seed /alsi

powdered

2

tbsp

sunflower seeds

1.5

tsp

sesame seeds /til

2

tbsp

Cooking Oil

1

tbsp

Yogurt / Dahi

3/4

tsp

salt

1/2

tbsp

Active dry yeast

1/2

tbsp

Sugar / Chini

3/4

cup

Water / Paani
Instructions
In a bowl take 1/2 cup of lukewarm water and add sugar and yeast and mix properly.

Cover the bowl and keep aside for about 5 minutes or till it froth well.

In a separate bowl add all the dry ingredients and salt and mix well.

In a small bowl mix together 1/4 cup water,oil and yogurt

Now add the yeast mixture and the yogurt oil mix in the dry flour mixture .

Mix everything and knead for about 5 minutes, can add about a 1-2 tbsp of water if needed.

Put the dough in a big and greased bowl,cover and keep aside for about 1 hours to prove or wait till it become double in volume

When it rise properly then take out from the bowl and gently punch it down to release the air,no need to knead it too much at this stage.

Shape the dough in a log and put it in the greased and dusted loaf tin.

Let it rise again for about 20 min or till it become double in volume

Preheat the oven at 180 degree with both rods on.

Brush the loaf with milk and sprinkle some sesame seeds and oats over the top

Keep the loaf tin in the center rack of the oven and bake for about 30-35 minutes till the top become golden,it sounds hollow when done.

When its done remove from the the oven and unmold from the loaf tin.

let it cool down completely and then slice and serve.
Recipe Notes
As sunflower seeds are not easily available in small centers in India so you can also use char magaz/melon seeds or pumpkin seeds.
you can substitute Ragi and maize flour with gram flour/besan and soybean flour .
The rising time of the dough depends on the temperature in the climate,it takes longer to prove in winters.
The post Multigrain bread Recipe appeared first on Maayeka. Indian home recipes - just like Maayeka!