Product review for the Elekta Platinum Series Stand Mixer
I got a chance to try out the new Elekta Platinum Series Stand Mixer recently. Elekta Gulf had reached out to me, and were very generous in sending me a piece to try. This is not a sponsored review in any way, so you can be assured of the integrity of this review.
Though I have used quite a few kitchen appliances, I have never really had the chance to use a stand mixer. Mainly because I was not really aware of the value it adds to a kitchen, and partly because I have been cooking in the same kitchen for the past 30 years. Kitchens back then were pretty small :)
Now about the mixer - It is an Elekta Platinum Series Stand Mixer. Elekta is an consumer electronics company based out of Dubai, and have distribution in all of the Middle East, and many other countries. Their "Platinum" series is their premium range of products, with a strong focus on contemporary designing, and using high quality steel even for the exterior.
The device looks very decent (look at the pictures below), and is not very large (occupies less space than a standard Indian "mixie"). It comes with a three liter bowl, three different types of attachments:
1. Whisk
2. Beater
3. Dough Hook
I used the whisk to great effect in making the pancakes in this recipe. Using an appliance for whisking the batter made a perfectly frothy batter - something that may be very hard, if not impossible to achieve with a manual whisk. This attachment will be perfectly useful for whisking pretty much everything - from buttermilk to pakoda batter. Lumps in the batter mix would be pretty impossible.
I didn't get a chance to use the beater - but I do feel that it may come in very handy while making icing for cakes.
The highlight of the device, for me, was the last attachment. The Dough Hook. I was not really expecting great results from a machine - but it kneaded the perfect dough. It's a delight to actually see the hook at work - the way it first mixes the flour with the water, and then keeps jabbing at the mix - replicates the exact way we knead with our hands. This attachment can easily save a good 30-40 minutes a day that are spent in kneading chapati dough for a family.
Overall, I really liked the device - it looks great, is not noisy, and does its job pretty well. Good job Elekta!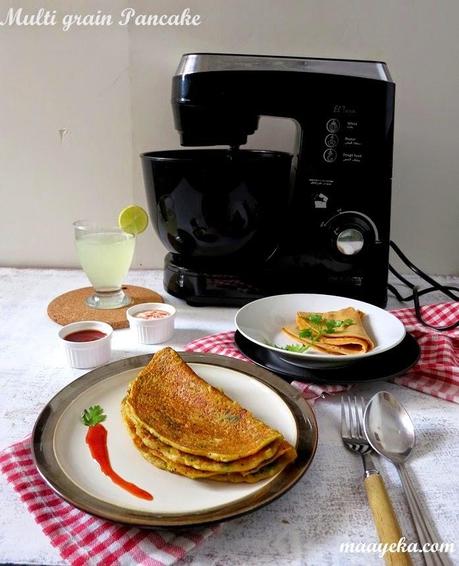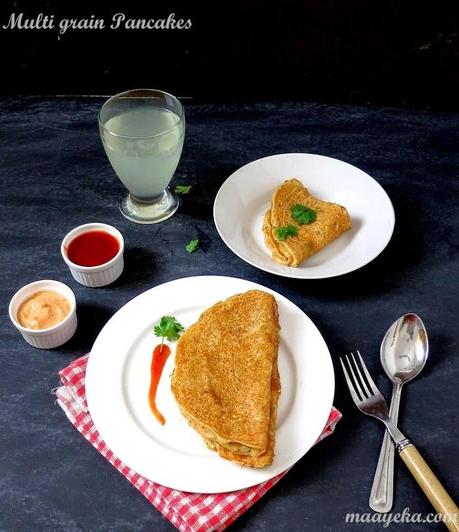 Prep time- 10 min
Cooking time- 10 min
Difficulty level-easy
Spice level-mild
Cuisine- international
Type-snack,breakfast
INGREDIENTS-
1/4 cup - Maize flour/makki ka atta
1/4 cup  - Quick cooking Oats
1/4 cup-  Gram flour /besan
1/4 cup - Semolina /sooji
1/2 cup - Wheat flour/atta
1/4 cup - Yogurt /dahi
1/2 cup - Grated cabbage
1/2 cup - Grated carrot
2 tbsp  - Chopped fresh coriander
 2 tsp  -  Green chilies,minced
1 tsp  - Crushed black peeper
To taste - Salt
1/4 tsp - baking powder
PROCEDURE-
In the Elekta machine bowl add all the flours,spices ,yogurt and 1.5 cup water.
Attach the whisk attachment in the machine
Whisk it for 2 minutes.
Add grated vegetables and whisk again for 2 minutes.
Remove the bowl from the machine and add baking powder and mix.
heat a non stick flat pan and grease it with little olive oil.
Spread a laddlefull of batter on the pan and spread in a circle.
Cook on medium heat and sprinkle few drops of oil over it.
When cooked, flip the side and drizzle few drops of oil or butter and cook to nice golden color from other side.
Remove from the pan and serve hot with ketchup.
NOTE-
You can add 1/4 tsp oregano or cumin powder in the batter.
Can add any grated vegetable of your choice
This is a honest product review. My reviews were not influenced in any ways by the views of Elekta Gulf. Thank you Elekta Gulf for this wonderful review opportunity.  In accordance with FTC rules, I am disclosing that I received the free products mentioned in the post to provide my opinion and review. This was not a paid endorsement nor have I received any form of compensation to do the review.