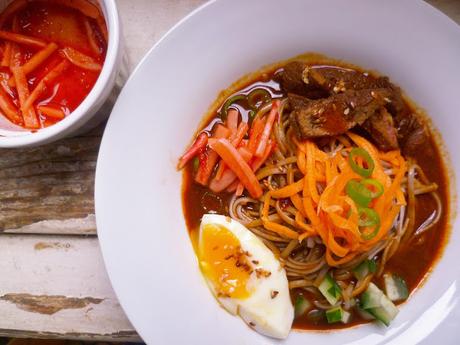 korean cold buckwheat noodle soup with beef (mul naengmyun)
Years ago, working in New York I loved the fact that my office in Manhattan was within toddling distance of Koreatown and lots of interesting places to have lunch or dinner. I was intrigued by the fact that many of the restaurants would have displays of fake plastic food in the windows so you could tell what kind of food they sold. As somone who has always adored kitsch, it was often difficult me to leave these restaurants without a piece of plastic food as a souvenir.

In those days I had never experienced Korean food. This seemed to baffle my American colleagues. "Why not?" they asked. "Dunno," I'd say. "Just don't see any Korean restaurants in England." "Why not?" they'd ask again. "Oh, I don't know, history perhaps," I'd reply. More confusion ensued.
But if I might not have been very familiar with a Korean menu in those days, it is probably true to say, that like my late father, I have never met a noodle I didn't like. The first summer I was in New York, was a scorcher (even by NY standards). The pavement was melting. I was melting. So to discover that there was a simple noodle dish that was eaten cold was rather thrilling, not to say chilling; anything that would cool me down was fine in my book.
While this favorite dish of mine is typically more popular in the summer; mul naengmyun, a cold broth with buckwheat noodles, which can be enjoyed all year around. (It makes a perfect "take-to-work" soup since you don't have to worry about heating it up;
it's really about assembling a few ingredients rather than much cooking.

)
These days I don't bother to wait until the temperature rises, as it is also very simple to make. It is also an opportunity for me to break out the gochujang (Korean chilli paste), a tub of which seems t
o have magical properties because no matter how much I use of it, it always seems half-full).
In November last year, The Guardian's Readers' Recipe Swap challenge was BUCKWHEAT, Food writer Eve O'Sullivan enjoyed this soup as "
a lean, light dinner". So if Eve likes it, it must be good!
Serves 4
Skill level: Easy


ingredients:
300g buckwheat noodles
1 tbsp sesame oil
4 hard-boiled eggs, peeled and halved
pickled carrots or kimchi, to serve (optional)
half a cucumber, chopped, to serve
toasted sesame seeds, to serve
radish pickle
100g radishes, cut into matchsticks
1 red chilli, pureed
2 tbsp white wine vinegar
1 tbsp sugar
1 tsp sea salt
chilli soup
200ml chicken or beef stock
4 tbsp gochujang chilli paste 2 tbsp sugar
1 tbsp toasted sesame seeds
1 tsp sesame oil
2 garlic cloves, very finely chopped
salt, to taste
stir-fried beef
2 tbsp vegetable oil
300g beef steak, thinly sliced
1 garlic clove, very finely chopped
2 tbsp soy sauce
3 spring onions, green part only, thinly sliced, plus extra to serve
1 tsp sesame oil
1 tsp sugar
freshly ground black pepper
directions:
Make pickle by whisking vinegar with sugar and salt, until dissolved. Stir through chilli puree and radishes. Set aside.

Make chilli broth by gently warming stock together with gochujang chilli paste, sugar, sesame seeds, sesame oil and chopped garlic. Stir until gochujang has melted into broth. Season to taste. Set aside.

Cook noodles according to packet instructions (about 5 minutes). Drain and rinse. Drain and toss with sesame oil. Set aside.

Heat oil in a wok or large frying pan over a high heat. Add beef and garlic, before adding the rest of the ingredients. Stir-fry until beef is just seared (about 2 minutes). Season with black pepper. Set aside to cool.Divide noodles between 4 bowls. Pour over chilli broth. Top with beef, pickled carrots, cucumber and hard-boiled eggs. Sprinkle with a little extra spring onion tops and toasted sesame seeds.