Muhammara

/ Roasted Bell Pepper and Walnut Dip
Roasted bell pepper and walnut dip -specialty from Middle East
Muhammara is a popular condiment in the Middle East, originally from Syria. It is made with roasted bell peppers and walnuts and is served with Arabic mezze items such as pita bread, or any snack or bread of your choice. You may also serve it as a side dish with a regular meal. It has a very nice smoky taste from roasted bell peppers and walnuts and a slight tang from pomegranate molasses.
When I tasted Muhammara at a restaurant I loved the flavors and wanted to try it at home and after searching a lot I made this version. As I don't have pomegranate molasses at home so substituted it with thick pomegranate syrup. This dip is a good and delicious substitute and a change from the regular tomato ketchup.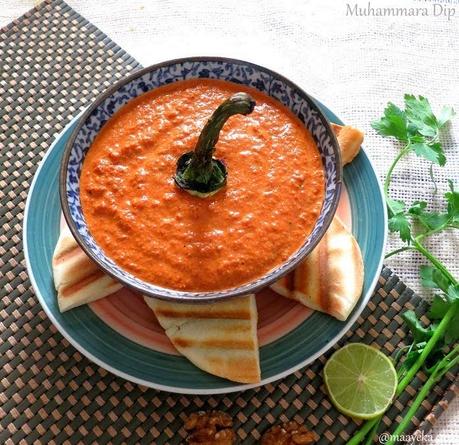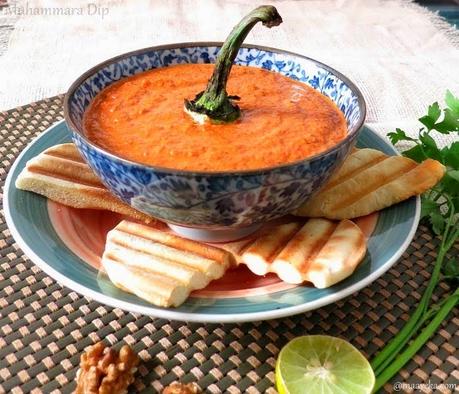 Prep time- 10 min
Cooking time - 10 min
Difficulty level - medium
Spice level - medium hot
Cuisine - Arabic,Middle eastern
Type - Dip/Chutney
INGREDIENTS-
Red Bell Peppers /laal shimla mirch - 3

Pomegranate molasses / Pomegranate syrup - 3 tsp

Walnuts, chopped /akhrot- 3/4 cup

Cumin powder /jeera powder - 1 tsp

Fresh Red Chili/tazi lal mirch - 3 *

Extra virgin olive oil /jaiton ka tel - 3.5 tbsp

Lemon juice /nimbu ka ras - 2 tsp

Salt /namak- to taste

Bread, slice - 1
PROCEDURE-
Toast the bread and let it cool down then grind to make crumbs.

Soak the walnuts in a cup of water for about 40 minutes.

Roast the whole bell peppers on open flame or under a broiler till charred and blackened from all the sides.

Peel the skin of the bell pepper and discard all the seeds and chop into small pieces.

Roast the fresh red chilies on direct flame and rub to peel the skin and then chop

In the mixer jar add chopped bell peppers, red chili, 2 tbsp bread crumbs,walnuts, salt, lemon juice and cumin.

Grind on slow speed till it become a paste then slowly add olive oil and grind to mix all.

Take out the dip in a glass jar and keep refrigerated.

It remains fresh for a week in refrigerator.

Serve with pita bread or any snack of your choice
NOTE-
You can use chili powder instead of using fresh red chilies.