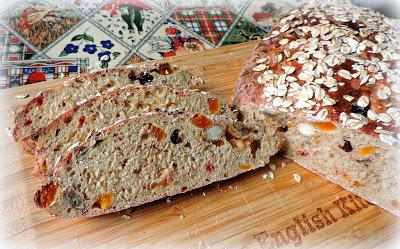 I have never been highly skilled at baking bread, but this is one loaf that works out for me every time I make it. I love breads like this, filled with lots of goodness and good things.  Dried fruits and nuts and oats . . .  its pretty wonderful sliced and served plain with butter, but how I really love to eat it is toasted, so that the edges get all golden brown and the nuts crackle and toast.  Oh boy, but it is some good that way. When I saw the contents of the February Degustabox I immediately knew it was time to bake one of these delicious loaves!  I am the lucky recipient of one of these delightful boxes each month and each month I challenge myself to come up with at least one recipe using one of the products from the box.  Its not always an easy task, but I do enjoy a challenge.  This month the challenge was very easy indeed!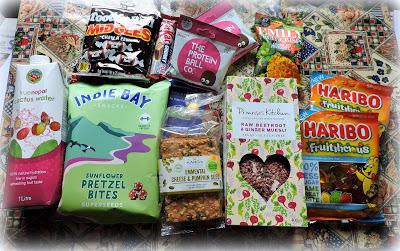 I love these boxes. Opening each one is tiny a bit like opening a Christmas box. Always a surprise and always filled with things I want to try. Degustabox is a monthly foodie subscription service that sends out a range of specially selected foodie products. There's always a great mix of new products that I haven't tried before, as well as plenty of treats from more established brands. Quite often you will have the opportunity to try new products before they arrive in the shops, so it can be a bit of a sneak peak! Each Degustabox costs only £12.99, delivery costs are included in the price, and there is no fixed contract involved - you can cancel at any time. I love getting these boxes!
The February box, called the Cinema Box was filled with healthy snacking goodies just in time for the Oscars!  Here is what I got.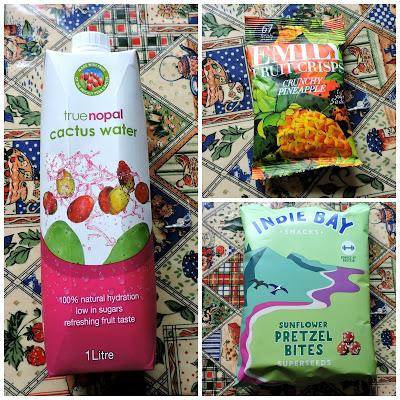 True Nopal Cactus Water (£3.49) is a 100% natural blend of prickly pear cactus puree and filtered water with no added sugar. The flavor has berry undertones, making it a light and refreshing alternative to fruit juice or flavoured water drinks.
 Emily Crisps (£0.99) are a range of premium fuit and vegetable crisps. I received the Crunchy Pineapple flavor in my box, which is made with just pineapple and sustainable palm oil. They also come in Crunchy Fig Banana and Crunchy Red Apple.
Indie Bay Snacks Pretzel Bites (£2.49) are little baked pretzel snacks made with interesting ingredients like spelt and quinoa.  I received the Sunflower Superseeds flavor bites, which are made with baked spelt, wheat and sunflower seed topped with sesame and poppy seed. I loved these.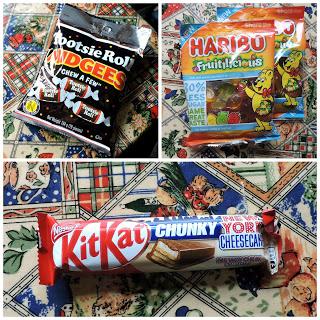 Tootsie Roll Midgees (£2.50) were in this month's box. Exciting stuff to a North American! Candy doesn't get more North American than a Tootsie Roll, and the tiny 'midgees' shapes are the most classic version of the nostalgic treat.  These are an ever-so-slightly chocolate flavoured chewy sweet that I grew up with.  Chewy Chewy Tootsie Rolls last a long time. (That was the advertising jingle from my childhood.)
Haribo Fruitilicious (2 x £1.29), a new range of sweets with 30% less sugar than regular fruit gum sweets. Coming in a variety of fun fruit shapes, these are a yummy alternative to the full sugar version.
 KitKat Chunky New York Cheesecake (£0.65) is a chunky KitKat with an extra cheesecake flavoured layer on top of the wafers, all coated in milk chocolate. The 'cheesecake' layer is firmer than I expected, sort of like white chocolate with an extra bit of tang, but it works. Todd really enjoyed this, whilst I enjoyed a tiny nibble so that I could write about it. YUM!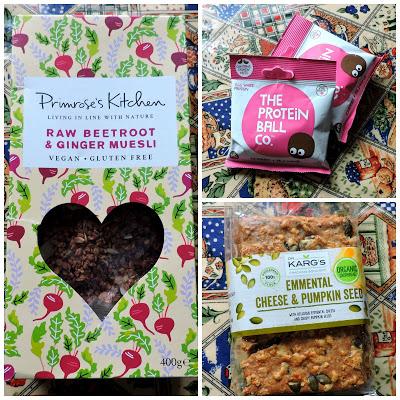 The Protein Ball Co. Cherry + Almond (2 x £1.99). Each pack holds six little balls made with dates, almonds, cashews, egg white protein, sultanas, cherries, and a few other natural ingredients. These were quite tasty with a prominent cherry and almond flavor that's delicious. They also have a nice texture with the perfect amount of chewiness.
 Dr Karg's Organic Emmental Cheese & Pumpkin Seed Crispbread (£2.00) is made with whole grain flour and no additives. This is a product that I buy all the time anyways. It's a fairly thick and super crispy slice with a light flavor of emmental and lots of crunchy seeds including sunflower seeds, linseeds, and sesame seeds. This is a tasty and substantial crispbread. I have also bought it in bite sized bits in the past. Its really yummy! 
The Product of the Month this month was Primrose's Kitchen Raw Beetroot and Ginger Muesli (£4.99). The vegan and gluten free muesli is made with fresh beetroot, ginger, raw nuts and seeds, oats and virgin coconut oil, all air-dried at lower termperatures. This is high quality stuff, with the earthy beetroot and zingy ginger flavours really shining through. The packaging is also really cute!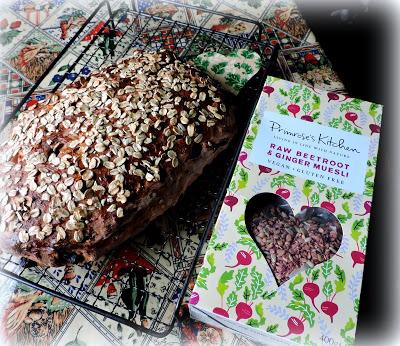 This is the product that I chose to highlight with a recipe this month. I thought it would work perfectly in my muesli bread recipe and I was right!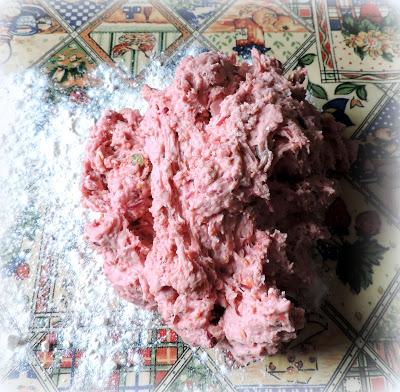 I did have my doubts early on as the beetroot content dyed the dough a lovely shade of pink and I wondered how that would translate once it was baked, but I went with it anyways, fingers crossed.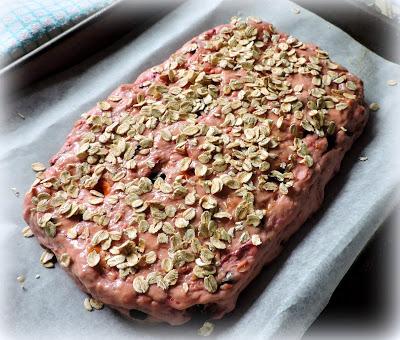 This really is a lovely bread.  Its really easy to make, especially if you have a stand mixer as the stand mixer does all of the work for you.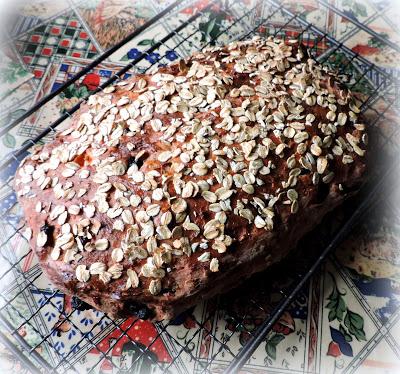 You can pay an awful lot of money for an artisanal Muesli Loaf in the grocery shops and I can tell you it is not half as filled with goodness as this homemade loaf is.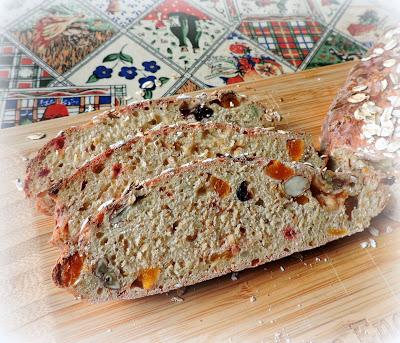 This mueli is filled with lots of gluten free oats and lovely bits of raw dried beetroot, ginger, pumpkin and sunflower seeds, linseeds, coconut pieces, chia seeds, almonds and psyllium husks, and it worked up beautifully in this delicious bread.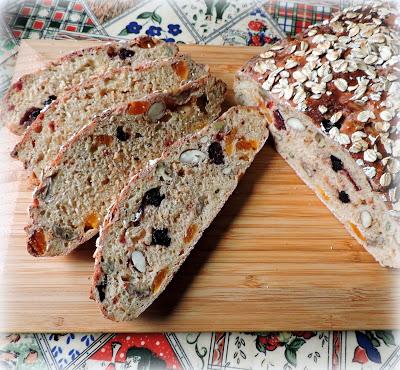 I added more almonds, pecans and dried apricots, cranberries and blueberries.  There is no other way to describe this than D-E-L-I-C-I-O-U-S!!  Nom Nom!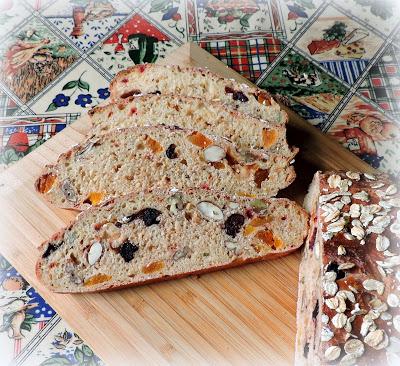 *Meusli Bread*Makes 1 loafPrintable Recipe  

This is a recipe that I have been using for years. Its an easy to make loaf, crusty on the outside, and stogged full of nuts and fruit. It is great sliced and buttered but popping it into the toaster really brings it to life.  Its incredibly moreish! 
120ml warm water (1/2 cup)120ml warm milk (1/2 cup)80g muesli (1 cup)1 tsp honey420g strong bread flour (3 cups)1 1/2 tsp salt75g dried apricots, chopped into bits (1/2 cup)40g each dried cranberries and dried blueberries (1/4 cup each)30g whole pecan nuts (1/4 cup)45g whole almonds (1/4 cup)2 tsp instant yeast, softened in 1/4 cup warm water1 egg yolk beaten with 1 tsp waterrolled oats for sprinkling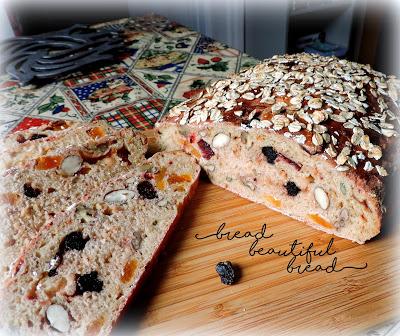 Put the water and milk into a bowl  along with the honey and the muesli.  Leave to stand for 15 minutes.  Add the dissoved yeast and water. Stir to mix.  Stir in the salt and flour.  Using a stand mixer or by hand knead until you have a smooth, slightly tacky dough. (If using a stand mixer this will take about 3 to 4 minutes, if by hand longer.  What you are doing is developing the gluten in the flour.) Pat out on a lightly floured surface to a large rectangle. Sprinkle it with the nuts and fruit. Fold it over on itself to enclose the fruit and nuts, then knead gently until all are incorporated.  Place into a lightly oiled bowl, cover with cling film, and then set aside in a warm place to rise for about an hour until doubled in size.  At the end of that time, tip the dough out onto a baking sheet you have lined with baking paper.  Pat the dough gently out into a rectangle which is about 1 inch in thickness. Gently push back in any fruit or nuts that have popped out.  Brush with the beaten egg yolk and sprinkle with some oats.  Cover with a clean cloth and leave to rise for half an hour.
Preheat the oven to 220*C/425*F/ gas mark 7.  Place a pan of water in the bottom of the oven.  Once the oven is hot, place the sheet pan with the bread into the oven and bake for 35 to 40 minutes until golden brown and it sounds hollow when tapped on the bottom. Let cool on a wire rack.  Slice to eat or toast.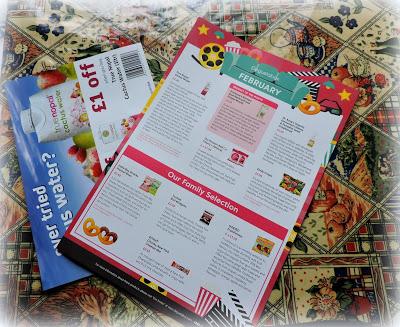 Every box does include an information card, along with some other bits, recipes, etc. from the brands included.  I find it really handy to have, to know about the products a bit more and to also know how much the products would cost if I went on to buy them, and also for ideas on how to use some of them.
So, that was the February  Degustabox - a nice selection of products as always. We loved it. The price of each Degustabox is £12.99 (including delivery). To order your box, visit www.degustabox.com   Many thanks to Degustabox UK for sending me this box. I have to say I really look forward to getting my box each month. There are always lots of things in it to enjoy and new products to try out. I highly recommend. You can also tailor the boxes to your own likes and dislikes by filling in your own Taste Profile.  Do you like the sound of this box? Why not sign up now! I find them to be really good value for money spent and I really enjoy trying out new products that I have not tried before.  
Follow them on Facebook 
Follow them on Twitter 
Note - Although I was sent a box free of charge any and all opinions are my own.

Bon appetit!