20 odd years ago, I learnt how to make muah chee 麻糍 
from a friend.  His method was the traditional way of making and it is tedious and require lots of arm power.  I must say that the end product is very good though.   
These days, there are much easier method and it can be easily churned out and as fast as 15 mins.
As I need to prepare this for racial harmony day and in big quantity, time became an issue for me.  I was looking for a recipe that I can cook the night before and with minimal effort.  
With Anncoo's advice, I tried her recipe using steaming method.  It works magic and it required minimal work except to wait during the steaming.
It was a breeze and I was glad that nearly all who ate it, gave a thumbs up.
Note: As I was catering to 400 odd servings, I make 8 batches.  One 1kg of sugar, 2kg of chopped peanut, 250g sesame seeds and 2kg of glutinous rice flour.  Also I had some fried shallots added to it.
I was also glad that I did it the night before as the initially plan was a little short to feed so many.  Luckily for me, I had extra bag of flour and I didn't have to hit the panic button.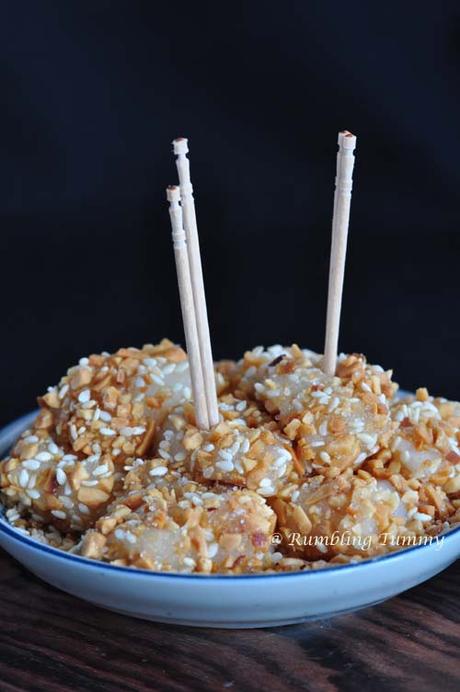 Findings: Everyone loves the softness and yet chewy texture.  It doesn't sticks to the teeth.  
For the event, it is stays soft even the next day (I put it in an airtight container, aircon room).  I just warm it up a little so that the peanut coating will stick onto the dough. 
Thanks Ann for this wonderful recipe, it saved me from a lot of work.
What you need:
250g glutinous rice flour
3 tbsp of sugar
375g water
3 tbsp fried shallot
Peanut mixture (mix well)
100g sesame seeds (toasted)
80g peanuts, chopped (it depends how fine you like)
30g fine sugar (adjust to your sweetness level)
Method:
Oiled a 7" pan and preheat in the steamer for 5 mins.
Mix glutinous rice flour with the sugar.  
Add in water and stir until it is lumpfree.
Add in the fried shallot.
Pour the batter in the hot pan.
Steam for 30 - 40 mins on med low heat.
Remove and pour into peanut mixture.  
Cut into small bite size and making sure it is evenly coated with the peanut mixture.


Happy Racial Harmony Day!  My wish is for everyone to live peacefully and harmonious together.  Respect and appreciate each other and make it a better world to live in.
Cheers