FLINT, MI — The soft hum of the bus's engine was silenced as it came to a stop. The driver opened the door and greeted Charles Elsy Jr. of Flint, who stepped inside the 11.5-foot-tall vehicle and smiled.
"This is that new bus isn't it," Elsy said.
The Mass Transportation Authority held the inaugural ride of its first hydrogen fuel cell bus on Tuesday morning.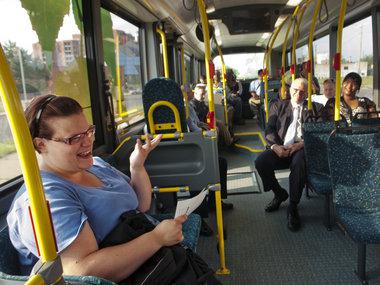 Ryan Garza | MLive.com 'It feels really comfortable and I'm excited. I think there's a lot more room on here,' Jessica Means, of Flint, said during her morning commute along N. Saginaw Street in Flint as part of the first route for the MTA's Hydrogen Fuel Cell Vehicle on Tuesday morning.
"This particular vehicle is zero emissions," Benning said. "The only thing that comes out of the tailpipe is hot water. "
The MTA leased the bus from United Technologies Corp. for $1. The transportation utility will test the vehicle on different routes and report the data back to United Technologies.
The MTA also has obtained grant money to buy two or three used vehicles, but with new fuel cells.
Read The Full Article Here…