The best times to visit: spring and fall when temps are moderate. in summer, temps get into the high 90′s and 100′s, pooches paws can get burned on the pavements so beware and prepare if you plan to stay in town during the summer… there are lots of lakes and hiking trail activities to cool off, camping and of course Mt. Shasta.
Lakes
Castle:From the Visitors Bureau, go west on Lake St. and cross over I-5. You will come to a stop sign at the intersection of Old Stage Rd. which is in front of the Fish Hatchery & Sisson Museum. Turn left onto Old Stage Rd,. In ¼ mile the road will fork. Stay to the right onto W.A. Barr Rd. and continue past the Mount Shasta Resort golf course, cross over the Box Canyon Dam and turn left onto Castle Lake Rd. which is ¼ mile from the dam bridge. Continue on this road for 7 miles and you will arrive at Castle Lake.
McCloud River with three waterfalls
From the Visitors Bureau, go west on Lake St. to I-5 south towards Dunsmuir. Take the Hwy. 89 exit towards McCloud; drive past the town of McCloud and continue 5.5 miles to the "Fowler's Campground Lower Falls" sign and turn right. The parking area at Lower Falls is 1 mile. You can hike to the Middle Falls and back to the parking area in about 1.5 hours, and hike to the Upper Falls and back to the parking area in about 3 hours. If you don't wish to hike, you can drive to see the Middle and Upper Falls from the viewing areas off of the campground road which is located about ¼ mile before the parking area.
You can take your dog paddle boarding on Lake Siskiyou
Pet policy:
Pets are not allowed at the beach area, food service areas or in any lodging units.  Lake Siskiyou Camp Resort is a pet-friendly Resort.  We welcome your leashed, accompanied pets in any other area of the Resort, including the Marina
At Mt. Shasta City, Take Central, (#738) I-5 Exit. Go West, away from town to STOP. Turn LEFT, Bear Right after 1/4 mile at fork. Go past golf course and over dam. Entrance 1.5 miles on RIGHT
530.926.2610
http://www.reynoldsresorts.com/LakeSiskiyou/rules_and_regulations.html
Hiking
Lake Siskiyou Trail
Dogs are allowed anywhere on the network of trails within the Old Ski Bowl ridge line, where even in high summer you can usually walk to the snow. Rover has to be leashed at the Bunny Flat and Panther Meadows rest areas, and the only extended dog-friendly hike is the Gray Butte Trail, a 3.4-mile round trip out of Panther Meadows. This very special path, accessible June into October, crosses a sacred Native American site and takes in otherworldly stands of old-growth fir and mountain hemlocks to reach a saddle with expansive views. At an altitude of 9,129 feet, you'll both be panting, but oh so glad you came.
Check in with the Mount Shasta Trails Association for other dog friendly hikes in the Mount Shasta region.
Dog Park
Mt Shasta City Park
From the Visitors Bureau, go east on Lake St. to the traffic light at Mt. Shasta Blvd. Go left and continue approximately 1 mile until you see the Mt. Shasta Animal Hospital sign on the right. Turn left at the next street which is Nixon Rd. and then turn right into the Mt. Shasta City Park.
Mount Shasta
Mount Shasta is a very popular attraction. You can view the mountain best by taking the "scenic drive" which is 14 miles long and takes about 30 minutes driving time each way. From the Visitors Bureau, go east on Lake St.; pass the traffic light and continue several blocks where the road curves to the left becoming Everitt Memorial Highway. Continue on Everitt Memorial Highway for 12 miles where you will come to the Bunny Flat parking area and if the road has been cleared of snow, drive another 2 miles to the Old Ski Bowl parking area. The views are outstanding and you will see nature in its grandest.Dogs must be on leash and are not allowed above 10,000 feet.
Sacred Sites
The "Mt. Shasta Sacred Sites Guidebook", available at the Visitors Bureau. There are 13 sites considered to have special energy.
Lavendar farm has an on site dog
http://www.mtshastalavenderfarms.com/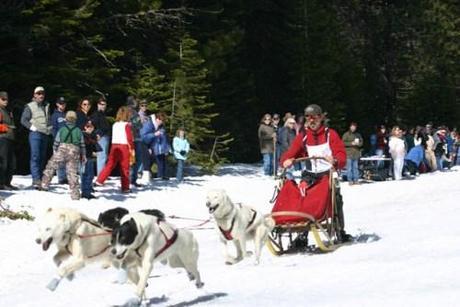 Dog Sledding
http://visitmtshasta.com/activities/dog-sledding/
Camping:
Campgrounds are generally pet friendly. The mineral springs is probably not.
Stewart Mineral Springs
Phone: 530-938-2222
Website: http://www.stewartmineralsprings.com
Location: 4617 Stewart Springs Rd., Weed, California 96094
Soothing, hot mineral baths and/or revitalizing massage. 15 private bathing rooms where water bubbles up from the springs, is heated, and run into deep tubs for soaking as the mineral water purifies your body, a large wood sauna to complete the purifying process, and 3 massage tables to work out the kinks and ease your muscles. The bathhouse is surrounded by wide wooden decks overlooking the beautiful Parks Creek, where you may sunbathe and relax to the sounds of the rushing stream. Restaurant, Native American Sweat Lodge, Conferences and Retreats, lodging and camping available. 15 rooms, kitchen, cabins, teepee, rec. room. public showers. Resort is under pine trees next to Parks Creek. Mineral baths and large sauna. Native American Sweat Lodge.
http://visitmtshasta.com/activities/camping/
http://visitsiskiyou.org/
http://www.fs.usda.gov/detailfull/stnf/home/?cid=STELPRDB5360169&width=full
Pet Stores
Noah's Ark Feed Barn
Phone: 530-926-6562
Location: 925 Lassen Ln., Mt. Shasta, California 96067
Pet Grooming, doggie daycare and boarding
Furpurrsons Pet Resort
Phone: 530-926-0480
Website: http://www.furpurrsons.com
Location: 5821 Truck Village, Mt. Shasta, California 96067
Pet boarding. Doggie day care. Grooming and spa. Boutique. Large exercise areas.
Your dog has to have ALL its vaccinations including bordatella, a week ahead
They offer a spa package for dogs that includes a blueberry vanilla edible facial, hydrotherapy massage, bath, shampoo, $18 to $90, small to large dog
Stacey Chiment, co-owner helped me with this blog post. She was a lot more helpful than the Chamber of Commerce.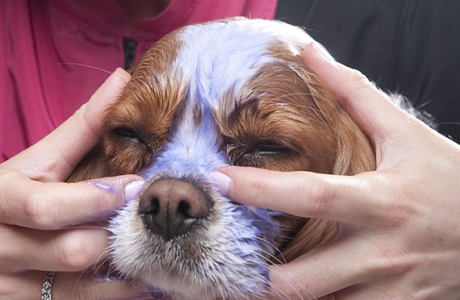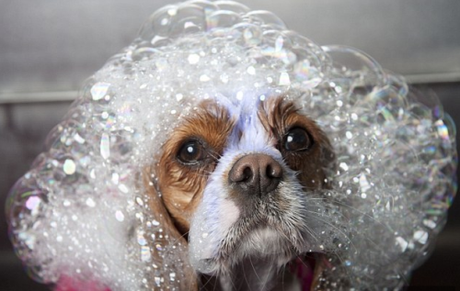 Pet friendly lodging
Finlandia Motel
Phone: 530-926-5596
Website: http://www.finlandiamotelandlodge.com
Location: 1612 S. Mt. Shasta Blvd., Mt. Shasta, California 96067
The Family owned Finlandia Motel and Lodge offers spacious newly remodeled rooms, an authentic Finnish Sauna, hot spa, kitchenettes and view of the towering mountain. Now the family home is available for rental. Guests seeking accommodation with space for socializing, a fully equipped kitchen will delight in the three-bedroom, two-bath lodge. Larger groups can gather together around the living room fireplace and later retreat to 23 other deluxe or standard, pet friendly rooms. Price range $60-$250.
McCloud Hotel
Phone: 530-964-2822, 800-964-2823
Website: http://www.mccloudhotel.com/
Location: 408 Main Street, McCloud, California 96057-0730
Located only 5 miles from the Mount Shasta Ski Park and in the heart of historic McCloud , this boutique hotel has 16 rooms. All rooms have private baths, 4 rooms have 2 person Jacuzzi tubs. Rates range from $120 – $195 (for 2 persons) and include a full breakfast and a wine/appetizer hour from 4 – 5 PM daily. Dinner is served to both hotels guests and the public Thursday – Sunday evenings between 5:30 and 8 PM. Reservations are strongly suggested. Open year round. Pet friendly in the four first floor rooms (additional fee of $25 per pet).
Railroad Park Resort
Phone: 530-235-4440
Website: http://www.rrpark.com
Location: 100 Railroad Park Rd., Dunsmuir, California 96025
 Offers camping tent sites too.
Sleep in an authentic caboose and dine in antique rail cars beneath magnificent Castle Crags. Caboose motel open year round. The Dinner House/Lounge and RV campground are open spring through fall. Motel features pool, spa, and cabooses outfitted for your comfort. Many pet-friendly rooms. For reservations, info and photos visit our website at rrpark.com.pets $15.00 per pet/per night.
Swiss Holiday Lodge
Phone: 530-926-3446
Website: http://www.swissholidaylodge.com
Location: 2400 S. Mt. Shasta Blvd., Mt. Shasta, California 96067
21 rooms. Rates $55-$150 plus tax. Continental breakfast, phones. Pool, hot tub, pets OK, cable TV (HBO) and WiFi. Refrigerators, microwaves, and coffee makers in every room. Rooms with views of Mt. Shasta; offer a kitchenette unit. Enjoy continental breakfast and use of community kitchen. AAA approved.
Strawberry Valley Inn
Phone: 530-926-2052
Website: http://www.strawberryvalleyinn.com
Location: 1142 S. Mt. Shasta Blvd., Mt. Shasta, California 96067
Relax, Revive, and Retreat at the Strawberry Valley Inn. Set in a picturesque storybook setting of stone rock siding, beautiful trees and flowers, with a backdrop of Mt. Shasta. This cozy boutique hotel is conveniently located near the town center close to shopping, restaurants, and endless outdoor activities. Each room is uniquely decorated with amenities such as suites, luxurious down bedding, cable TV, and ipod docking stations. Continental breakfast is served each morning inside the lovely historic Inn. Both individual and side by side massages are available in the Inn or guests can book an In-room massage. Morning stretch yoga and evening meditation are available seasonally.Pet fee $15 per night
http://strawberryvalleyinn.net/
http://visitmtshasta.com/lodging/motels-hotels/
B&B's
Mt Shasta Inn
Pets are welcome in the first floor guestrooms but not in the Lobby or Dining Room. There is a nice field across the street from the Hotel which is perfect for exercising your dog and we can provide plastic bags to pick up the icky pooh stuff which may then be deposited in our dumpster near the rear parking lot. There is a one time charge of $25 for your pet to join you in the room.
http://mccloudhotel.com/the-inn/policies/
http://visitsiskiyou.org/where-to-stay/bed-and-breakfasts/