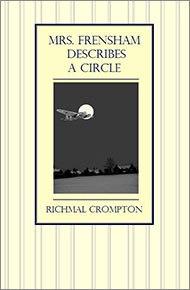 Book review by George S: Mrs Frensham Describes a Circle is about an extended family in an English country town during the Blitz. Richmal Crompton shows how the war brings out different responses in the varied personalities of the family, and suggests which temperaments are best able to deal with a historical crisis.
The book (recently reprinted by the enterprising Greyladies Press) starts with the elderly Mrs Frensham, looking after her husband, who has been fragile ever since he was shell-shocked during the previous war. When a stray bomb hits their cottage and kills him, it is, paradoxically, a blessing. She is not only freed from anxiety, but imagines herself reunited with him – not as he had been recently, but as the stronger character he had been when she first knew him.
She goes to stay with her daughter, Anice. It is a fractious household. The elder daughter, Ellen, is dissatisfied with herself, can't make any headway with the man she loves, and is jealous of her younger sister, who is treated better than she was at that age. The son is also dissatisfied; not yet old enough to join the forces, he feels that he is not doing enough for the war effort.
Anice's husband comes from an even more fraught family. His mother, Mrs Tylney, is a monster – the sort of character Richmal Crompton is very good at depicting; she is an incurably bossy woman for whom the war is a blessing because it gives her the excuse to boss and organize others.
Mrs Tylney's panacea for he whole world was to get interested in some work and take it out of itself. If everyone were sitting on committees and attending meetings, she didn't see how anyone could be unhappy or discontented… The failure of her own family to realize this truth was one of her greatest disappoinments.
Mrs Tylney is impatient with her daughters; one is in love with an unspectacular young man of a lower social class; the other, Paula, seems to be wasting her life. The mother does not realize she has been having an affair with a married man.
At first, Mrs Frensham plays little part in the family dramas. Confined to her sick room, she does little but listen to what is happening, and chat with her dead husband. Gradually she begins to play a larger part, though, and small suggestions rom her lead, as if by magic, into large improvements in their lives. Paula especially, having been dumped by her married lover, goes with Mrs Frensham to look at her old cottage, and meets another man, an energetic vicar with whom she unexpectedly bonds.
This vicar is one of the characters for whom the war has provided opportunities. Having left an East End parish because of his health, he had been frustrated in his country parish, until the war sent evacuees for him to look after, and suddenly life is full of excitement and challenge again. It is the evacuees who bring him and Paula together.
Then there is Miss Fraser, Anice's housekeeper, a tetchy woman who is very conscious of her status and resents any slight that seems to label her merely a servant. She takes on duties in the Air Raid Warning headquarters, and for once in her life she feels both useful and valued, and stays at her post during a raid:
When they recovered her body from the debris the next day, it was crushed and broken, but her face was untouched.
It wore a little smile, happy, eager, expectant.
Every now and then, Crompton includes snippets of overheard conversations; they have the ring of ones she has actually heard, and give an idea of how variously people are dealing with the war:
'They've been bombed out three times. I'm terribly sorry for them, but I'm a bit tired of hearing about it…'
'Well, this old woman foretold the end of the last war to the day, and she says…'
'My dear, she 's given the whole of her meat ration to that huge moth-eaten cat of hers.'
'I haven't blacked out my bedroom at all. I undress on the landing.'
'
When the Times Literary Supplement reviewed this novel in 1943, they were rather sniffy:
Miss Richmal Crompton is bright at all costs in this tale of a too, too charming and delightful group of gentlefolk in the country during the air raids of 1940 [….] Miss Crompton seems to have succeeded in turning even the Blitz into magazine prettiness.'
The reviewer sneers that in between the events of the war 'come the really important things, which include some half-dozen sentimental love affairs and various extravagances of comic behavior.'
Well yes, the novel does imply that if you let yourself be utterly dominated by the war you are likely to turn into a monster like Mrs Tylney. The 'really important things' of peacetime are still important in war. Mrs Frensham, with her slightly dotty conversations with her dead husband, sees to the heart of the situations of the novel's young women, and guides them towards happiness in a way quite different from the bossiness of Mrs Tylney.
As often with Richmal Crompton, there are some spectacular minor characters ('None of these people are merely as large as life,' grumbles the TLS. 'some are about ninety-two times larger.') this time she seems to be specialising in showing odd but happy marriages. A very dramatic Russian countess is married to an anxious Austrian Jew; she harangues him unmercifully, but they are devoted. An ex-colonel with a wooden leg is married to a woman whom he keeps delighted by his silly jokes, especially about his wooden leg, which he calls Marmaduke. The book is full of odd couples, and most of the pairings at the end are slightly strange, or at least unorthodox. Nobody makes the kind of match that Mrs Tylney would think of as suitable. I think the book is telling us to take happiness where we find it, and to make the most of it, which is maybe not bad advice in the middle of a war.