The subject of today's post is probably vaguely familiar to you, even if it's only through her husband and son.  Yes, it is yet another entry into Kirsty's big book of 'And his wife was also an artist'.  I'm actually crazy about her husband because he did this...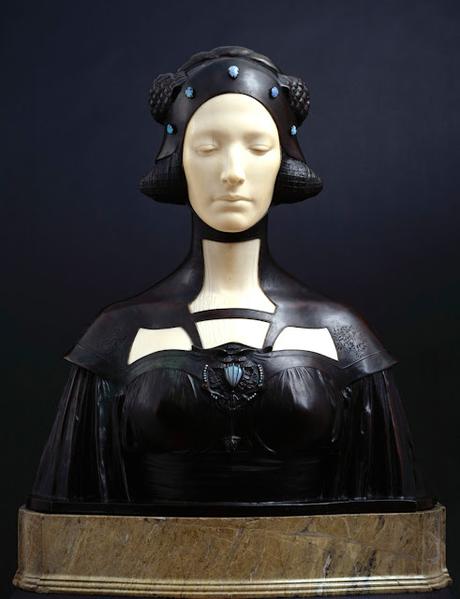 Lamia (1899-1900) George Frampton
 I will fight anyone over whether or not that is the most beautiful piece of sculpture ever created (maybe tied with that woman with the veil on her face) as Lamia is absolutely breath-taking.  However, I'm not here to talk about Mr Framp, I'm here to talk about his massively talented wife, Christabel Cockerell...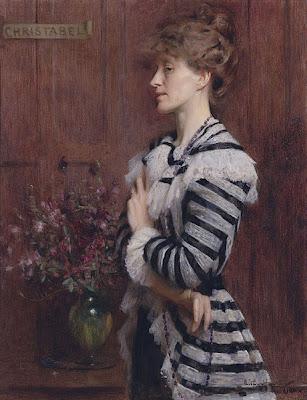 Christabel Cockerell, Lady Frampton (1900) Arthur Hacker
Oh yes, spoiler alert, she becomes Lady Framp, but we'll come to that in a bit. Christabel Cockerell is a very interesting woman, not least because despite her marriage and then elevation to Lady-ness, she stubbornly remained Christabel Cockerell in her professional life.  It is also fascinating how the newspapers battled that, trying to place her back in her box as 'wife and mother'. But let's start at the beginning...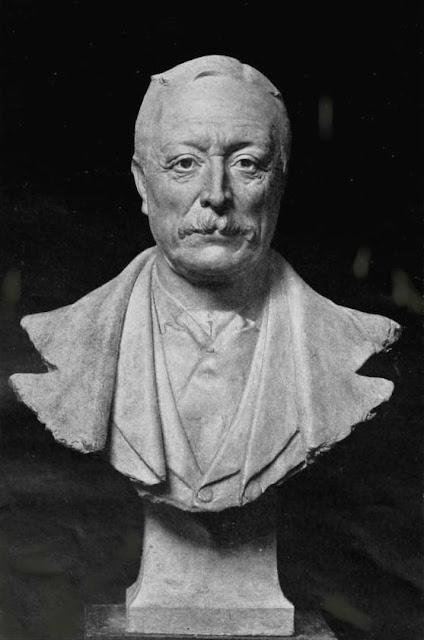 George Russell Cockerell (1900) George Frampton
I will be the first to admit I'm an idiot, so when I read that Christabel's father George Russell Cockerell was a 'coal merchant', I envisaged Eliza Dolittle's father, rather than a man so wealthy that he probably only knew coal as the thing the servants put on his fire before he woke up in the mornings. The Cockerell family were coal merchants to the Queen and there was a 'Cockerell Colliery' just outside Brussels, which I suspect was to do with them too (and it had an appalling mining disaster in 1882, which killed 66 miners - read more about Victorian mining
here
).  Anyway, I was soon dissuaded from imaging Christabel's poverty when I saw she started her life in the Pavilion Buildings in Brighton.  She was also baptised in the Brighton Chapel Royal.  She was born in the summer of 1864, eldest of three Cockerell children. She was followed in 1865 by Ethel and in 1868 by George, but neither of her siblings made old bones, with her brother only making it to 16. Ethel made it to her mid-20s, after marrying the fantastically named Timotheus Burd and giving birth to her daughter, Christabel. She in turn also had a daughter called Christabel, so there were Christabels right up until 2004 as far as I can see, which is lovely, but I digress.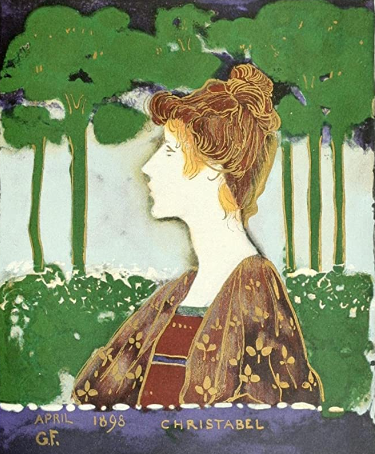 Christabel (1898) George Frampton
 In the census, Christabel can be a bit difficult to chase as the census takers had difficulty with her name.  In 1871, 'Crustabel' (a delightful name for a girl) was staying with her maternal grandfather, George Perry, in Campion House in Sydenham, which I think is in this photograph (from the
Lewisham Borough Photos
website, hence watermark)...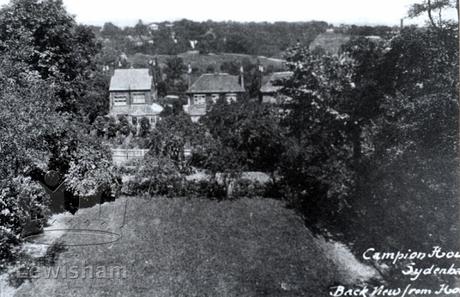 Anyway, Grandpa was listed as having 'No Occupation' so I think we can guess how rich that side of the family was as well. Little Christabel was not short of a bob or two and so when she showed an aptitude for art, she was sent to be trained at the Royal Academy School in 1882. By 1891, she is listed as an artist, with her emphasis on sculpture, which is interesting, and she is staying in Addison Terrace in Kensington, where she lodged with John Tyrell and his wife. There is even a servant, so I don't think we're looking at shabby student accommodation. It was while at the Royal Academy that she met George James Frampton...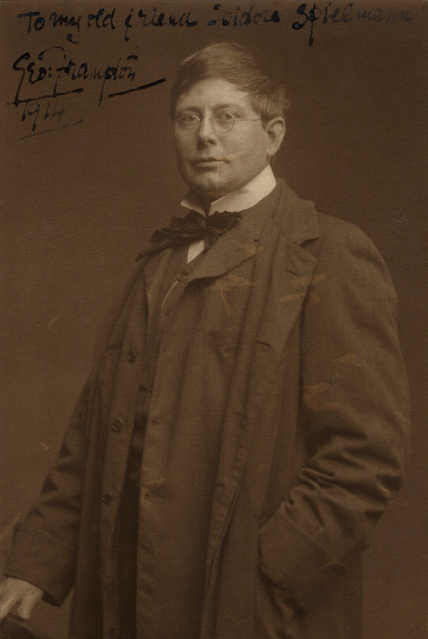 George Frampton (c.1902)
George's father was a wood carver, and George was somewhere in the midst of quite a large family, born in 1860. I wondered if Christabel's interest in sculpture was where she met George, or because she met George?  She doesn't seem to have produced much sculpture after leaving school, so I can only suppose, she found her groove with different mediums.  They also didn't rush into marriage - like the Byam Shaws, Christabel and George were not short of money yet didn't marry until 1893, when Christabel was 28 and George was 33. I think it was probably for their marriage that George designed this piece for his wife...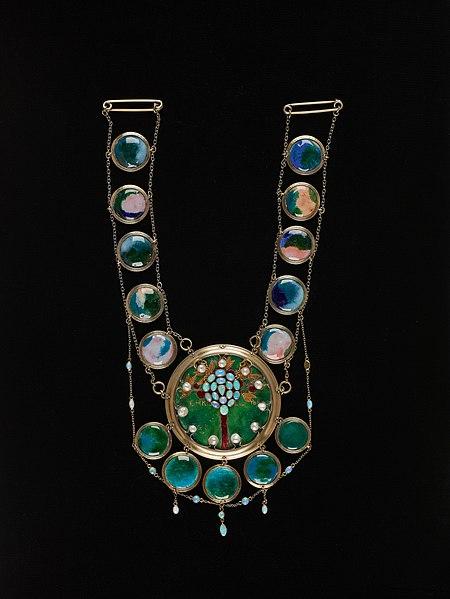 The Christabel Necklace (1893) George Frampton
On the marriage certificate, Christabel's father is a 'gentleman' whilst George's is a 'sculptor', as is George.  Infuriatingly, Christabel has no profession. This is especially galling as Miss Christabel Cockerell is listed in the London City Directory of 1890 as an 'artist' and her address is 9A Addison Road.  Despite this, Christabel had started to make a name for herself with works such as this...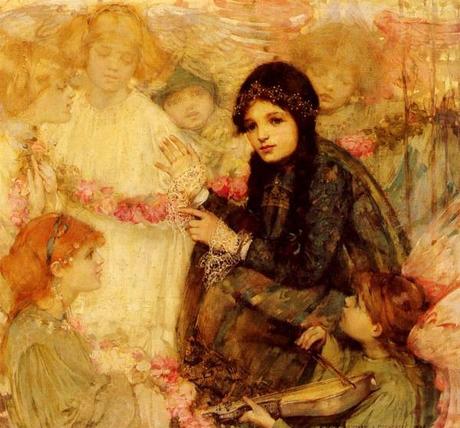 And Angels Were Her Playmates (1897) Christabel Cockerell
This gloriously off piece is of St Elizabeth of Hungary as a child, playing with ghostly angel children. I wonder if it was pieces like this or the arrival of their son Meredith in 1894 that concentrated Christabel's vision on child portraits?  Possibly, they were just popular and commercial so that is what is mentioned and what survives, and painting children was seen as a very proper thing for a lady-artist to do.  The small Frampton family lived in Queens Road in the 1901 census, a nice but reasonably modest house but 1902 marked a change for the family as George was elected an Academician and was described in the newspapers as a man of considerable talent and charming manners. 
Tatler
even ran a piece on him...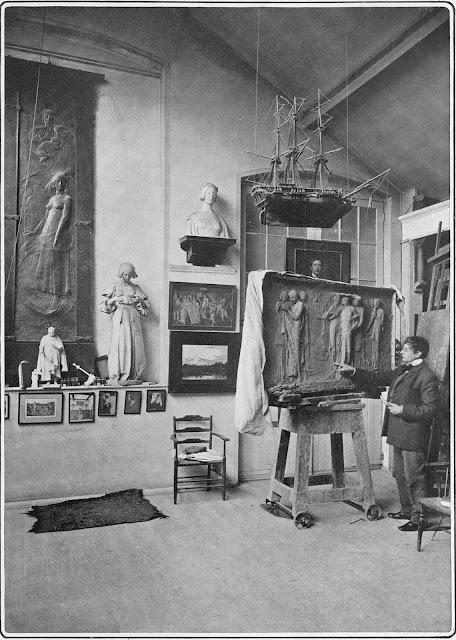 George in very very tidy studio (1902)
Tatler's
 piece mentioned that George had the affection of all that knew him, but ended their caption for this photograph with 'Mrs Frampton is an artist of talent and distinction.'
Notable too were the mentions of Christabel, for example in the
Bournemouth Daily Echo
 - 'his wife, better known under her maiden name of Miss Christabel Cockerell, is herself an artist and a frequent exhibitor at the Academy and at the New Gallery.'
A Momentous Question (1903) Christabel Cockerell
Christabel continued to exhibit as 'Cockerell' much to the interest of the newspapers, as George's reputation and status grew and grew. The couple became part of the St John's Wood art colony (which makes it sound far too hippie and 60s - everyone was posh and had nice artist houses with studios).  Christabel appeared in Walter Sparrow's indispensable book on
Women Artists
, published in 1905, with her picture
Bluebells
...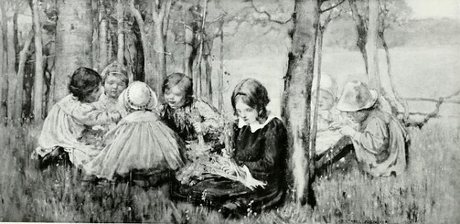 Bluebells (1903) Christabel Cockerell
Of course, Sparrow can't resist adding 'Mrs Geo. Frampton' after her name, just in case you were worried she was a spinster. Even more fame came in 1908 when George became Sir George and Christabel became Lady Framp.  The newspapers were on hand to explain who she was, thank goodness! The
Birmingham Mail
 had a charming paragraph entitled 'Lady Frampton' - ''It is as Miss Christabel Cockerell that she must be sought for in the catalogues of the Royal Academy and the New Gallery.  Lady Frampton models occasionally, and is intensely interested in the branch of art practised by her husband; but her own successes have been gained as a painter of portraits, of children and child-life, and of landscapes.' Now, it is very interesting that they says she modelled, as this is what they are referring to...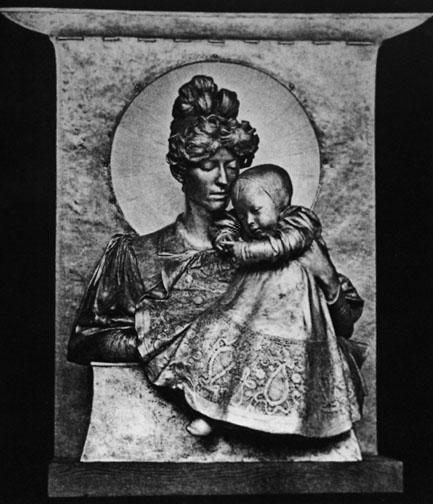 Mother and Child (c.1894) George Frampton
As far as I can see, the only pictures Christabel sat for were portraits.  She is celebrated in portrait a few times by George, and a couple of others, including Arthur Hacker and this one by James Shannon...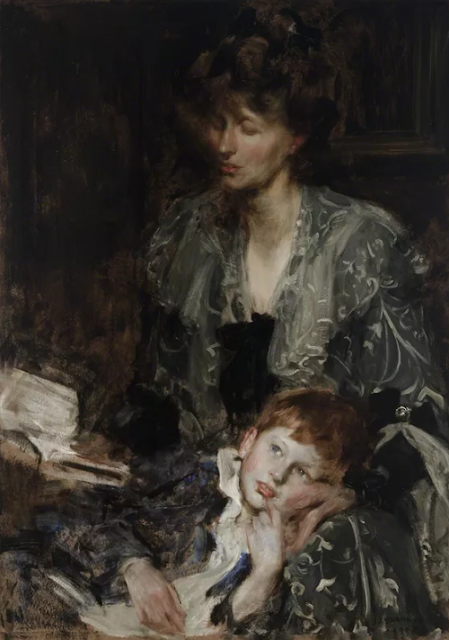 Christabel Cockerell and her son, Meredith Frampton (1901) James Shannon
I think describing her as 'modelling' is a very loaded term as she painted her husband a couple of times, as did other portraitists but no-one would dream of calling George Frampton Sculptor/Model. Anyway, the listing of her specialism, of children and landscapes, seems to balance out the fact that Lady Frampton is still going about calling herself Christabel Cockerell.  Well, at least she is painting proper girl subjects.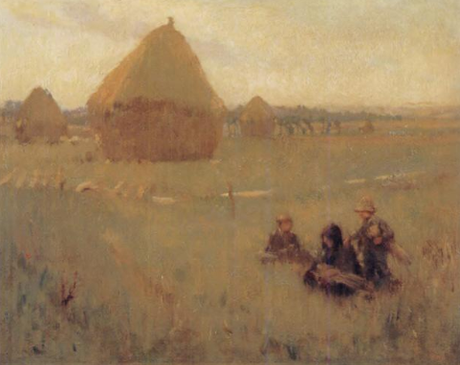 In the Hayfield (1890) Christabel Cockerell
Because he was knighted, George thought the family should have a new and splendid home in St John's Wood and designed 90 Carlton Hill as the perfect double artist abode, with studios for both him and Christabel.  Obviously, the press were massively interested in his studios with Christabel's bit given an after-thought with some of the other rooms, but we get an insight into their domestic life...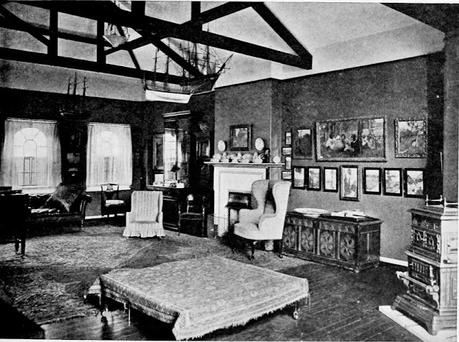 Lady Frampton's Studio (1910)
Their new home was reported in
The Studio
 and looking at the picture, I wonder if the ship hanging from her studio ceiling is the same one that was suspended in George's studio before?  Or does everyone get a boat in the Frampton household?  Anyway, you can see Christabel's paintings on the wall and a little plinth for the children who came to model.  On the whole, it does look more like a comfy sitting room rather than a professional artist's studio, but she might have liked the informality, especially if your models need distracting and want to look at a hanging ship.  What I find very interesting is that in various publications, it is written that Christabel didn't exhibit after 1910, the implication that she ceased working. In the 1911 census, it is true that she has no profession listed, although it does say that she works 'at home'. However, if she did stop painting in 1910, it seems an odd time for George to design them a house with a double studio...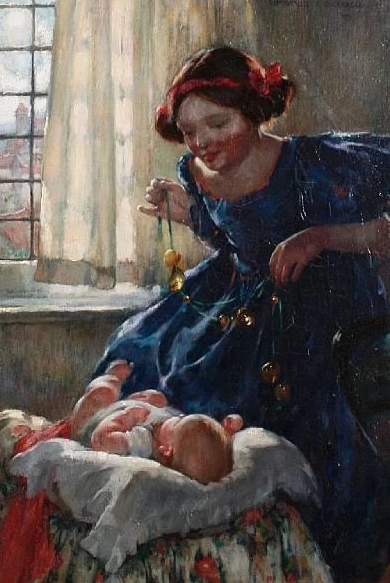 Entertaining the Baby (1910) Christabel Cockerell
The Framptons slowly became icons of a certain status of artist.  Reading about them in the newspaper, it is always 'Sir George and Lady Frampton', moving as a pair from event to event, with occasional mentions on how he sculpted Victorian England and had moved on to sculpt the King and Queen, visitors to Carlton Hill.  They are mentioned at the Art Revels for the St John's Wood Art School (where Meredith went before the RA).  In 1910, Christabel not only exhibited
Entertaining the Baby
 but also had
In the Presence of Royalty
 at the Royal Academy. Christabel very much becomes 'Lady Frampton' and papers like
Truth
 describe her outfits - 'gold with diaphanous black draperies and insertions of metal lace' in 1913, for example. In the meantime, Meredith was following in his parents's footsteps and began to carve out a career for himself, including this charming pair of portraits...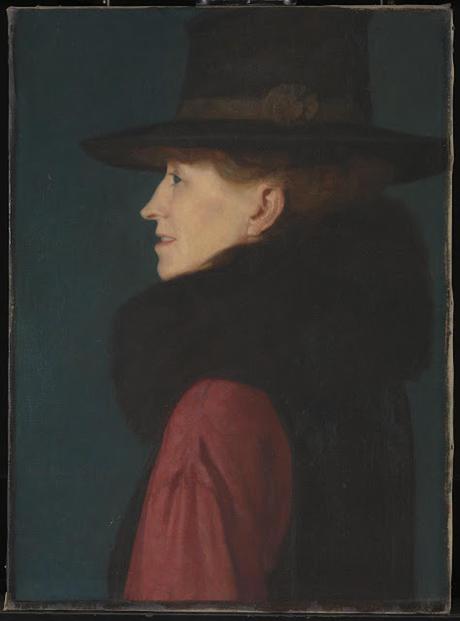 Lady Frampton (1918) Meredith Frampton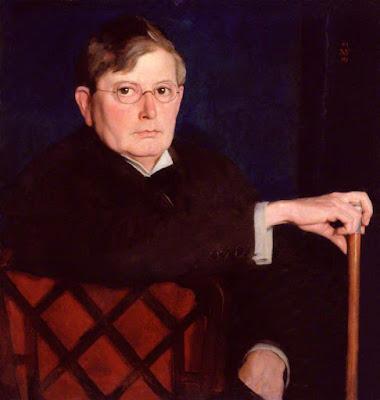 Sir George Frampton (1919) Meredith Frampton
Meredith had served on the Western Front in the Great War but came back unharmed, building a dynamic career for himself through commissions of his super-smooth portraits.  One which wasn't a commission was
Portrait of a Young Woman
, purchased by the Tate in 1935 and one of his most famous pieces...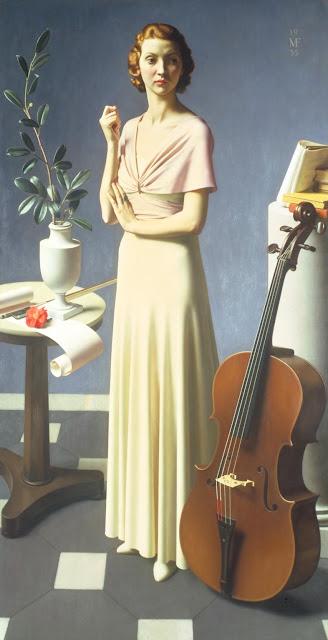 Portrait of a Young Woman (1935) Meredith Frampton
The dress worn by the model Margaret Austin-Jones, was made by Christabel from a Vogue paper pattern.  Anyway, I've jumped ahead - Christabel, despite being part of 'Sir George and Lady Frampton' actually seems to have attended things alone, for example the opening of Kettering Art Gallery in 1913 and the funeral of William De Morgan in 1917 (interestingly George is not listed as a mourner, despite supervising the carving of the De Morgan headstone).  By this time, the tone taken in the newspapers is rather more jokey - in 1913 there was a joke in the
Glossop-Dale Chronicle
 about two clergymen, one of whom says that he might have been at Lady Frampton's ball but he was never in the same room as the dancers, which sounds like a convoluted euphemism for something.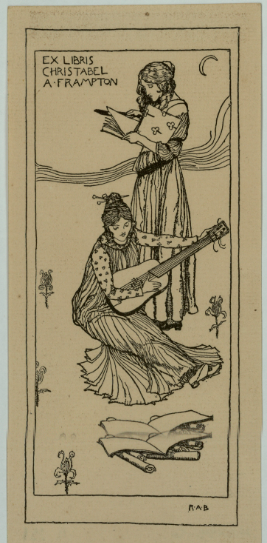 Christabel's bookplate (1900) Robert Anning Bell
I think that the problem is that George Frampton, and by extension Christabel, were seen as the establishment from Victorian England, despite their work being innovative. Meredith brought forward a different sort of art and he was seen as the future, his parents very much the past, especially after the war. The couple slipped into a peaceful retirement, now 'Meredith's parents', Meredith making use of his father's studio in St John's Wood. When George died in 1928 there was a moment of grief for not only the nation, but internationally. 
The Scotsman
 reported that the Belgian Ambassador sent his own condolences to Lady Frampton in memory of the beautiful statue of Peter Pan which George had presented to the City of Brussels.  His funeral at Golders Green was not exactly a Who's Who but more of a Who's Left of Victorian/Edwardian painting, including Frank Dicksee and John Lavery.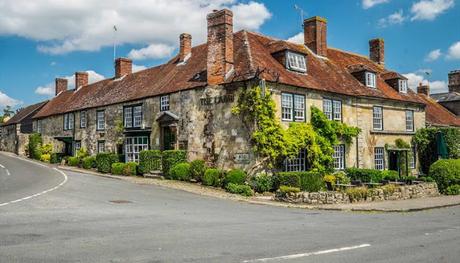 The Lamb Inn, near Salisbury
Christabel lived on in St John's Wood, then moving out towards Salisbury in Wiltshire, seemingly following Meredith. In the 1939 census, she is staying at the Lamb Inn, a glorious pub near Salisbury, and she is listed as an artist, retired (hurrah!)  In her old age, she moved into a Nursing Home in Mere, not far from Salisbury and that is where she died in 1951.  Interestingly, much like Byam Shaw's family, Meredith didn't marry until the year of his mother's death, retiring two years later because of his failing eyesight. He married Hilda Dunn, daughter of James B Dunn RSA and himself slipped somewhat into obscurity, causing a newspaper to ask 'Meredith Who?' in 1982 when the Tate held a retrospective.  He died in 1984 and was remembered partly because of that very retrospective and the popularity of
A Game of Patience
 but also because, ironically, he was George Frampton's son.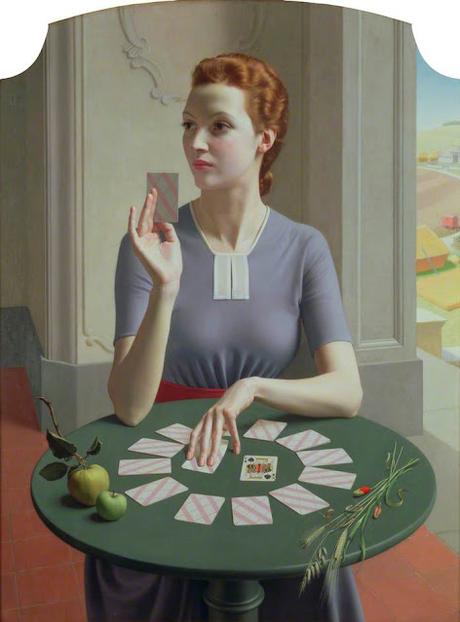 A Game of Patience (1937) Meredith Frampton
So, Christabel gets forgotten again, even though she was part of the British Impressionist movement and produced exquisite works on subjects favoured by the Pre-Raphaelites.  Why has she not had her renaissance? Well, there are a couple of reasons.  Firstly, this is the only picture of hers on ArtUK...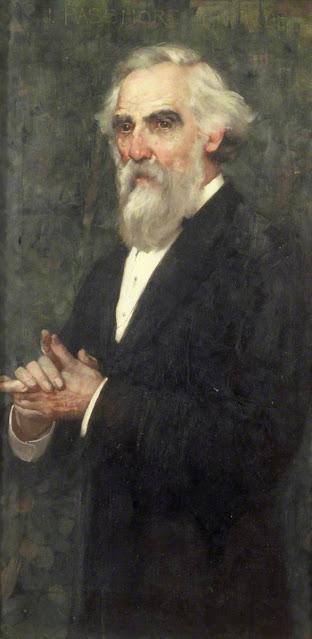 John Passmore Edwards (1899) Christabel Cockerell
It's really good and you get a very clear idea of the character of this man, but it's not exactly sexy is it?  And he's not a very well-known chap, so this is a painting unlikely to be rediscovered in a big way.  If her work doesn't appear on ArtUK, the database of primarily oils in UK collections (now moving into other things too like sculpture), then it is hard to find good images of her watercolours and hard to know who owns them.  The fact her work concentrated on children I think might hamper interest too as it is often seen as twee and chocolate-box-y.  However, as part of a power couple of art, Christabel definitely needs her revival. Can you image the glory of a Cockerell-Frampton exhibition with all three members of the family shown?  That would be amazing.  I'll keep my fingers crossed in the meantime...