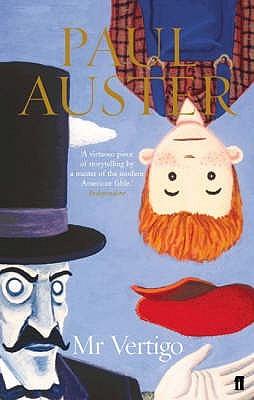 Mr. Vertigo by Paul Auster
Published by Faber
Paperback
Published 5 January 2006
288 pages
Library book
WHAT'S IT'S ABOUT
'I was twelve years old the first time I walked on water . . .'
So begins Mr Vertigo, the story of Walt, an irrepressible orphan from the Mid-West. Under the tutelage of the mesmerising Master Yehudi, Walt is taken back to the mysterious house on the plains to prepare not only for the ability to fly, but also for the stardom that will accompany it.
At the same time a delighted race through 1920s Americana and a richly allusive parable, Mr Vertigo is a compelling, magical novel - a work of true originality by a writer at the height of his powers.
OPENING
I was twelve years old the first time I walked on water.
WHAT I THOUGHT
Mr Vertigo did not work for me. I was disappointed because I've read and really enjoyed other Paul Auster novels. This one left me pretty cold. I enjoyed the first ¾ of the novel a lot more than the last few chapters but still wasn't overly impressed. Judging by the blurb, I thought this would be a fun read with interesting fantasy elements but not so much. How can a book about a boy who can fly be such a dud? There are some powerful, emotional moments in the novel especially around the fate of two members of Walt's new family in the early stages. Most of the rest of the novel is dull and vulgar littered with pointless swearing and Walt's excessive wanking. (Yes, I did write that sentence). The final couple of chapters race through 60 years in Walt's life which did nothing to improve my enjoyment. Mr Vertigo is set during an important time in history, in the American Midwest when the Klu Klux Klan were very real. The rich world created still didn't make me really enjoy this novel. This is very short book but it dragged on and on and I feel like I've been reading this for years and years. I didn't enjoy Mr Vertigo and would not recommend it.