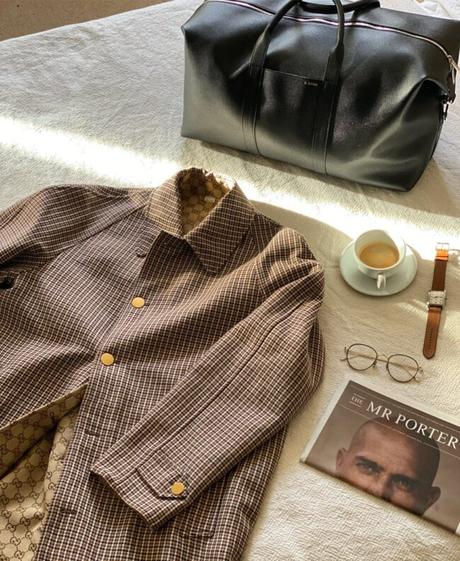 The biggest sales event every season is at Mr. Porter. Tonight, they started their spring promotion, where you can find select items discounted by as much as 50%.
Things tend to move quickly at Mr. Porter, and you'll often find that discounted items don't make it to the second or third round of price drops. I find that the best way to approach the sale is three-fold. First, Mr. Porter's free shipping and returns make purchases fairly risk-free. So if you're on the fence about something, it's sometimes worth buying it and just trying it on at home. Secondly, things that sell out sometimes come back, as customers make returns. So it's worth checking back every once in a while. Thirdly, since the inventory here is vast, you can browse the selection by filtering for sizes, your favorite brands, and the categories of items.
The entire sale section is viewable at Mr. Porter, but if you want some suggestions, I've also pulled some highlights below.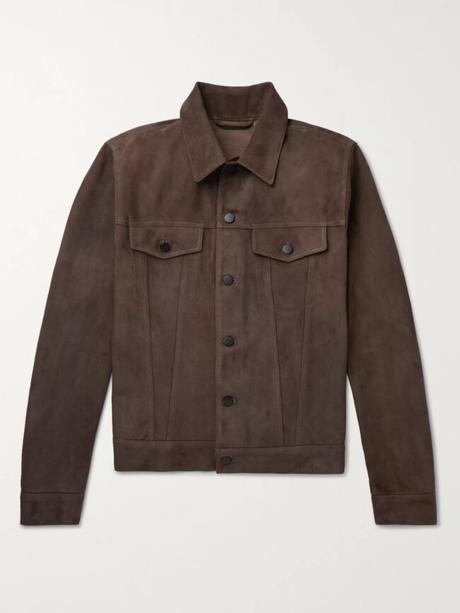 Valstar is best known for their Valstarino, a refined version of the American A-1 bomber. But if I had to choose just one of their jackets for my closet, it would be their suede trucker. Like their Valstarino, this is refined enough to pair with tailored trousers, but it also looks at home with jeans. It works well with textured sweaters, grey sweatshirts, dressier boots, and white sneakers. I almost purchased a shearling version of this same jacket a couple of years ago, but this regular suede would be easier to wear year-round. This cold shade of brown also looks more unique than your standard chocolate color.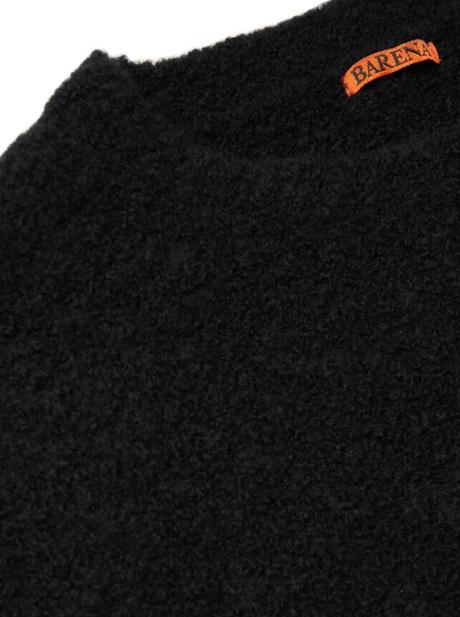 Textured Barena Sweaters
Textured sweaters, for me, are a staple. They lend visual interest to plainer ensembles, while at the same time, help tone down busier ones. They're infinitely better than the finely knit, smoothly finished merino crewnecks and v-necks you find everywhere, particularly if you want something you can wear casually.
If you want something you can pair with classic outerwear, such as a waxed cotton Barbour or a brown leather A-2, you might be better off with similarly classic knitwear, such as a Shetland or an Aran. But if you want something you can wear with contemporary outfits, Barena's "Golena" sweaters do wonderfully. They have a nubby, almost boucle-like texture, and they sit well underneath things such as Margiela five-zips, Stephan Schenider topcoats, and even off-beat workwear from Japanese brands such as Kaptain Sunshine. Mr. Porter has them in , , and . I find black sweaters to be especially useful , as they form a visual void and help outerwear "pop." Designers often send models walking down the runway in black sweaters when they want to highlight a piece of outerwear.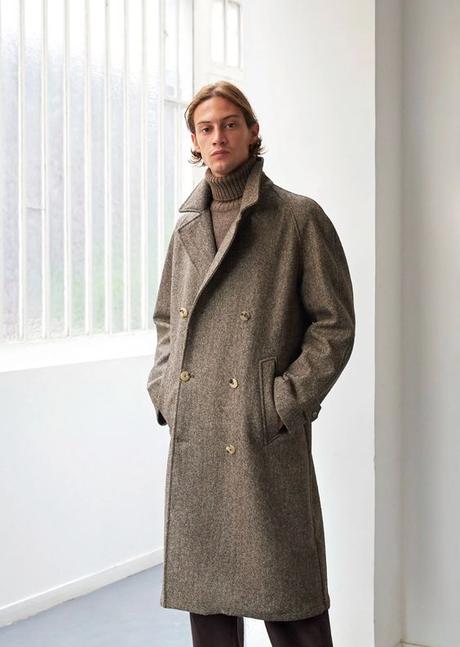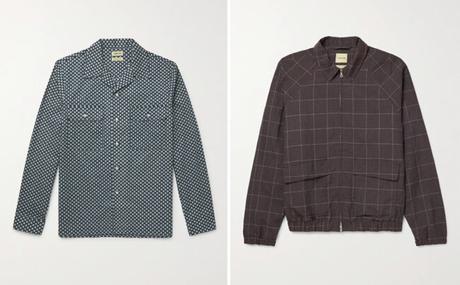 De Bonne Facture Grandad Coat
I'm not crazy about how Mr. Porter styled this coat on their site . The fit looks too slim, and the coat would probably look better if it were worn open (I've used De Bonne Facture's actual product photo for the image above). But I think this coat is great if you don't fight the loose, drapey silhouette. Déborah at De Bonne Facture tells me that this coat was modeled after something someone once brought into her showroom - a vintage overcoat once owned by the person's grandfather. It has been updated in subtle ways to make it look fresh and new, but it still has a classic vibe that I think sits well with everything from tailored trousers to jeans. There are plenty of online examples of men wearing the coat well . Some other notable De Bonne Facture pieces on sale: a camp collar shirt with a wonderful 1940s styled print , a cream-colored spring raincoat , and a washed wool-linen golf jacket . The Coolest Man You Know, a menswear shop in Paris, has some really good model photos of that golf jacket .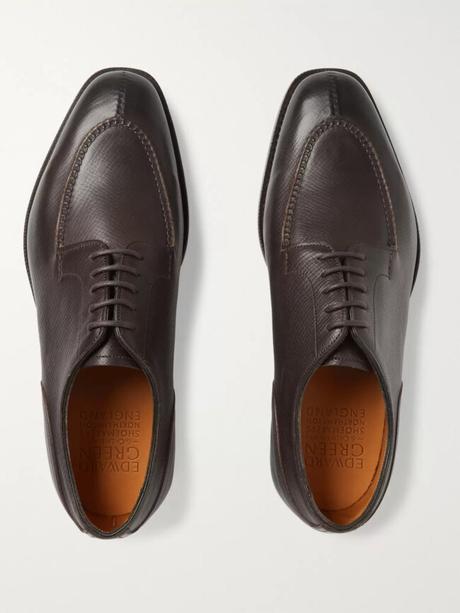 There used to be a time when it was nearly impossible to find Edward Green shoes on sale. You still won't find their core designs discounted, such as their Galways or Dovers in the company's dark oak leather. But Edward Green has so many tasteful designs and excellent leathers, it would be hard to go wrong with any of their choices (so long as you stay close to brown and black, and be cautious with overly warm colors). At the moment, Mr. Porter has a wide selection of their shoes on sale.
Included are two of my favorite designs: The Dover split-toe and Piccadilly penny loafer. Together, I think they make the perfect dress shoe wardrobe. The Dover here is made on Edward Green's 202 last, which has a stout, masculine shape that I think looks "correct" given the split toe's history as a work shoe. In the company's grained leather, this Dover will nicely complement rustic items, such as whipcord trousers and brown tweeds. On the other hand, the Piccadilly can be a three-season shoe - something you wear with navy sport coats, tweeds, and wool-silk-linen jackets. I think the company's 184 last perfectly strikes a balance between being conservative enough to wear with tailoring and sleek enough to look stylish.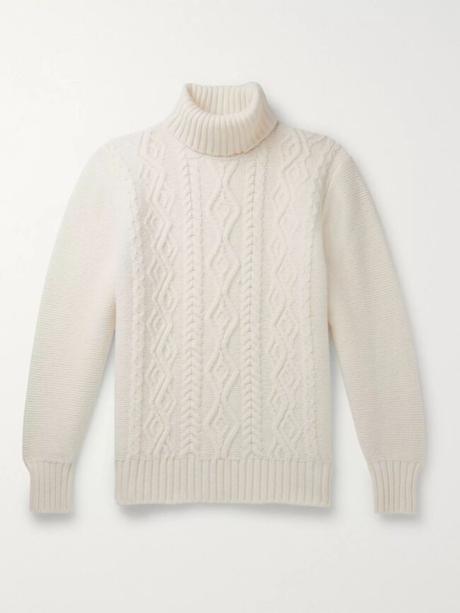 Inis Meain makes some of the best sweaters around. They're exceptionally plush and durable, fully fashioned, and inspired by classic designs from the Aran Islands, where the company is based. Mr. Porter has a bunch of their sweaters on sale at the moment. The navy Donegal Aran is wonderful, but my favorite is the cream rollneck you see above. This is the sort of thing you can wear with olive field jackets, brown leather jackets, and blue chore coats in the fall.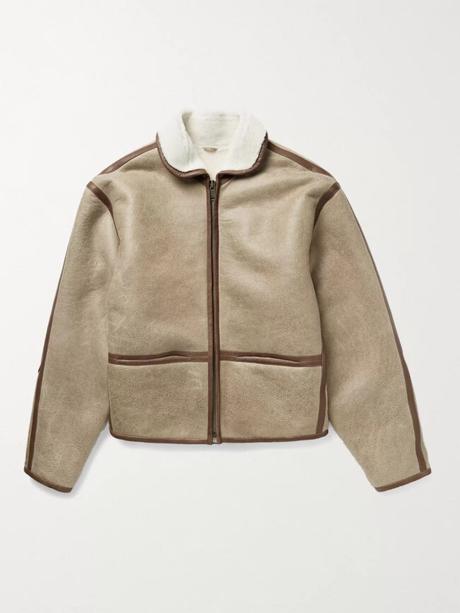 Isabel Marant Shearling
I've been getting into all things Isabel Marant for reasons I can't explain. It may have started a few years ago when I noticed one of their sweatshirts on Tracee Ellis Ross ( the most stylish woman in the world ). Since then, I bought one of the company's dropped-shouldered "Gatsyh" sweaters , which I was later pleased to see on Aaron Levine and Bryant Simmons . A lot of their menswear feels like womenswear. The silhouettes are similar - boxy, cropped tops paired with slim to relaxed pants. The clothes are slightly bohemian with references to the 1970s and beach culture. I don't know if I can rock a full Isabel Marant outfit, but I like things such as these darted cargo pants and washed purple t-shirts (what a great color). I also love this shearling you see above . The streamlined design looks like a liner jacket, and it's different from the double riders and cafe racers you see everywhere. Plus, it has a cropped, rounded silhouette that I think looks flattering on slim guys with narrow shoulders.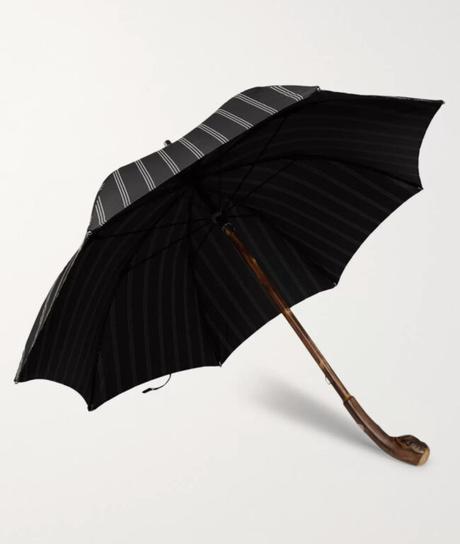 Francesco Maglia Umbrella
Francesco Maglia is a small Milanese workshop that produces the world's best umbrellas. They do private label work for luxury labels such as Hermes and Tom Ford, and they supply all of the other top-tier umbrella companies in the world, such as Mario Talarico, with umbrella sticks. These are single-stick umbrellas made with steam-bent handles, handsome canopies, and German trims. They give a satisfying "thump" when opened, and they feel solid in hand.
Most umbrella sticks are made with two pieces of material - typically metal and wood - so that you get a break somewhere above the handle. When you create an umbrella out of a solid stick of wood, however, you can get a smooth, uninterrupted line, as you see above. Manufacturers tell me this is a sturdier construction, but I mostly find it beautiful. The downside is that these are full-sized umbrellas, not collapsible. I mostly reach for collapsible, travel umbrellas when I'm on the run, planning to go through public transit, or know I'll be in crowded offices. But if I'm taking a cab, a full stick umbrella can be a nice luxury.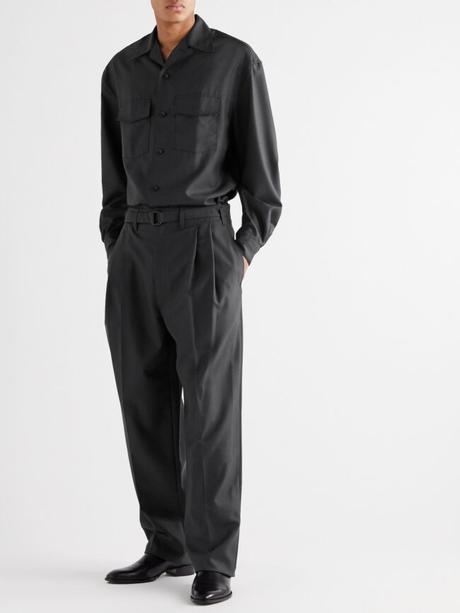 Lemaire's Big Trousers
If you're interested in trying a wider trouser, I don't think anyone does the style better than Lemaire. As the former Artistic Director at Hermes, Lemaire excels at sourcing materials and creating just-right patterns. Everything he makes fits, drapes, and moves in the right ways. Although these pants fit fairly full, they don't recall the bad days of oversized 1990s silhouettes. Instead, they just feel exquisite, much like how you see Lemaire's clothes presented on the runway.
You will, of course, have to embrace their more contemporary styling. But I find that a lot of Lemaire stuff can be worn with classic-adjacent brands, such as Colhay's sweaters and Camoshita's shirts. I really like this season's self-belted, poly-wool trousers. It can be worn pretty easily with a white camp collar shirt or a retro-styled pullover. For shoes, I would do black side-zips (naturally). The company also has an oversized, gabardine raincoat this season that looks very drapey.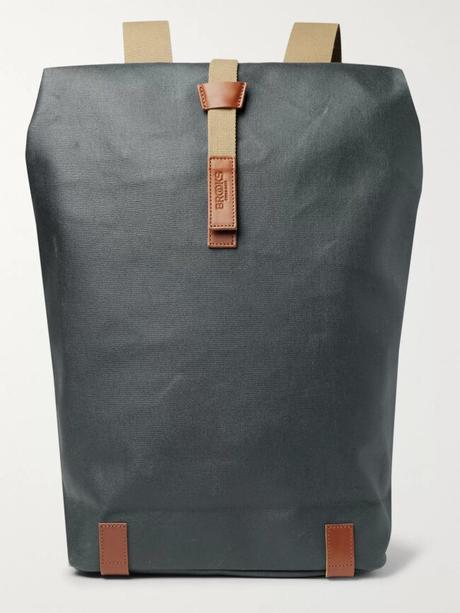 Brooks Pickwick Backpack
I bought an off-white version of this backpack a few years ago, and it's become one of my go-to travel bags. To be sure, it can also serve as your daily carry. After all, it was designed for cyclists going on their daily commutes. However, since the bag has an expandable rolltop closure and a spacious compartment, you can also use it as your second carry-on when boarding airplanes. You'd be surprised at how much you can fit inside here - a laptop, stack of books, a dopp kitt, at least two or three sets of clothes. The outside of the bag also has a weatherproof compartment that allows you to store keys and small personal items. Plus, it looks stylish, and the minimalist design fits in well with many types of wardrobes.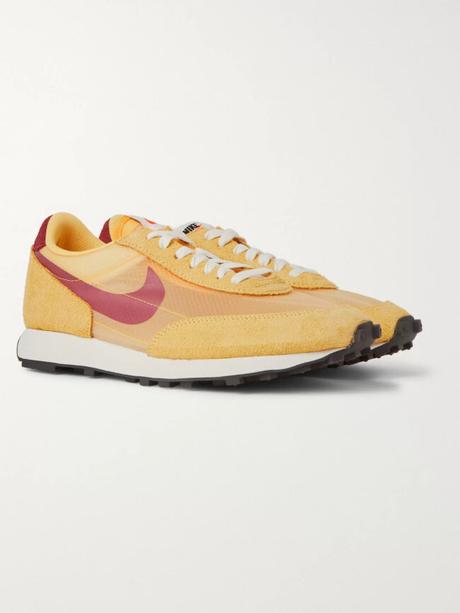 A handsome, retro-styled sneaker that looks great with shorts. You'll want to wear these with no-show socks when pairing them with shorts, however, as the side panels are slightly translucent. I also like them with a normal pair of white socks and washed jeans.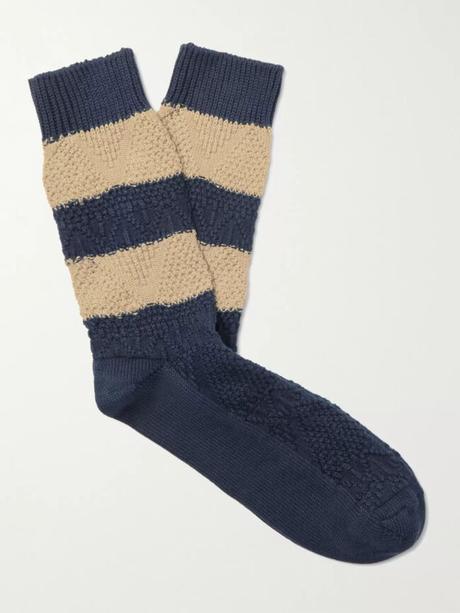 Thunders Love is a Japanese sock company that specializes in off-beat designs without veering into the world of whimsical "fun socks." I've been paying attention to the company for the last few seasons because their yarns and knitting patterns are so interesting, such as these textured, navy-tan socks you see above. At the same time, there's something very classic about their designs. These green and white socks remind me of WigWam, while the navy striped mélange socks look like sports socks from yesteryears. These would look great with workwear, Americana, and anything that can be described as "Rugged Ivy."
This Anthropomorphic Mushroom Lamp
This anthropomorphic mushroom lamp - which retails for $650 but is on sale right now for $455 - was included in last winter's Mr. Porter sale. I just wanted to check to see if the lil' guy is still around. And yep, he's still here. A reminder: Father's Day is June 20th.