This time Rob picked this classic story of one man and his dream that he achieved in a way he never though he could.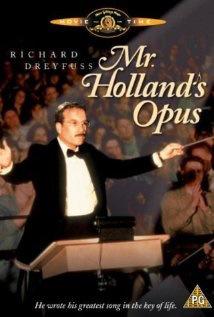 Director: Stephen Herek
Writer: Patrick Sheane Duncan (Screenplay)
Starring: Richard Dreyfuss, Glenne Headly, Jay Thomas, Olympia Dukakis, William H Macy, Alicia Witt, Terrence Howard, Damon Whitaker, Jean Louise Kelly
Plot: A frustrated composer finds fulfilment as a high school music teacher.
There may be spoilers the rest of the review
Verdict: Touching Drama
Story: Mr Holland's Opus starts with Glenn Holland (Dreyfuss) performing his dream conducting performance from his living room. Glenn is starting his new job as a music teacher where he gets to meet the Principal Jacobs (Dukakis) and Vice Principal Wolters (Macy) where he starts with uncomfortable beginning.
When Mr Holland struggles with the teaching commitments as he doesn't seem to be getting through to his students he gets a shock from his wife Iris (Headly) who announces she is pregnant. Mr Holland tries to change his approach to try and reach his students on a new level.
What starts out as a short four year plan with the summers to compose his masterpiece soon becomes a long term commitment as he starts to love moulding the new minds in music class, all while raising a deaf son.
Mr Holland's Opus is one of those classic stories that focuses a teacher touching the lives of multiply students through the years. The class doesn't focus too much how he teaches them but in the end we focus on the few students didn't get the full attention they could have. When we see how Mr Holland touches these few lives is really touching and see how much he gets out of it all is beautifully done. In the end it all ends up being very touching but on a serious side of the story we see how he struggles to cope with raising a deaf son. I think this is a good story that could easily be watched by all. (8/10)
Actor Review
Richard Dreyfuss: Glenn Holland is the aspiring composer who has to turn to teaching in what was going to be a short term plan, but once his life changes he learns to love teaching and we see how he connects with different teachers through the many decades he ends up teaching, but this only happens due to the trouble he has communicating with his own son. Richard gives a brilliant performance in this role which could easily be his best. (10/10)
Glenne Headly: Iris Holland is the wife of Glenn, who supports his every move but struggles with raising their deaf son in a life where they grow up in music. Glenne gives a good supporting performance. (7/10)
Jay Thomas: Coach Bill Meister is the first teacher who comes to Mr Holland to support him, they help each other along the way supporting each other through the difficult times. Jay gives good supporting performance. (7/10)
Olympia Dukakis: Principal Jacobs is the lady who hired Glenn giving him the chance to teach, at first they don't see eye to eye but over time she respects his methods as he connects with the students. Olympia does a good job in this supporting role. (7/10)
William H Macy: Vice Principal Wolters doesn't like Mr Holland style from day one he takes an instant questioning of what he is teaching and is on man who goes against anything he choices. William gives a good performance that shows he isn't just a comic actor but a serious actor that should be noticed. (7/10)
Support Cast: Mr Holland's Opus has a brilliant supporting cast that includes the students he inspires and the grown up versions who come back into his life to show him how far he helped them come. We have early roles for Terrence Howard and Alicia Witt in here too.
Director Review: Stephen Herek – Stephen was one of the best directors in the 90's and his list of films is amazing and this could easily be the top of that pile. (9/10)
Drama: Mr Holland's Opus is a beautiful placed drama that shows all the work through teaching. (9/10)
Music: Mr Holland's Opus has good use a music that also works to explain the year the film is currently set in. (8/10)
Settings: Mr Holland's Opus keeps the settings all look good for the time setting each story is being set in. (9/10)
Suggestion: Mr Holland's Opus is one to be watched by all at least once. (Watch)
Best Part: Farewell.
Worst Part: Difficult to have one.
Believability: Teachers would inspire the students to that level but the ending is slightly too much. (8/10)
Chances of Tears: You might have a few in the final scenes. (4/10)
Chances of Sequel: No
Post Credits Scene: No
Similar Too: Dead Poet's Society
Oscar Chances: Nominated for an Oscar
Runtime: 2 Hour 23 Minutes
Tagline: It's not about the direction you take. It's about the direction you give.
Overall: Brilliant Drama that can be watched by all.
Rating