As most NBA teams will be looking for that "guy" on Draft night, I am sure that one of the "guys" will get passed on and could be great pick-up for any team outside of the lottery.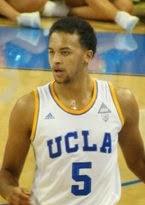 Anderson at UCLA in 2014
Kyle Anderson is the guy that I would love to have on my roster.  Some will slot him at the three position, but he could play the one, two, or the three in my eyes.  He will probably end up being a three like most say at the moment, but the guy is a tall point forward that can get a triple double whenever he wants to.
After watching him come up through high school and then two seasons at historic UCLA, Anderson has shown me that he could be one of the five starters on an NBA Championship-level team at some point in his career.  He will score well enough to make an impact in terms of scoring at the next level, probably give you five to seven rebounds a night, as well as in the neighborhood of seven assists.  The guy just flat out fills up the box score.  I do understand and realize that one cannot always look at the stats when looking at a player, but Anderson fills it up.  It is something that just cannot be noticed.  His ability to cause havoc for the opposing team is endless.  Put a smaller player on him, he has the ability to post them up.  Due to his length and size, he will be able to shoot over nearly all guards in the NBA as well as some forwards.
The guy just simply gets it done out on the court.  The ability to get a defensive rebound, start the break yourself, and then either score and finish at the rim or create a shot for someone else in transition is such an empowering tool that some players in the Association have today.
Anderson could have the potential to be a very problematic player on both ends of floor due to his size and skill set.  While most may say that he looks slow and does not obtain the proper quickness or athleticism in general to survive and do make great strides in the NBA, I say that will not be too big of deal to worry about with Anderson.  His size is just too much to handle from my point of view.  If he can pack on some weight over the course of his NBA career, he could potentially become a real scare and hair-puller for the head coaches around the league.
Now, how about we get down to the part that matters...
Strengths:
Plays under control
Plays within himself
Can be disruptive in passing lanes due to his long arms
Possibly the best ball handler and passer in the entire draft
Great vision and has a high basketball IQ
Shows that he can improve his jump shot and three point shot
Can post up, drive, and spot up at a decent clip
Rebounds extremely well
Weaknesses:
Does not possess great speed or quickness, just an above average athlete in terms of pure athleticism
Not the greatest shooter, but not the worst
Not sure about his NBA position
Grades:
(A-F)
Shooting: B
Rebounding: B
Play making: A
Defense: B
Size: A
IQ: A
Athleticism: C
Potential: B
Intangibles: A
NBA Comparison: Boris Diaw in 2004-2006
Need video for proof of this?  Here:
Me, personally, I would take Anderson as early as late in the lottery, but I am sure he will slide on down to one of the current playoff teams.
Kyle Anderson could come in right now and be a terrific role player on any team.  Just some adjusting to the NBA game, the lifestyle, and the players will be all Anderson needs before he is a starter.  I could see him playing fifteen to twenty seasons mostly injury free due to his lack of athleticism.
Making the All-Star team maybe four or so times at the most could happen as well as being one of the key players to a Championship winning team at some point in his career.  I have yet to come across anything negative about Anderson off the court, so selecting him would be a safe pick.  You know what you are getting on the court and you will not have to worry about him off the court.