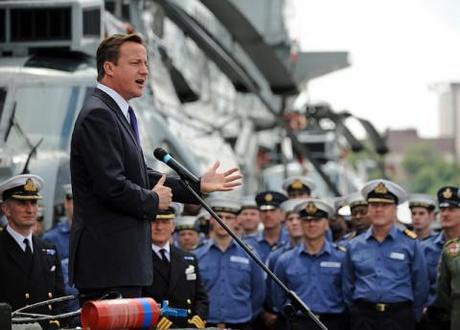 Prime Minister David Cameron talks to members of the Royal Navy aboard HMS Ark Royal in Halifax, Nova Scotia, 24 June 2010. Photo credit: The Prime Minister's Office

Britain may be without a fully operational aircraft carrier until 2030, according to a damning report published by the Commons spending watchdog. The Public Accounts Committee (PAC) report published today said that the two carriers being built under current plans will cost more, offer less military capability and be ready much later than planned, reported the BBC.
The HMS Queen Elizabeth and HMS Prince of Wales were saved from defence cuts spelled out in last year's Strategic Defence Review because it was concluded that it would cost more to cancel the projects than proceed with them.
However, PAC's Labour chairman Margaret Hodge said the final cost could end up being £12bn over budget. "Whilst today we're reporting predicted costs for this of £6.2bn, my fear is that that's not the end of the story", she warned, adding that "rather than two carriers, available from 2016 and 2018, at a cost of £3.65 billion, we will now spend more than £6bn, get one operational carrier and have no aircraft carrier capability until 2020 – almost a decade."
The PAC bombshell has been dropped on a bleak day for the Coalition government. Chancellor of the Exchequer George Osborne's Autumn Statement has raised fears that Britain is headed for a dreaded double-dip depression.
Battle of the defence secretaries. Seeking to minimize the damage done by the report, Defence Secretary Philip Hammond said: "Operating the more cost effective Carrier Variant fast jet will, in the long-term, offset the conversion costs and provide us with aircraft that have a longer range and carry a greater payload." Shadow Defence Secretary Jim Murphy sniped: "It is high time ministers took responsibility for their actions. The rushed, Treasury-driven defence review left Britain without aircraft flying from an aircraft carrier for a decade."
British taxpayer no better off. Writing at The Times (£), Tom Coghlin flagged up that, according to the report, "British taxpayers will save no money at all from the decision to scrap Britain's aircraft carriers." He referred to PAC as "influential" but reminded that "the full costs of Britain's two new carriers will not be known until December 2012" and the "decision to change the variant of the American built F35 Joint Strike Fighter, which will fly from one of the new carriers, have yet to be costed."
Cost spiralling. Richard Norton-Taylor of The Guardian said the report amounts to a red flag indicating that the carriers "will be less useful, take longer to finish, and likely cost more than claimed." He argued that the report "makes clear" the "quick" decision to adapt the carriers to fly US-made Joint Strike Fighters, taking off by catapult and landing by arrester wires, will increase the planes' cost as well as that of the carriers: "The cost of the US JSFs – or F35s as they are now called – is spiralling, and the Ministry of Defence has already cut substantially the number it plans to buy; development is also threatened by pressures on the American defence budget." Norton-Taylor did note that the catapult/arrester arrangement will enable British aircraft to land on French carriers, and vice versa – "increasing co-operation."