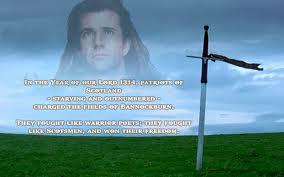 This is officially my second edition of the soon to be regular series, Movies & Music. We all know how important music is to our favorite films, so it seemed like a great idea to often share with my readers some soundtracks that I love. The first edition was for "The Fountain" one of my favorite soundtracks of all time, and this week I bring to you Braveheart, an equally unforgettable score.
http://www.youtube.com/watch?v=fkLrnI7SsVY
*SPOILERS AHEAD*
As if you don't already know the ending, right? There is a link to my favorite music in Braveheart, when I first watched Braveheart never before had music been able to evoke such emotion inside of me at the proper time. The torture scene is powerful beyond words, the Magistrate offers William the chance to stop the torture if he will only say "mercy", which is when Horner's beautifully soft and sad music comes in bringing the audience to their knees. My friends, this is some of the finest music you will ever hear, soak it in.
That concludes my second edition of Movies & Music, hope everyone enjoys!