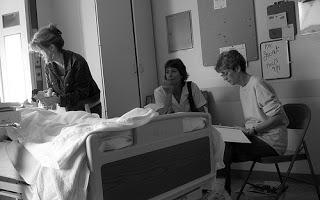 Photo by OldOnliner
As a student of the aging process, I regularly watch films that feature older adults.  Mature people live, love and have amazing adventures.  Ageism blinds many to the fact that people in their 60s, 70s, 80s and beyond do much, much more than die. But all people--especially the old--experience the dying process.
I value reading nonfiction 
books
about death written by gerontologists, spiritual guides, doctors, social workers, psychologists and other experts. However, as a retired English teacher, I find great truths conveyed through creative works such as novels, memoirs, plays, poems, paintings, and film.  
These works might help viewers prepare for the death of a parent.
There are hundreds of such films on the subject of death, including documentaries. However,
this post focuses just on fictional accounts that elaborate on how adult children respond to their parent taking to his or her deathbed
.
Here are four such films:
Big Fish (2003) features Billy Crudup as a young profession who travels home to visit his dying father, played by Albert Finney.  While the film has some fantastical elements typical of a Tim Burton film, it also delves into the complexities of the father-son relationship.  Finney's character uses this time to perform a life review, which any hospice worker will tell you is a common activity pursued by those active in the dying process.  Aided by the magic of  Hollywood, Burton transports the viewers to key events in the older man's life as he aims to leave a legacy for his son.  However, the son resists accepting how his father defines his own life. This is a great movie to help adult children prepare to listen to how their parents see themselves and how they want to be validated, loved and accepted despite their excesses. 
Evening (2007) depicts another death process that is focused on a life review.  In this film, the dying parent is the mother, played by Vanessa Redgrave. The adult children are daughters played by Toni Colette and Natasha Richardson.  The deathbed drama is complicated since the grown sisters have unresolved conflicts carried forward from childhood.  Nevertheless, a large part of the film consists of flashbacks as the dying woman reviews events that she labeled as regrets but that she needs to reframe in order to achieve a measure of peace before dying.  Many people minister to the dying woman: her daughters, a long-time friend from college, a home health aid, and a supernatural (or merely imaginary?) spiritual mentor.
Two Weeks (2006) is a more realistic depiction of the day-to-day challenges families face in the last two weeks of a parent's life.  Director Steven Stockman attended his own mother's death, which happened at home with his siblings in attendance as well.  Sally Fields plays the matriarch of the Bergman clan, whose four adult children have gathered to help their mother through the dying process. Like Evening, the adult children have unresolved conflicts that arise.  The situation is further complicated by spouses and children on the scene. 
Checking Out (2005) shares many aspects of Two Weeks because the families in both films are Jewish, the adult children have unresolved conflict, and a handful of spouses and children add another layer of relationships. Checking Out, however, contains more comedy (granted dark comedy) amid some very dramatic moments.   I wasn't going to list it because the aging parent, played by Peter Falk, does not take to his deathbed. Nevertheless, the characters talk at great length about their father's upcoming death. These conversations can offer viewers some insight into issues of the active dying process.  The film includes a life review, tension among adult children with unresolved childhood conflicts, and a renegotiation of family roles.  There's a lot of bickering, which I found alternating from grating to entertaining. I must also confess that this family bickering annoyed in part because it rings painfully true. It may be useful to know this was first a play, which explains in part why its dialogue heavy. 
Related:
Films Featuring Older Adults