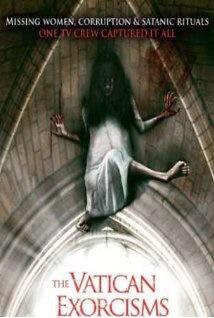 Director: Joe Marino
Writer: Mauro Paolucci, Salvatore Scarico (Screenplay)
Starring: Piero Maggio, Joe Marino, Anella Vastola
Plot: The Vatican Exorcisms was shot by Joe Marino, an American film-maker who went to Italy to shed light on the phenomenon of exorcisms. Accompanied by Padre Luigi, a true exorcist, Joe travels to the south of Italy, a place where the sacred and profane have always lived together, where Christian rituals are inextricably linked to the pagan ones.
There may be spoilers the rest of the review
Verdict: Well This Was Bad
Story: The Vatican Exorcisms starts with the true story warning as we learn Joe Marino goes to Italy to investigate the Vatican Exorcisms. Joe makes it clear he will be using no special effects as he meets up with his team. Along with his team Joe learns that the devil is in fact inside the Vatican before meeting a former victim who makes the group aware of a black mass which they stop before it is completed.
As the investigation continues Joe gets to witness exorcisms in progresses filming then but the more he witnesses the more paranoid he becomes.
The Vatican Exorcisms is a film that I kind of miss heard a recommendation and ended up watching, now this is going to be rather rant heavy. The film is meant to be found footage, but it has music for some reason and more unexplainable is the half subtitles half you gotta work it out yourself. I would have accepted one or the other because I don't speak Italian so this made most of this film pointless for me. The random exorcisms don't make sense either as we see one that isn't completed before moving on to the next on. This film really is very messy and very plan offering us nothing in the means of horror enjoyment. (2/10)
Actor Review
Joe Marino: Himself is a documentary film maker who goes in search of the secret of the Vatican and most of all their exorcisms, he travels Italy with a team as well as an exorcist learning the different methods they use to cure the victims but he starts to get paranoid with the final outcome. Joe does a simple job and does and up feeling like a documentary film maker through this. (4/10)
Support Cast: The Vatican Exorcisms has a supporting cast but we never learn their names, hell they are not even credited on the IMDB.
Director Review: Joe Marino – Joe doesn't seem to capture the full idea of the concept of trying to investigate and create horror. (3/10)
Horror: The Vatican Exorcisms has one good scene which ends up being a false scare to. (2/10)
Settings: The Vatican Exorcisms uses different locations in Italy but that I just to make it close to the Vatican. (3/10)
Suggestion: The Vatican Exorcisms is one to avoid, the exorcism genre is really getting old now. (Avoid)
Best Part: Its short.
Worst Part: Its not short enough.
Believability: No (0/10)
Chances of Tears: No (0/10)
Chances of Sequel: No
Post Credits Scene: No
Oscar Chances: No
Budget: $1,1 Million
Runtime: 1 Hour 16 Minutes
Overall: Terribly slow, boring and frightless.
Rating