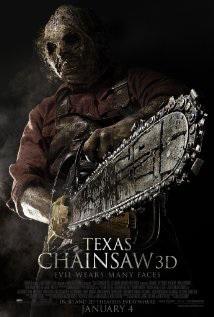 Director: John Luessenhop
Writer: Adam Marcus, Debra Sullivan, Kirsten McCallion (Screenplay) Stephen Susco, Adam Marcus, Debra Sullivan (Story) Tobe Hooper, Kim Henkel (Characters)
Starring: Alexandra Daddario, Dan Yeager, Trey Songz, Scott Eastwood, Tania Raymonde, Shaun Sipos, Keram Malicki-Sanchez, Bill Moseley, Gunnar Hansen
Plot: A young woman travels to Texas to collect an inheritance; little does she know that an encounter with a chainsaw-wielding killer is part of the reward.
There may be spoilers the rest of the review
Verdict: Just What is This?
Story: Texas Chainsaw starts right were the original 1974 classic ended with Sheriff Hooper (Barry) coming to arrest Leatherface leading to a stand-off against the Sawyer family with the local town's people burning the house to the floor.
Move forward in time (we don't know how many years though) where we meet Heather (Daddario) who receives the news that her grandmother has died, only to find out she was in fact the baby of the Sawyer family. Heather sets off with her boyfriend Ryan (Songz) best friend Nikki (Raymonde), Kenny (Malicki-Sanchez) to Texas and along the way they pick up hitchhiker Daryl (Sipos).
We do go through a large amounts of really stupid questions being asked including 'Why didn't you tell me I was adopted?' 'how could you not tell me I was part of that murderous (My choice of words) family?' after nearly running over Daryl 'where you heading' 'do you want a lift' before Daryl offers to pay for the lift. Really this interaction has already made me hate this film and we have barely even got started. Time to get back to the real story going on.
Once in Texas Heather discovers the home she has been left the friends get ready for a party only to learn they are not alone in the house that Leatherface (Yeager) still lives in and he wants to be left alone. We end up having to watch as the friends get picked off one by one by the deranged killer.
Texas Chainsaw really tries to give us a sequel to the original completely forgetting the remakes that could have been a building block for this. I am hugely disappointed with this one because Texas Chainsaw Massacre is one of the most iconic horror films of all time. We get disposable characters and stupid question and decision making from start to finish. The fact we have Leatherface kill the friends before teaming up with his relative to get revenge on the town makes NO SENSE WHAT SO EVER. We could have the revenge film, fine I will accept that but having him kill the innocent members first then become the good guy just doesn't work. I could easily go on about how wrong this story really is but I am getting tired of moaning about this one.
Actor Review
Alexandra Daddario: Heather just so happens to inherit the house where Leatherface lives, she brings her friend there for what she thinks will be a dream home only to find herself in the middle of a nightmare but it is her own family she never knew she has which is the true shocking reality Heather must face. Alexandra fits the leading role well, being the beautiful damsel in distress, but won't get into the acting.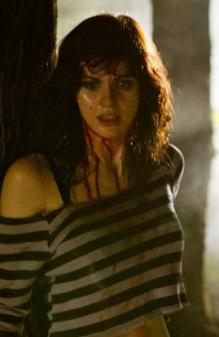 Dan Yeager: Leatherface is the icon that went on a killing spree years ago and long thought to be dead. Well he isn't and now he lives in the house Heather inherits and just so happens to be related to her. He is bigger, faster and deadlier that ever. Dan makes for an imposing Leatherface character.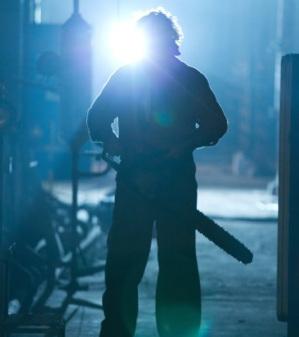 Trey Songz: Ryan is the boyfriend of Heather who goes along on the journey only to find himself having to fight off Leatherface. Ryan really is just there as one of the friends the character offers very little to the main story with only a small side story that he is having a fling with Heather's best friend Nikki. Trey does all h can with such a poorly written character.
Scott Eastwood: Carl is the young officer in the town that helps Heather fight off Leatherface, he comes off as the friend officers always trying to do the right thing which is the complete opposite to others officers we meet or is he after something else. Scott doesn't get used enough for where his character goes.
Support Cast: Texas Chainsaw has a supporting cast that really is just disposable for the main story.
Director Review: John Luessenhop – John takes this in a different direction but loses all of the tension this original once had.
Horror: Texas Chainsaw doesn't have the scare factor it should have with it going down the action horror film genre.
Thriller: Texas Chainsaw doesn't have any tension which is needed for this film.
Settings: Texas Chainsaw doesn't make any settings stand out with where the film goes.
Special Effects: Texas Chainsaw has a couple of good effects but you can almost see the CGI gore which is disappointing.
Suggestion: Texas Chainsaw is one to avoid and if you are a fan of the original don't even look at the case. (Avoid)
Best Part: Camera phone blood trail follow.
Worst Part: Story.
Believability: No
Chances of Tears: No
Chances of Sequel: No, maybe another reboot.
Post Credits Scene: No
Awards: Won 2 Awards (Including Worst Film) and nominated for 7 more.
Oscar Chances: No
Box Office: $34 Million
Budget: $10 Million
Runtime: 1 Hour 32 Minutes
Tagline: Evil wears many faces.
Trivia: Originally, a plan for a new trilogy was pitched. The films would be released out of chronological order, with the second film coming out first and being set almost entirely in a hospital. The next film would be a prequel explaining the events that led up to the hospital scenario. The third film would complete the storyline. Fearing it was too ambitious and risky, the producers opted for a follow up to the original instead.
Overall: Terrible sequel to one of the best horror movies or all time.
Rating