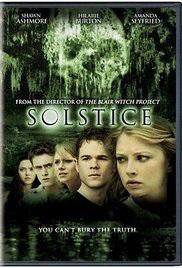 Director: Daniel Myrick
Writer: Daniel Myrick, Martin Musatov, Ethan Erwin (Screenplay)
Starring: Elisabeth Harnois, Shawn Ashmore, Hilarie Burton, Amanda Seyfried, Tyler Hoelchlin, Matt O'Leary, R. Lee Ermey
Plot: While on a summer trip with her friends, Megan begins to feel the presence of Sophie, her twin sister who recently committed suicide.
There may be spoilers the rest of the review
Verdict: Ghost Investigation 101
Story: Solstice starts as we meet Megan (Harnois) having lost her twin sister Sophie to a suicide, not wanting to let this hold her down Megan goes on a senior summer vacation with Christian (Ashmore), Zoe (Seyfried), Alicia (Burton) and Mark (O'Leary) for the summer solstice.
As the time in the cabin continues Megan starts believing that she is seeing things around woods as well as strange occurrences happening. When Megan continues getting haunted she seems to be the only one effected by the evens but as the summer solstice gets close the encounter become more realistic but just what is the message coming from beyond the grave?
Solstice is one of my favorite type of horror movies where we have a ghost communicating with the living to figure out what caused their death. The idea is very basic which is all it needs to be without being a real test for the audience. The build-up is easy to work out and the fact only Megan gets haunted really is disappointing. I would say this is an easy watch even if it never tests because theh scares all come off easy.
Actor Review
Elisabeth Harnois: Megan/Sophie, Megan is trying to carry on with her life after her twin sister Sophie kills herself, she goes away with her friends but on this trip she starts experiencing supernatural activity from who she thinks is Sophie trying to communicate with her from beyond the grave. Elisabeth is good but not strong enough for the leading role.
Shawn Ashmore: Christian is the love interest of both Sophie first and then Megan, the two are not a couple as sorts but he is supporting her through her recent loss. We clearly see something isn't right about Christian but just what is it. Shawn is good but almost not bigger enough role for her characters need
Tyler Hoechlin: Nick is a local young man that grabs the attention of Megan and the rest of the girls, he has lived in the area his whole life but about to get out. He believes in the summer solstice and questions why the rest are there. Nick help try and communicate with the person haunting her against the wishes of Christian. Tyler is good in this role but not involved enough until too late in the film.
Amanda Seyfried: Zoe is the best friend of Megan who is trying to supporting her through all of the aftermath of her sister's suicide. We really don't learn much else about her through the film. Amanda is a basic supporting character that doesn't get enough screen time.
Support Cast: Solstice has a small supporting cast which mostly just includes the rest of the friend all offering very little to the story.
Director Review: Daniel Myrick – Daniel gives us a basic ghost investigation story which is something I enjoy watching.
Horror: Solstice has a couple of scares but nothing really feels scary.
Mystery: Solstice leaves us with a mystery to solve as we need to figure out what is going on.
Settings: Solstice uses just one location and its surrounding which all works well.
Special Effects: Solstice has good effects when needed.
Suggestion: Solstice is one to try, I don't think we will get too much to make it a must watch.  (Try It)
Best Part: Ghost looks good.
Worst Part: Not enough scares.
Believability: No
Chances of Tears: No
Chances of Sequel: No
Post Credits Scene: No
Oscar Chances: No
Runtime: 1 Hour 31 Minutes
Tagline: You can't bury the truth.
Overall: Simple and enjoyable ghost investigation movie.
Rating