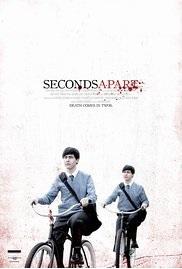 Director: Antonio Negret
Writer: George Richards (Screenplay)
Starring: Orlando Jones, Edmund Entin, Gary Entin, Samantha Droke, Morgana Shaw, Louis Herthum, Marc Macaulay, James DuMont
Plot: Seth and Jonah are twins with a dangerous ability: telepathy. Things start to spiral out of their control as their classmates end up dying in twisted and bizarre ways. The police suspect them. But, jealousy begins to divide them and soon they can no longer trust each other. Leading up to a horrific battle against themselves.
There may be spoilers the rest of the review
Verdict: Great Thriller
Story: Seconds Apart start with twins Jonah (Edmund) and Seth (Gary) using their abilities to make four-star American football student commit suicide leading Detective Lampkin (Jones) to investigate the incident. The twins have been working on a 'project' but Detective Lampkin believes they could be behind the crimes.
When Jonah befriends new student Eve (Droke) elements of jealous start coming through on Seth who starts pushing the project to the next level.
Seconds Apart brings us back to the whole evil twin's storyline which does work, we see how the twins have their ability under complete control and have a plan in place to see how far they can push things. The problems come when we never really see where the plan is meant to take them and with the idea something as simple as a girl will break up their bond. Saying this is does come off enjoyable for horror and has the abilities to keep us guessing.
Actor Review
Orlando Jones: Detective Lampkin is the man who first questions whether there is a suicide pact or rather than a homicide forcing him to go into questioning all the students where he comes up against the Trimble twins who bring back all the tragic memories of his past. We watch how he has to put his past behind him to stop this crime spree. Orlando is good in the leading role playing the detective with a dark past.
Edmund Entin: Jonah Trimble is one of the twins with the telepathic abilities that he has been using with Seth, Jonah's life changes when he meets new girl Eve who seems to be the first on to take any notice of him at all. He does start to see a good side of him as the link to his brother starts to take over. Edmund does work well in this role next to his brother.
Gary Entin: Seth Trimble is the other side of the twins who seems to find himself getting jealous of his brother's new girlfriend. We get to see the evil side of his character. Gary does well in this role working well with his brother.
Samantha Droke: Eve is the new girl that comes to the school that takes a shining to Jonah as she just wants to make new friends in the area. She finds herself stuck in the middle of the twins who go into a battle with their abilities. Samantha is good in this supporting role with the whole girl next door persona.
Support Cast: Seconds Apart has a small supporting cast with most of them that we meet just being used to be part of the project the twins are working on.
Director Review: Antonio Negret – Antonio gives us a suspenseful horror that does keep us guessing to where the final outcome will go.
Horror: Seconds Apart has good horror elements as we follow these twins who can make people do anything they want them too. This creates good scare scenes because we don't know what they will do next or to who.
Thriller: Seconds Apart does keep us wondering what will be happening next to anyone in the film.
Settings: Seconds Apart keeps most of the settings revolving around the story being told, be it where the twins go to school or where Lampkin does to forget his past.
Special Effects: Seconds Apart has good effects when it comes to the kills being used or the powers the twins are using against others.
Suggestion: Seconds Apart is one I do think the horror fans out there will enjoy. (Horror Fans Watch)
Best Part: Twins powers.
Worst Part: The fact it is a girl that tears them apart.
Believability: No
Chances of Tears: No
Chances of Sequel: No
Post Credits Scene: No
Oscar Chances: No
Runtime: 1 Hour 29 Minutes
Tagline:  Two times the terror.
Overall: Good horror thriller that keeps you guessing.
Rating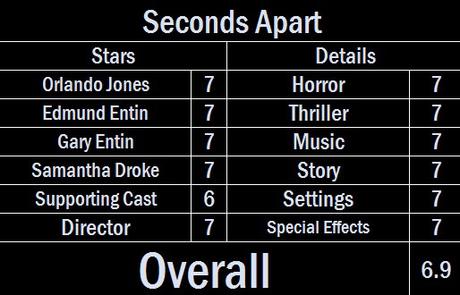 Advertisements