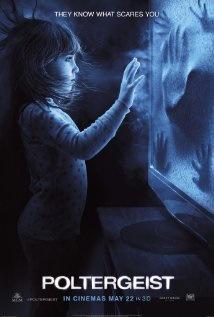 Director: Gil Kenan
Writer: David Lindsay-Abairre (Screenplay) Steven Spielberg, Michael Grais, Mark Victor (Original Screenplay)
Starring: Sam Rockwell, Rosemarie DeWitt, Saxon Sharbino, Kyle Catlett, Kennedi Clements, Jared Harris, Jane Adams, Susan Heyward, Nicholas Braun
Plot: A family whose suburban home is haunted by evil forces must come together to rescue their youngest daughter after apparitions take her captive.
There may be spoilers the rest of the review
Verdict: Unnecessary Remake
Story: Poltergeist starts with Bowen family Eric (Rockwell), Amy (DeWitt), Kendra (Sharbino), Griffin (Catlett) and Madison (Clements) moving into their new home in a new neighbourhood. Madison makes new friends with an invisible person, friend or ghost, what ever only Griffin notices. On the night in the house strange electrical occurrence happen in the house just your basic flashing lights and static enough to only effect the kids.
When the iconic scene from the original with the television happens and 'they are here'. Griffin seems to be the one that gets haunted while the adults seem to miss everything and Madison seems to interact with them. When the haunting become aggressive the family has their youngest daughter Madison taken by them leaving them to turn to super natural investigator Dr Brooke Powell (Adams) and her team to figure out where Madison went. Powell has to turn to Carrigan Burke (Harris) for the final part of the rescue Madison
Poltergeist gives us a remake that we really don't need, but I don't see the point in just slamming the remake issue. As a horror film it all work with the haunted house idea nicely but going with the remake makes the idea unoriginal. We do try to change how things end up and embracing the new technology which works well. It builds on what the original source material offered because we enter into the parallel universe but this doesn't work because it is hugely CGI. It does keep you attention which I was surprise to see because we should know what happens. (6/10)
Actor Review
Sam Rockwell: Eric Bowen is the recently out of work father of the family, he wants to get back into work but it finding it difficult. Eric comes off as the fun parent but will not let his family suffer even if money is problem. Sam gets one of these pay day performance awards I was desperate to give out and now I can with his standard performance because we know Sam is an excellent actor. (6/10)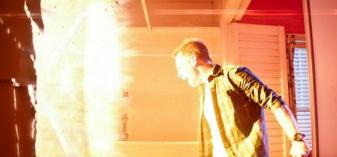 Rosemarie DeWitt: Amy Bowen is the mother of the family who doesn't want to see her family have to go through money troubles, she is the stricter of the parents but also the comfort one when it comes to easing the nightmares. Rosemarie does a solid job but doesn't get enough out of her character. (6/10)
Saxon Sharbino: Kendra Bowen is the sulky teenager who doesn't want to move, leave her phone or not talk to her besties. Saxon does a basic job in the role that never really ends up getting enough time. (4/10)
Kyle Catlett: Griffin Bowen is the middle child who has the highest level of fear, haunted by trees and clowns but desperately wants to be the big brother to Madison. Kyle gives us a good character even if his performance isn't to a level that would be considered high quality. (6/10)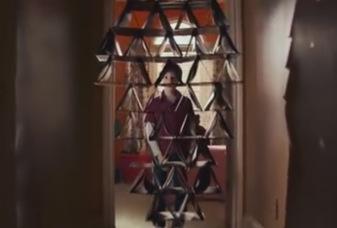 Kennedi Clements: Madison Bowen is the youngest daughter of the family who feels no fear when it comes to making a new friend but ends up getting taken into the other dimension but the spirits. Kennedi does a solid job but it is unfair to criticize her. (6/10)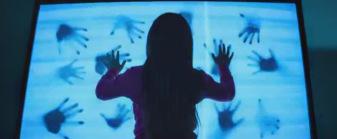 Jared Harris: Carrigan Burke is the best supernatural investigator around and he ends up coming to the family to help finally get Madison back. Jared brings us the best performance even if he is only in a supporting role. (7/10)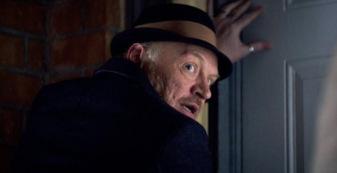 Jane Adams: Dr Brooke Powell is the paranormal investigator that the family turns to to help find Madison, she brings the expertise into the film even if only to find the one person that could solve the problem. Jane does a solid job with her quirky role. (6/10)
Support Cast: Poltergeist only has a couple of supporting characters that end up making us not like these characters and only offer a little extra story.
Director Review: Gil Kenan – Gil does a solid job but doesn't build enough for the scares and relies on the CGI to much. (5/10)
Horror: Poltergeist builds up scares only to go with the easy execution of them that really doesn't work enough for a film that once create horror in nearly every scene. (4/10)
Thriller: Poltergeist does end up making the tension levels high because we don't know what will happen next as the film unfolds. (7/10)
Settings: Poltergeist keeps nearly all the action inside the house which makes attempts to make us feel attached the family. (7/10)
Special Effects: Poltergeist uses horrible CGI effects instead of the effects that make anything feel real. (2/10)
Suggestion: Poltergeist is one for the horror fans to try because I know some fans will enjoy it but I don't know why. (Horror Fans Try)
Best Part: Comic book statue.
Worst Part: CGI
Funniest Scene: Time lapse camera boasting.
Favourite Quote: Madison 'Our last closet ate me'
Believability: No (0/10)
Chances of Tears: No (0/10)
Chances of Sequel: It might have one.
Post Credits Scene: Yeah
Similar Too: Insidious
Oscar Chances: No
Box Office: $73 Million
Budget: $62 Million
Runtime: 1 Hour 33 Minutes
Tagline: They know what scares you
Overall: A Remake no one wanted that just doesn't reach the levels need for the franchise.
Rating