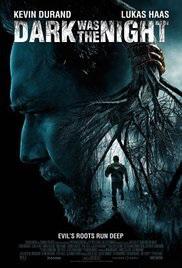 Director: Jack Heller
Writer: Tyler Hisel (Screenplay)
Starring: Kevin Durand, Lukas Haas, Bianca Kajlich, Nick Damici, Heath Freeman
Plot: An evil is unleashed in a small town when a logging company sets up shop in the neighboring woods.
There may be spoilers the rest of the review
Verdict: Good Late Night Horror
Story: Monster Hunter starts as Sheriff Paul Shields (Durand) and his latest partner from the big city Donny (Haas) investigating mysterious hoof prints that walk like a man going through the town before vanishing in the woods. Paul and his ex-wife Susan (Kajlich) have been suffering since the accidental death of their son, in what is a religious heavy town.
With the town in fear believing there is some form of devil creature lurking in the town Sheriff Shields looks into American Folklore for answers that could be related to the Jersey Devil myth.
Thoughts on Monster Hunter
Characters/Performance – Sheriff Paul Shields is a grief filled man who lost a son, this has cost him his marriage but not his role in town, he now must use his skills to search for the mysterious creature lurking in the shadows. Donny Saunders in the new deputy in town, he comes from New York for a fresh start in a quieter town. Susan is the wife of Paul that has found herself being pushed away after the death of their son. The problem with a lot of the characters in this film is they are designed to fit the world but we don't learn much else about their position in the town.
Performance wise, Kevin Durand in the leading role is a delight to see as he is always great in supporting roles and now he can step out on his own leading a film which he does a good job throughout. Lukas Haas is good in the supporting role through the film but doesn't get enough screen time and Bianca just does feel out of place at times.

Story – Small town needing to defend themselves from an unknown creature, this works because it plays into folklore building on a mystery that has never been solved 'The Devil's Footprints'. It also shows us how the community would come together for safety putting aside their differences to fight a bigger threat. It may well be by the book stuff but if you like a horror then it is one to watch.
Horror – The horror comes in the form of a creature feature style monster lurking around a small town in search of food which works for the horror side because the tension is picked up when needed but also willing to give the audience a breath when needed.
Settings – The small town setting plays heavily into the direction of the film which becomes all the more enjoyable as we know it is the small community needing to fight back.
Special Effects – The effects are good with the creature creation which we only seen in moments instead of just throwing it towards us early on, as we learn more we discover more of its design.


Final Thoughts – This is a good creature feature that has one of the better final acts in the genre which keeps you on edge through each moment.
Overall: Good and enjoyable creature feature.
Rating

Advertisements
&b; &b;