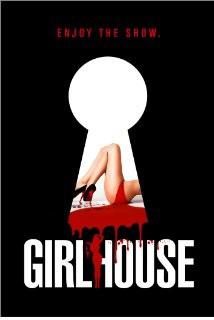 Director: Trevor Matthews
Writer: Nick Gordon (Screenplay)
Starring: Ali Cobrin, Adam DiMarco, Slaine, Alyson Bath, Elysia Rotaru, Alice Hunter, Chasty Ballesteros, Nicole Arianna Fox, Zuleyka Silver, James Thomas
Plot: A HALLOWEEN-style slasher for the digital age, it follows a beautiful young college student who, needing money for tuition, moves into a house that streams content to an X-rated website. After a deranged fan hacks in to determine the house's location, she finds herself in a terrifying fight for her life.
There may be spoilers the rest of the review
Verdict: Pulse Pounding Slasher
Story: Girl House starts when young boy only known as Loverboy is humiliated by a young girl only for him to show his psychotic side as he gets his revenge on her. We move forward in time to meet Kylie (Cobrin) a student struggling to make ends meet when she takes a chance on moving into a place known as Girl House where the woman put on shows all day long for any clients run by Gary Preston (Thomas) who claims the house has zero risk for any of the girls.
Loverboy (Slaine) all grown up now is one of the sites regulars and takes a particular shine to Kylie while an old school mate Ben (DiMarco) remembers his time at high school with her. As Kylie continues her studies she gets to know Ben again while Loverboy starts getting jealous putting all the girls in danger as he finds the house and goes on a killing spree.
Girl House is a slasher film at heart which is always going to be hard to make an impact in the modern horror industry because we all know the slasher sub-genre isn't the most popular anymore. One key component is having a killer that strikes fear in the audience which Loverboy does create because he knows how to be brutal when needed and calm when needed. When it comes to the idea of having the setting inside a secret porn house is a huge plus because it shows how difficult it would be for anyone to help. On the down side people will get turned off on the amount of sex and nudity which I understand is needed to show the characters but once we know where we are do we need to see it over and over again? Saying this the idea of people helpless watching on is a huge plus because it plays into the new social media world we all live in. In conclusion we do find us having a good slasher that works on all the levels needed.
Actor Review
Ali Cobrin: Kylie Atkins is a college student that is in need of money so she takes a job at a specialist house which involves cameras watching at all time. Kylie only happy with just the basic strip shows gathers the attention of Loverboy and an old high school friend. She has no idea how dangerous Loverboy is. Ali is good in this role as a strong leading lady.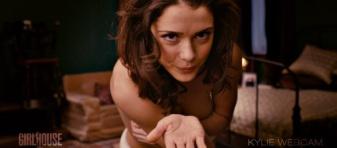 Adam DiMarco: Ben Stanley is the old school friend of Kylie who sees her new career choice and tries to befriend her again even admitting that he knows about the adult material she is taking part in. he comes over as the good guy next door taking his only chance with the girl. Adam gives us a basic performance but when it comes to the horror side of the story he is pretty helpless.
Slaine: Loverboy is the tortured man that has never recovered from a childhood humiliation where he has gained a tendency to get obsessed with women. When he gets pushed over the limits he finds the house and goes on a killing spree inside the secure house. Slaine makes for a good villain that is easily a good addition to the horror slasher genre.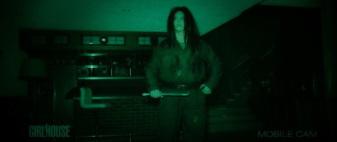 Alyson Bath: Devon is the star attraction at the Girl House who looks down on all the other girls, she does give them all the respect when it comes to the work though. Alyson is good in the role looking the part but we needed to see her full bitch or not.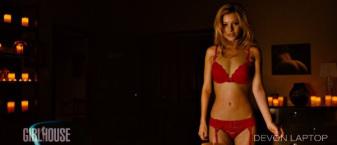 Support Cast: Girl House has a string of beautiful actresses filling the supporting roles that are all there to be disposable and willing to take their clothes off.
Director Review: Trevor Matthews – Trevor gives us a good slasher even if we do have to put up with a lot of unnecessary nudity.
Horror: Girl House gets all the praise for all slasher horror and kills being used through the film.
Thriller: Girl House does keep us on the edge of our seats as we have to see how Loverboy will take out the girls.
Settings: Girl House uses the isolated mansion that no one knows the location as the setting which works for horror because there is nowhere to run and no one to come to the rescue.
Special Effects: Girl House has great effects when it comes to the kills involved.
Suggestion: Girl House is one for all the slasher fans will enjoy. (Slasher Fans Watch)
Best Part: Loverboy is a good inclusion to the horror genre.
Worst Part: The extra nudity isn't needed.
Favourite Quote: Alex 'I'm never going to another porn site again and definitely going to need therapy'
Believability: No
Chances of Tears: No
Chances of Sequel: No
Post Credits Scene: No
Oscar Chances: No
Budget: $3,15 Million
Runtime: 1 Hour 39 Minutes
Overall: Modern Slasher that really works once it gets going
Rating