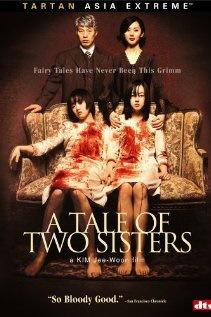 Director: Jee-woon Kim
Writer: Jee-woon Kim (Screenplay)
Starring: Kap-su Kim, Jung-ah Yum, Su-Jeong Lim, Geun-young Moon
Plot: A family is haunted by the tragedies of deaths within the family.
There may be spoilers the rest of the review
Verdict: Suspense Filled Horror
Story: A Tale of Two Sisters starts with Soo-mi Bae in a hospital with a doctor trying to convince her to tell her story. We flashback to when sisters Soo-mi Bae (Lim) and Soo-yeon Bae (Moon) move to the country home owned by their father Moo-hyeon Bae (Kim) and their new stepmother Eun-joo Heo (Yum).
The two sisters don't like their new stepmother and to make matters worse the two discover that they are being haunted by a spirit, but is the spirit guiding them to uncover a truth or does it have another motive?
A Tale of Two Sisters really makes you wonder what is going on because once the big reveal happens you are left wondering what just happened. Everything is very well created with the suspense building up through the early part of the film and returning to the high level by the end of the film. This story does need a re-watch because you will want to check out everything that is finally reveal.
Actor Review
Kap-su Kim: Moo-hyeon Bae is the father of the family who does seem to end up becoming pretty much a background character to the three female characters. I feel this character falls to the background too much to get a high enough rating.
Jung-ah Yum: Eun-joo Heo is the stepmother of the family who doesn't seem to like the two girls, she has a past that is hidden but once it gets discovered we see hat she is capable off. I think she makes for a very good menacing performance throughout while looking very normal to her husband.
Su-Jeong Lim: Soo-mi Bae is the eldest of the sisters who always protects her younger sister from the new stepmother, she learns more about the stepmother's past but has past that ends up helping with the final reveal. This is a good performance showing the fear and the caring side being used throughout.
Geun-young Moon: Soo-Yeon Bae is the younger sister who always looks at her big sister for protection, constantly following her around the house, we learn about why she is being haunted and needing help as the film unfolds. This is good performance that ends up have a big secret.
Support Cast: A Tale of Two Sisters really doesn't have much of a supporting cast but the very few we have all do what they need to do.
Director Review: Jee-woon Kim – Jee-woon gives us a very good horror that will keep you guessing until the very end where you will be left wonder what did happen.
Horror: A Tale of Two Sisters has real horror moments when they happen that will shock you.
Mystery: A Tale of Two Sisters creates a mystery about what is happening and what is the secret behind the stepmother.
Thriller: A Tale of Two Sisters keeps you guessing to what will happen by the end of the film.
Settings: A Tale of Two Sisters keeps all the action of the film in an isolated country house which adds to the horror because the girls have no where to go or no one to see.
Special Effects: A Tale of Two Sisters uses the effects for the haunting which are the only need for them.
Suggestion: A Tale of Two Sisters is one for the horror fans to try which is don't go and watch remake first. (Horror Fans Try)
Best Part: Girl at the end of the bed nightmare.
Worst Part: You will need to double check the twist.
Scariest Scene: Girl at the end of the bed.
Believability: No
Chances of Tears: No
Chances of Sequel: No
Post Credits Scene: No
Oscar Chances: No
Runtime: 1 Hour 55 Minutes
Tagline: Every family has its dark secrets.
Overall: Horror film that is filled with suspense filled scares but a final twist that makes you wonder what really happened.
Scorecard Ratings