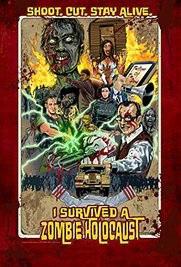 Director: Guy Pigden
Writer: Guy Pigden (Screenplay)
Starring: Harley Neville, Jocelyn Christian, Ben Baker, Reanin Johannink, Mike Edward, Andrew Laing, Simon Ward
Plot: A young runner, on a Zombie film set, has the first day from hell when real Zombies overrun the set.
There may be spoilers the rest of the review
Verdict: Pure Fun
Story: I Survived a Zombie Holocaust starts by taking us to the film set of SMP (Laing) latest zombie film. We get thrown into the idea of the diva actress Jessica Valentine (Johannink), macho leading man Adam Harrison (Edward) and fellow crew members Richard Driver (Ward), Tane (Baker) and Susan (Christian). We need a leading ma now don't we and in steps the films new runner Wesley Pennington (Neville) fresh out of film school.
When real zombies start coming out of the woods the crew find themselves having to battle for their lives and Wesley becomes the unlikely hero.
I Survived a Zombie Holocaust is a zombie horror comedy following the footsteps of well-respected films such as Shaun of the Dead, Zombie! And Dead Snow. We get the film set on a film set for a zombie film so when the zombie first turn up they believe they are just extras. This helps the sudden panic happen rather than it just being little by little. The story tries to go against stereotypes by poking fun and the 'dumb' actors, aggressive director and unfulfilled crew members. The film manages to handle both the horror and comedy throughout even pointing out certain moments with foreshadowing moments in the film. It really is hard to find anything not to enjoy in this film which is one that nails the story on ever level.
Actor Review
Harley Neville: Wesley Pennington is freshly out of film school on to his first set as a runner where he has to be everyone's bitch. He wants to becomes a writer and even brings his script to the set. When the zombies come to the set he must work with the rest of the crew to survive. Harley nail the comedy in this role where we get to see the nervous side to his character too.
Jocelyn Christian: Susan Ford is the chef on set that Wesley instantly falls in love with, she is an aspiring actress. The two both feel like outsiders on the set as they work together to survive the zombies on set. Jocelyn is good in this leading female role which is against the typical leading lady image.
Ben Baker: Tane Henare is one of the men that Wesley has to answer to, he is always wants to tell a story and this Kiwi really helps keep Wesley focused while on set. Ben has a lot of fun in this role where he is one of the funnier characters.
Reanin Johannink: Jessica Valentine is the diva actress in the film that doesn't want to get dirty and thinks she everything should be handed to her set making her difficult to work with. Reanin gets to have a lot of fun poking fun at the typical leading lady in a horror film.
Support Cast: I Survived a Zombie Holocaust has a supporting cast that includes fellow members of the crew with Andrew Laing as the over reacting director being the highlight of the film.
Director Review: Guy Pigden – Guy gives us one of the newest and best zombie comedies out there.
Comedy: I Survived a Zombie Holocaust has plenty of laughs from start to finish which don't take away from the horror side of the story.
Horror: I Survived a Zombie Holocaust keeps the horror real to a zombie story which the blood filled kills happening.
Settings: I Survived a Zombie Holocaust puts the film set on a film set which takes us to a different level for a horror film potential like what Scream 3 did but with the zombie side of the story.
Special Effects: I Survived a Zombie Holocaust has great effects when it comes to the kills with them all coming off blood soaked moments.
Suggestion: I Survived a Zombie Holocaust is one for all the horror comedy fans out there to watch. (Horror Comedy Fans Watch)
Best Part: Film set in film.
Worst Part: Some jokes miss the mark.
Funniest Scene: Prop guy escape.
Believability: No
Chances of Tears: No
Chances of Sequel: No
Post Credits Scene: No
Similar Too: Zombie!
Oscar Chances: No
Runtime: 1 Hour 44 Minutes
Overall: Horror Comedy that is so much fun.
Rating