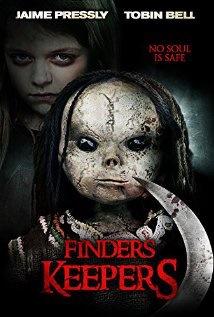 Director: Alexander Yellen
Writer: Peter Sullivan (Screenplay) Jeffrey Schneck, Peter Sullivan (Story)
Starring: Jaime Pressly, Kylie Rogers, Tobin Bell, Mark DeCarlo, Joseph Gatt, Mary Pat Gleason, Patrick Muldoon
Plot: A divorced mother of one is thrown into turmoil when her young daughter becomes obsessed with an evil doll left behind by the previous occupants of their new home.
There may be spoilers the rest of the review
Verdict: Careful What You Play With
Story: Finders Keepers starts with the police responding to an emergency call and searching the house. What the officers find are two dead bodies and noises from upstairs and like good cops they investigate before getting back up, they continue to find bodies in the house. It becomes apparent the suspect is a possessed youngest member of the family who kills the officers.
Move forward 5 years and we meet single mom Alyson Simon (Pressly) and her young daughter Claire (Rogers) moving into the same house. Having moved in the house Claire finds an old doll called Lilith that she wants to keep. It doesn't take long before Claire starts acting strange and struggles to fit in, but much worrying for Alyson Claire starts to act out strangely and dangerously. Alyson takes Claire to see a Doctor Freeman (Bell) to try and understand what is going on. Alyson decides to do some research into the history of the home and finds out the truth about the family before and finding out that her family is now in danger.
Finders Keepers capitalizes on the doll obsession going through the horror world and does end up out shining certain other films Annabelle. The film isn't afraid to kill other characters which a lot of horror film do like to hold back on. My biggest question had to be not really knowing what or who the killer was, was it the doll, was it the kid possessed or something else, we never really see just one and everything hints at one only to make it difficult for it to have been that person. being a made for television film I would say this is pretty solid though and does enough to keep the audience involved in wondering what will happen next. (6/10)
Actor Review
Jaime Pressly: Alyson Simon is the newly separated mother who takes her daughter to a new home, the only problem is the new home is one where a murder took place and the house hasn't finished pilling up the bodies because it takes over her daughter. Jaime does a solid job in the role but doesn't shine to the level the character needs to. (6/10)
Tobin Bell: Doctor Freeman is the man assigned with trying to understand what has happened to Claire but is struggling to understand. Tobin really is wasted in this role because he really is an icon in horror. (4/10)
Kylie Rogers: Claire Simons is the daughter in the house that starts to get taken over by the doll inside the house, which will bring out the evil inside her. Kylie does a good job as the trouble little girl giving us a kid to actually be scared off. (7/10)
Patrick Muldoon: Jonathan Simon is the father who wants to protect her daughter even if it means letting his relationship go once and for all. Patrick does a solid job but doesn't get involved until too late in the film. (6/10)
Support Cast: Finders Keepers is filled with characters who try to help out but most of them end up becoming the victims.
Director Review: Alexander Yellen – Alexander does a solid job directing a low budget horror thriller that does have a few good scares here and there. (6/10)
Horror: Finders Keepers takes advantage of the doll obsession in horror giving us the idea of not just an evil doll but possession of a young child, both these make for good horror aspects. (7/10)
Thriller: Finders Keepers keeps us guessing to who will die and in what way until the very end. (7/10)
Settings: Finders Keepers keeps the settings very easy to follow we have the new home with a past which always seems to work in horror as it becomes the catalyst to what happens. (8/10)
Special Effects: Finders Keepers has the special effects that you would expect form the budget but it really doesn't need the use for them until the end of the film. (7/10)
Suggestion: Finders Keepers is one to try and I think the horror fans will enjoy it. (Horror Fans Enjoy)
Best Part: Creepy doll.
Worst Part: Not fully knowing who or what is doing the killing.
Believability: No (0/10)
Chances of Tears: No (0/10)
Chances of Sequel: Left open to one but I doubt it.
Post Credits Scene: No
Similar Too: Annabelle
Oscar Chances: No
Runtime: 1 Hour 20 Minutes
Tagline: No soul is safe
Overall: Finders Keepers is an enjoyable horror that won't shock everyone but does have solid scares throughout.
Rating