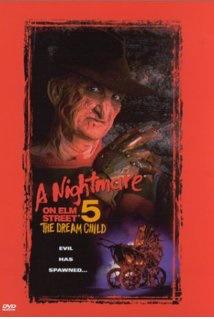 Director: Stephen Hopkins
Writer: Leslie Bohem (Screenplay) John Skipp, Craig Spector, Leslie Bohem (Story) Wes Craven (Characters)
Starring: Robert Englund, Lisa Wilcox, Kelly Jo Minter, Danny Hassel, Erika Anderson, Nicholas Mele
Plot: Alice, having survived the previous installment of the Nightmare series, finds the deadly dreams of Freddy Krueger starting once again. This time, the taunting murderer is striking through the sleeping mind of Alice's unborn child. His intention is to be "born again" into the real world. The only one who can stop Freddy is his dead mother, but can Alice free her spirit in time to save her own son?
There may be spoilers the rest of the review
Verdict: Running Low on Ideas
Story: A Nightmare on Elm Street 5: The Dream Child starts up bring back our two surviving members of the last movie Alice (Wilcox) and Dan (Hassel) still happily in love. It is in the opening nightmare we see that Alice is still having the nightmares that included Freddy as she and we learn more about his origin story. Alice and her friends Yvonne (Minter), Greta (Anderson) and Mark (Seely) have all graduated High School now. (I do like how easily Alice makes friend because her last lot all got killed by Freddy).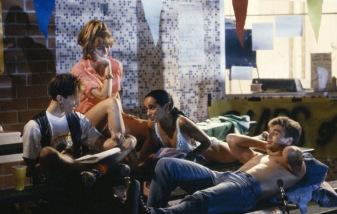 Alice gets caught up in the middle of a battle between the ghosts of Freddy Krueger and his mother Amanda Krueger. Alice has to follow the instruction to stop Freddy once more before he takes too many lives. When Alice's boyfriend is killed by Freddy she learns that she is pregnant and Freddy is using her baby's dreams to take out her friends.
A Nightmare on Elm Street 5: The Dream Child tries to continue the Freddy Krueger legacy by bringing yet another idea up to let him return. This time Freddy uses genetics to help him kill the teenagers. We don't learn how Alice suddenly has a large group of friends after her last group all got killed and the new group all have horrendously generic traits. I will say this is easily the most confusing of all of the Elm Street films because you have to find it hard to believe that these kids will fall asleep in the situation they do including a dinner table, driving or Jacuzzi. On the positive it was cleaver trying to continue building the origin of Freddy but let's face it, it was designed to try and extend and dying franchise. (5/10)
Actor Review
Robert Englund: Freddy Krueger who has found another way back from the dead through the children's of Elm Streets dreams. He continues to fall into the comical villain with his one liners on the kills. Robert does continue what he will always be remembered for but it isn't his best outing. (6/10)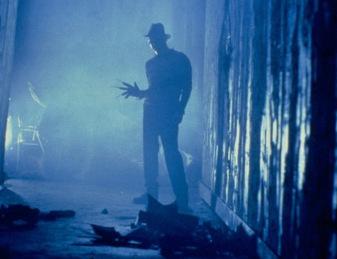 Lisa Wilcox: Alice is the returning heroine who has got sucked into the fighting Freddy once more only this time she learns about how Freddy became who he is, she also has the ability to shut her eyes and enter dreams now. Lisa does a good job continuing to be the leading lady after number four. (7/10)
Support Cast: A Nightmare on Elm Street 5: The Dream Child has a supporting cast that are all used to become the latest victims to Freddy once he finds his way back to the real world.
Director Review: Stephen Hopkins – Stephen does a good job considering the time restriction he has on this film, it won't go down as a classic but it will be remembered when people study putting together a solid film in very limited time. (6/10)
Horror: A Nightmare on Elm Street 5: The Dream Child really does lose even more of its scare factor this time out. (4/10)
Thriller: A Nightmare on Elm Street 5: The Dream Child does make you wonder what will happen in the Alice versus Freddy story as it seems to go a different direction that previous haunting by Freddy. (7/10)
Settings: A Nightmare on Elm Street 5: The Dream Child uses generic horror settings to make the kills look like the life the characters might one day have. (7/10)
Special Effects: A Nightmare on Elm Street 5: The Dream Child falls on the special effects but still has better than CGI ones. (6/10)
Suggestion: A Nightmare on Elm Street 5: The Dream Child is one for the franchise fans to continue watching but don't start here. (Franchise Fans Watch)
Best Part: Trying to do something different with the franchise.
Worst Part: Confusing when it comes to working out who is asleep.
Believability: No (0/10)
Chances of Tears: No (0/10)
Chances of Sequel: 5th of the Franchise
Post Credits Scene: No
Oscar Chances: No
Box Office: $22 Million
Budget: $8 Million
Runtime: 1 Hour 29 Minutes
Tagline: Freddy has a son
Trivia: Hopkins was given just four weeks to shoot and a further four weeks to edit the film. This meant that he had to shoot on one stage while the crew dressed the other, so they could shot almost continually. After he made it, the studio was so impressed that he was given the task of directing Predator 2.
Overall: Freddy is back for another payday with a side of killing kids
Rating