Movie Review: 'The Night Before'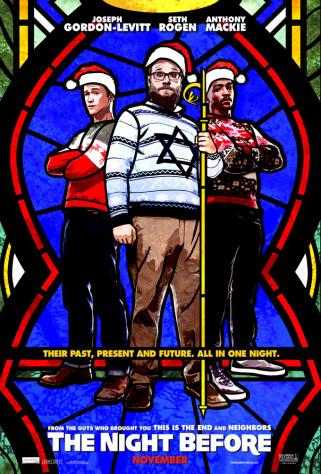 Directed by: Jonathan Levine
Starring: Joseph Gordon-Levitt, Anthony Mackie, and Seth Rogen
Plot: Three lifelong friends with a drunken Christmas Eve tradition go for one last binge.
It seems like Seth Rogen is constantly coming-of-age. Here, he plays Isaac, a lawyer and expecting father who is now sober thanks to simply getting older and having better things to do. He has a tradition though, that every Christmas Eve, he goes out and gets wasted with his two high school buddies, Chris (Anthony Mackie) and Ethan (Joseph Gordon-Levitt). As a thank you for being so great during the pregnancy, Rogen's wife, played excellently by Jillian Bell, a perfect partner for Rogen's casual banter, gifts him a whole bunch of drugs so that he can really let loose. This sends him down a self-reflective trip that makes him a zombie for most of the A-story. However, it makes for some really fantastic jumps inside of his whacked out thought process revealing deeper truths. That has always been Rogen's strength. We tend to think we are only coming-of-age for a certain period of our lives, but we are always coming-of-age. He is constantly updating the that story so that his characters are always dealing with age appropriate problems. Just usually doing age inappropriate things.
This is not Rogen's movie though. It looks and feels like one, but he is uncredited in its development. In his place, are his 50/50 collaborators, director Jonathan Levine and writer Evan Goldberg (Rogen's own lifelong friend), as well as Kyle Hunter and Ariel Shaffir also getting writing credits. He is not even the main character. If anything, it is Joseph Gordon-Levitt's movie. He plays Ethan, a struggling musician with a crappy day job. He is perpetually immature and lacks almost all ambition. This is all a product of losing his family around the holidays back when he was a teenager. It was his loneliness that birthed the tradition that he and his friends now feel obligated to continue. Mackie's Chris has his own demons to expel. Hitting the early retirement age of football players, he starts juicing and sucking up to the starters on his team to try to make something of himself before it is too late. These problems are stealing their attention from each other, but these friends are so much more like family then they are willing to admit.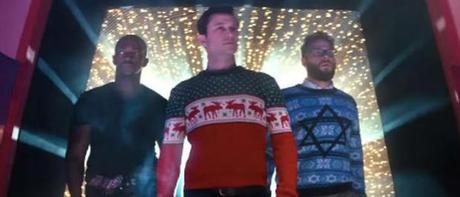 Is it funny though? Yea, some times, I guess. I was sort of surprised how few times I laughed while I watched this movie, especially considering the veracity with which they tried to be funny. Not being funny is not the same as not being entertaining. The Night Before is, in fact, very entertaining. It isn't just a stoner comedy though, it is an After Hours- esque chaotic night on the town, as well as an effort to be a new Christmas classic, a difficult feat in its own right. In order for it to be entertaining at all of those, it needs to be more vaudevillian. It needs action sequences, colorful non-sequiturs, some musical numbers, and some honestly blunt but simplistically resolved (in a good way) romance and drama. It has that in spades. I could definitely see this becoming an annual holiday viewing.