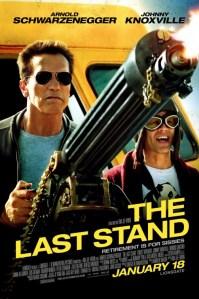 Director: Jee-won Kim
Starring: Arnold Schwarzenegger, Forest Whitaker, Peter Stormare, Eduardo Noriega, Luis Guzmán, Jaimie Alexander, Rodrigo Santoro, Zach Gilford, Johnny Knoxville
Review:
I am a big lover and fan of the action genre, and yes Mr. Schwarzenegger is one of my favorite action stars however he was not the main reason I was so excited for The Last Stand. The film marks the English language film debut for one of my heroes in the film industry, Jee-woon Kim. This South Korean director has given us such gems as A Tale Of Two Sisters, The Good The Bad The Weird, A Bittersweet Life and I Saw The Devil. With that on his resume, yes The Last Stand did seem like an odd choice, but I had faith he would deliver a great film – and he did.
The Last Stand is a self aware film, it does know what it is and it doesn't try to be anything else. This is a good old fashioned action film, the story is simple and the characters are fun. It is easy to get engaged with, and it focuses on a cool set up with a really great pay off. We have a drug cartel leader escaping custody to cross the board back into Mexico. The town he plans to go through has Arnie as the Sheriff, they are out numbered and he has an army. Oh you know it is going to get good!
The cast is great, Arnie is back in the lead and it doesn't feel like he has skipped a beat. In fact he felt so right at home in this role, and he shared really solid chemistry with the cast and his surroundings. Forest Whitaker is rather entertaining in a role that could have been boring, he livened it up and he was perfect for it. Eduardo Noriega was a great and charismatic villain, a nice choice and he definitely enjoyed himself. The entire cast do a good job, likeable and entertaining.
Jee-woon Kim delivers a modern action classic, the kind of action film we need more of these days. The man has not made a bad film yet, it is not as intense as I Saw The Devil but it has the flavor of The Good The Bad The Weird. Highly recommended viewing!
Rating: