Movie Review: 'The Invitation'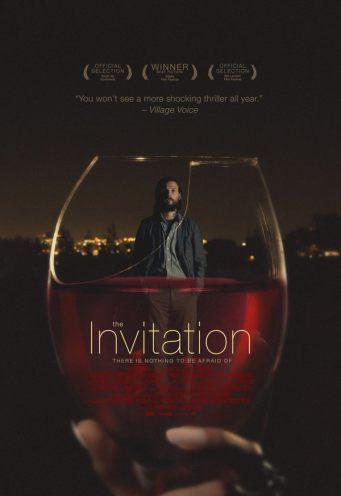 Directed by: Karyn Kusama
Starring: Logan Marshall-Green, Michiel Huisman, and Tammy Blanchard
Plot: At a dinner party, a man starts to suspect his ex-wife and her new husband have ulterior motives
Will (Logan Marshall-Green) is on the way to an old friend's house for a dinner party along with his wife, Kira (Emayatzy Corinealdi). Will is noticeably worried because this old friend is Eden (Tammy Blanchard), his ex-wife, who he hasn't seen since his divorce. No one from his circle of friends has. Out of the blue, she sent them an invitation to come to her house (Will's former home) to reconnect with her and her second husband, David ( Game of Thrones' Michiel Huisman). On his way there, Will accidentally runs over a coyote and is forced to mercy kill the ailing animal. Despite being clearly shaken, he soldiers on. That was probably a bad idea. Will is already in a bad place anticipating a reunion with his old wife in his old home with a new happy life, and he continues down a long spiral into grief and paranoia.
The movie ends up going over ground that we have seen covered multiple times in independent cinema. A group of old friends getting together for the first time in a long time is a staple ever since The Big Chill. They test each other's boundaries with the over-zealous and borderline-fake banter that a real group of friends might awkwardly struggle through when trying to catch up all at once.It all seems like a candy-coating for something more ominous thanks to the creepy music. Contextually, it just as easily be a dark comedy of yuppie behavior and secrets revealed, but it keeps spiraling thanks to Marshall-Green.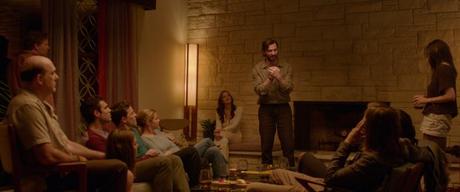 Marshall-Green delivers the kind of work that should make a name for himself besides being that guy from Prometheus who I swear isn't Tom Hardy. The camera sticks close to him, and the audience is able to feed of his growing paranoia. He makes generic party-going behavior creepy, and he makes mundane objects terrifying. His whole point-of-view commandeers the movie, and it forces the audience to feed off of it. There's part of us that knows Marshall-Green is wrong, and there is part of us that think he is right.
This is the greatest strength of the movie. Filmmaker Kusama plays with our expectations in a way that no one has been able to before. There is the obvious: the thing we always expect to happen. The thing that the filmmaker directly guides us toward. Then, there is the thing we expect because we know they know we'll be expecting the obvious. That is the reality of being an audience member in a post-modern market. This has generally caused diminishing returns because we are essentially expecting everything and anything at all times. Kusama's use of her performers, the music, and some pretty intriguing mix of erratic and dreamy camera moves forces us to second guess ourselves. And third guess. And fourth. And so on. That alone could account for my heart beating out of my chest, if it wasn't also associated with some truly indelible tension.