Movie Review: 'The Founder'
Director: John Lee Hancock
Cast: Michael Keaton, Laura Dern, Nick Offerman, John Carroll Lynch, Linda Cardellini, Patrick Wilson, B.J. Novak
Plot: Ray Kroc is a failed salesman, spending his days on the road trying to flog uninteresting 'innovations'. When he discovers a small restaurant in California that has focused on speedy service to great success he wants on board and begins franchising the McDonald's brand.
Review: Is there anything more intrinsically American than McDonalds? It's spread worldwide, become a blight on our environment and lead the charge in an obesity epidemic. We live on the other side of the planet to where this film is set and there are three McDonalds within walking distance of my house (we call them 'Maccas' down here).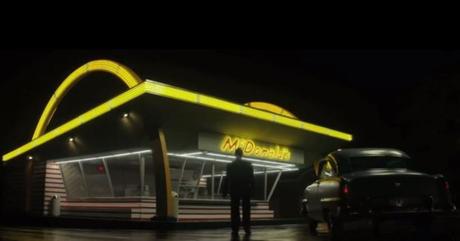 The Founder brings us the backstory of the fast food monolith, following Ray Kroc (Keaton) who was not the innovator behind the Golden Arches but was the first person to recognise the wider potential and cash in. This is essentially a movie about growing corruption, as Kroc initially appears to be a decent kind of fellow, hard on his luck and trying to get his break in spite of being in his 50s. As we chart the rise of McDonalds we see him utilise more and more despicable techniques to control the company, expand his empire and cut down those holding him back.
The biggest necks on the chopping block belong to the McDonald's brothers (Offerman and Lynch), the real innovators. The movie keeps Kroc as the protagonist yet these are the sympathetic characters who have their values constantly challenged by Kroc, who later begins edging them out of their own business.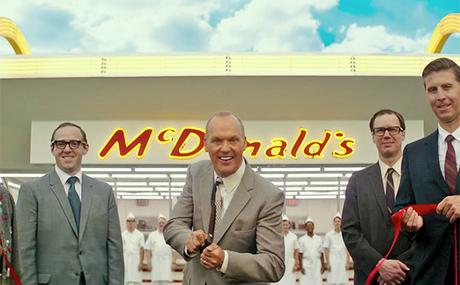 It's certainly fascinating seeing how such an iconic brand, such a consistent part of our landscape came to be. Although we get introduced to McDonalds after it's established and popular we do get an extended flashback to explain how the brothers came up with the high speed and family friendly service. Most of the film concerns business dealings and explanations of these ideas, but it remains engaging throughout.
Performance wise the film is on point. Keaton continues to ride high on his come back stint and this film is entirely his, with some exchanges taking place with the other character complete off camera. He's got a fantastic supporting cast, including a weirdly clean shaven Nick Offerman, but this is his film.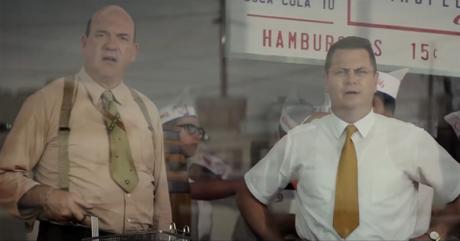 That's plenty of praise, yet there is something lacking. Given the business dealings and reputation of those involved the movie could have a bit more bite to it. It's not as snappy or as snazzy as the trailer makes out, and it could stand to be bit more distinct in it's visuals. On the subject of the trailer it is an immensely well made movie and doesn't need to be sold as a highly stylised film. This year has already seen some major missteps in movie marketing and this is definitely one more.
Rating: EIGHT out of TEN