Director: Graham Annable and Anthony Stacchi
Cast: Isaac Hempstead Wright, Ben Kingsley, Jared Harris, Ellie Fanning, Nick Frost, Richard Ayoade, Toni Collette, Simon Pegg, Tracy Morgan and Dee Bradley Baker
Plot: In a city built on the fortunes of the local cheese makers, a race of 'boxtrolls' live under the streets and steal bits and pieces for their mechanical contraptions. The people of the city live in fear of the boxtrolls, convinced that they steal children, a fear the local boxtroll hunter cultivates to his own end.
Review: Although the boxtrolls are the center of the marketing for this slickly animated feature they feel almost incidental to the plot, while the focus remains on the human characters. In the middle of everything is Archibald Snatcher (Kinglsey), who is in charge of the red hatted boxtroll exterminators, and has aspirations of joining the city elite who wear white hats and enjoy cheese tastings. Snatcher takes advantage of the urban legend about a child being abducted by the boxtrolls to keep everyone living in fear of the harmless creatures while he promises to protect the city from them.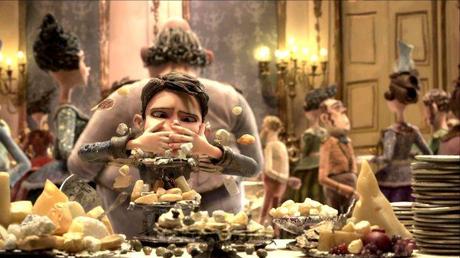 Underground live the boxtrolls themselves, small creatures who wear a cardboard box for clothing and retreat inside it when threatened. At night they emerge onto the streets to collects gadgets which they use to build their own mechanical devices. Living among them in the child of legend, Eggs (Hampstead Wright – Bran from Game of Thrones), who thinks he's a boxtroll. When the neglected daughter of a wealthy cheese maker becomes aware of Eggs they work together to unveil the evil Snatcher and protect the boxtrolls. It's something of a convoluted story for a children's movie but it is well paced and packed with interesting characters of varying grotesqueness to keep people engaged. It may have benefitted from a more clearly defined protagonist, but it works out in the end.
Neither of the directors are exactly household names but they come from experienced backgrounds incorporating everything from Disney Animation and LucasArts to Telltale Games. The experience shows on the screen with the complex and detailed world perfectly brought to life. The animation is smooth and impressive, and it stands out as one of the best looking stop motions features ever created. Fans of the style will find it worth watching just for the quality of the production.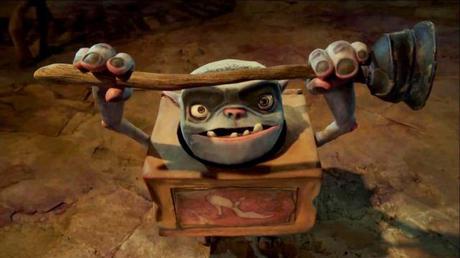 Although it seems like an obvious statement, this is  fantastic cast. Even the smaller roles get fleshed out and given their own distinct personality. Most entertaining is Frost and Ayoade as two of the Snatcher's henchmen who are forever debating whether or not they are good guys or bad guys, adding a clever sense of self-awareness to the show. They appear in a wonderful post-credits scene that stands out as one of the best bonus scenes ever constructed. It's worth waiting for.
The Boxtrolls is a very good animated kids movie with plenty of heart and effort in it. It's hard to compete in a market that has given us The Lego Movie and How to Train Your Dragon 2 in the one year, but it's worth checking out.
Rating: SEVEN out of TEN