Movie Review: 'Sully'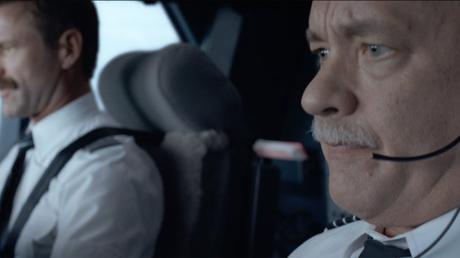 Plot: The true story of "The Miracle on the Hudson," Sully recounts the actions of Captain Chesley "Sully" Sullenberger (Tom Hanks), an experienced pilot who managed to save 155 people by making an emergency landing on the Hudson River. Hailed a hero, Sully nonetheless contends with PTSD and whether or not he made the right call. Furthermore, Sully confronts the NTSB, who believe he could have made it back to an airport. Supported by his co-pilot Jeff Skiles (Aaron Eckhart) and wife Lorraine (Laura Linney), Sully faces down the NTSB and his own nagging doubts to determine the fate of his flying career.
Review: Clint Eastwood films have always been hit or miss with me. Unforgiven and The Outlaw Josey Wales are two of my favorite Westerns of all-time. However, I thought Gran Torino was a poorly executed pretentious drama, and Oscar-winning picture Million Dollar Baby was an overrated depression fest far inferior to that year's The Aviator.
When I saw the previews for Sully it really didn't register on my radar. While the story was mildly interesting, it seemed more suited for a television movie than a major motion picture. The only appealing factor were stars Tom Hanks and Aaron Eckhart. My expectations were decidedly low.
Turns out though that Sully is actually a first rate drama and one of the better films I've seen this year. Slick, efficient, and mostly entertaining, Eastwood's latest reaffirms that, even at 85, Clint is still capable of producing a high caliber film. It's honestly one of Eastwood's better directorial efforts in recent years, including American Sniper.
In an era where films (especially blockbusters) tend to be bloated messes, Eastwood is of the mindset that less is more. A tight 96 minutes, Sully never overstays its welcome, keeping the focus squarely on the titular character. There really are no filler scenes in Sully and I mean that in the best possible way.
What's remarkable is that Eastwood's able to hold our attention during the minutes we are NOT watching the emergency landing. (Speaking of, the sequence is visually brilliant and I wish I'd seen it in IMAX.) Screenwriter Todd Komarnicki manages to make NTSB inquiries intriguing rather than boring, despite all the technical aviation jargon. I don't know how passionate the actual sessions were, however the ones portrayed in Sully come across palpably intense. The film culminates in a final inquiry where Sully and Jeff face the entire NTSB and computer simulations that recreate US Airways Flight 1549's circumstances. The scene calls in to question the reliability of computer simulations when the human element is removed. Anyone who's an NFL fan and played Monday Morning Quarterback the day after their team lost, knows what I'm talking about.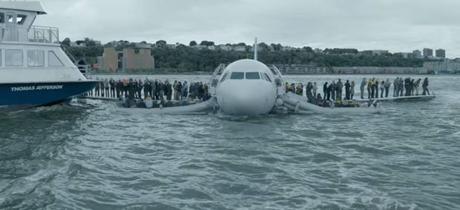 Aaron Eckhart usually bats about .500 when it comes to his films. For every The Dark Knight or Thank You for Smoking, there's a Battle L.A. or an I, Frankenstein. Fortunately, Eckhart crushes it in Sully, stealing every scene he's in. Eckhart's biting wit and intensity is the perfect foil to Sully's even-tempered demeanor. Plus he sports an epic mustache that Sam Elliott and Tom Selleck would admire. Laura Linney also delivers a strong performance as Sully's wife Lorraine. Throughout Sully's ordeal, Lorraine is the rock that keeps Sully focused. The fact that the majority of her scenes with Hanks are over the phone makes her performance even more impressive.
However, at the end of the day Sully is a character study that works at a high level. If Daniel Day-Lewis is the Babe Ruth of actors, then Tom Hanks is the Cal Ripken Jr. It's just become expected that he'll deliver a great performance. Hanks is just so effortless when it comes to Sully's character that we forget how difficult that really is. Hanks is the closest thing we have to a modern day Jimmy Stewart.
Once again Tom Hanks delivers a stellar performance. Unlike his work in Forrest Gump or Dragnet, Sully is Hanks at his most understated. In a time where so many Hollywood actors choose bombastic as their default setting, Hanks demonstrates that dialing it back can be just as effective. Hanks nails Sully's quiet demeanor (check the credits for the real Sully as a comparison) while managing to get Sully's passion for flying across. Unflappable may be the best way to describe Sully and Hanks' performance. So much so that when Sully finds out that all 155 passengers survived and the stoic veneer finally cracks, it makes the scene so much more powerful. Hell I was tearing up when it happened!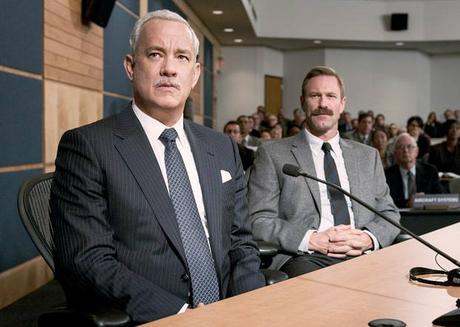 Although Sully experiences real concerns over his job and we as an audience see the trauma the crash causes him, he rarely lets it show, affably going on David Letterman and deflecting notions of heroism. Moreover, unlike Skiles who takes the NTSB's inquiry as a personal attack on Sully's competence, Sully never shows any animosity towards investigators Elizabeth Davis (Anna Gunn) or Charles Porter (Mike O'Malley) or the rest of the committee members. Rather he believes they are just doing their jobs.
In a film month that, aside from the Toronto Film Festival, tends to be a field where releases go to die, Sully succeeds as a late summer gem. Tom Hanks' acting and Clint Eastwood's refined direction make Sully one of the better dramas of the year, and possibly an Oscar contender.
My rating: 9/10
You can follow me on Twitter at @DarthGandalf1 and for the latest movie, television, and other relevant news geeks love, visit my Facebook page at https://www.facebook.com/flicktasticmovies