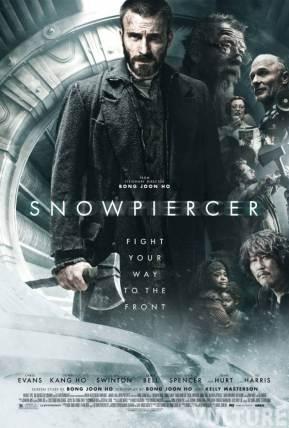 Directed by: Joon-ho Bong
Starring: Chris Evans, Kang-ho Song, and Tilda Swinton
Plot: When the world falls into a new ice age, the surviving humans take refuge inside of a train.
Review:
I have heard so many different descriptions of this movie:
Brilliant!
Awful!
Masterpiece!
Garbage!
The funny thing is most of the professional reviews seem to really like it, while the comment sections below them seem to be filled with anti-fans. That is such a change of pace for geek-cred type of films, what with this being the English language debut of K-horror director, Joon-ho Bong, and an adaptation of a French graphic novel. I happen to think that it seems overrated by the pros and underrated by the commenters. 
It takes place in a post-apocalyptic future (don't they all nowadays). To combat global warming, scientists attempted a planet wide cool down. It was way more effective than they thought it would be, destroying the environment with sub-zero temperatures. The surviving members of the human race all packed in to a train that traveled the world using a perpetual motion machine created by an eccentric billionaire. It sort of sounds right up Ayn Rand's alley, except her philosophies (as far as I understand them, which might be completely wrong about mind you) are reversed. Rather than the clever and innovative separating themselves from the worthless of society, a miniature class war breaks out with the "have-nots" living in the caboose slums of the train fighting back against the elitist front who are running a system that does not allow for upward movement.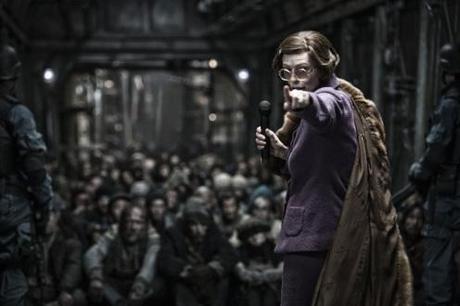 Chris Evans leads the pack as a grizzled and quiet tactician in one of his most mature roles yet. He is joined by great character actors like Octavia Spencer, Jamie Bell, Ewen Bremmer, and John Hurt as the various lost and dirty members of the last train car. Seemingly the key to Evans plans are Kang-ho Song,  from Joon-ho's The Host, who is an engineer for the train, as well as Tilda Swinton's goofy emissary from the front, who becomes Evans' hostage. They work their way to the front going through each train car like it is a level of a video game, each with their own obstacles to overcome. Some are physical, some are trivial. Each train also has its own way of filling us in on the history of the train. 
As a blockbuster, Snowpiercer is an exciting and sometimes creepy ride through some renovated sci-fi tropes that feel a little more fresh than usual. Keeping with its blockbuster style, it is also not without its logical inconsistencies or its blissful ignorance of the laws of physics, but I do appreciate its attempt to be more than just an action movie. It also includes some dramatic narrative, compelling performances, and bigger ideas than good vs. evil, things I feel like Hollywood blockbusters have given up on altogether. Its not the big budget arthouse movie people have been hoping for, but it is still a pretty good watch.
Rating: 8/10