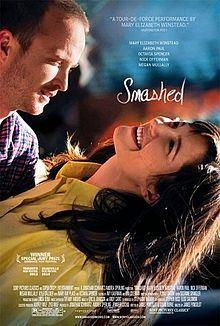 Directed by: James Ponsoldt
Starring: Mary Elizabeth Winstead, Aaron Paul. Nick Offerman, Octavia Spencer, and Megan Mullaly
Plot: A married woman faces trouble with her alcoholic husband when she decides to get sober.
Review:
Smashed is a character piece, and as such, it doesn't have that much of a story. So, it does occasionally lag and it doesn't really have the best flow. At an hour and a half, it is not nearly as taut as it should be. It does, however, like most successful character pieces, delivers us a film totally worth our time.
Mary Elizabeth Winstead plays the character in question, Kate. Kate is a young alcoholic married to her drinking buddy, Charlie (Aaron Paul). Charlie is a journalist affording him the kind of hours that allow him to drink whenever he damn well pleases, but Kate teaches first grade. After vomiting due to hangover in front of her students, she has to face the reality of her addiction with the help of her vice principal, Dave (Nick Offerman). Dave is also a recovering addict having completed AA and NA. As Kate gets more sober, she feels her bond with her husband disappear.
Mary Elizabeth Winstead gives a very powerful performance. First of all, playing intoxicated in a dramatic movie can at times kill the seriousness. It often comes off as too comedic and over the top. The drunkenness of Winstead (and Paul) is played more for dark humor and pathetic childishness, so it totally works. They waste no time sending Winstead to rock bottom. After waking up for the second time on the cold ground somewhere that happens to not be her house, she finally seeks help. She offers us some very complex looks at frustration, sadness, and anger. They are all hidden behind a veil of restraint. It is a very natural performance seemingly made more sad and angry than it should considering how real it feels. It reminds me of the great run of natural independent movies that have been getting released lately, like last year's Shame and Take Shelter.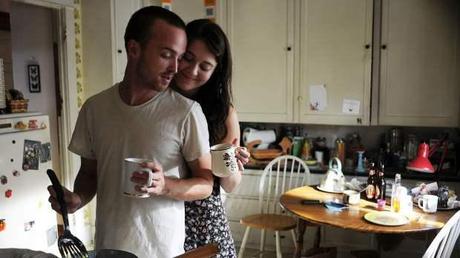 Aaron Paul and Mary Elizabeth Winstead as a happy couple
Supporting Winstead and giving almost equal performances is Nick Offerman and Aaron Paul. Offerman walks a fine line between comedy relief and sensitive do-gooder. He is a bit hapless and socially awkward, but Offerman finds the likability within the character even when he is completely creeping out Winstead. Paul, on the other hand, is much more on the same scale as Winstead. He gives the same natural performance except he spends more time drunk than she. The 2 of them have a really great chemistry. I was happy to find that the filmmakers did not just make it "the hopeful sober one versus the enabling fellow addict" show. Paul's character definitely tries to support her sober living, including trying to spend more time sober himself. They even still have the same kind of chemistry while sober, but the burden they are both feeling weighs heavy on their marriage and threatens to break it all together.
There is also a very stark, blunt, honest look at alcoholics anonymous. Over the course of the movie, Winstead exchanges one hangover for another. Now, she just finds herself suffering an emotional toll rather than a physical one. They both stress Winstead in different ways, and Winstead is great at depicting these different ways very subtly.
Smashed is one of this year's great acting vehicles. Mary Elizabeth Winstead proves herself in a big, bad way. She gives what I think is the best lead actress performance of the year so far.
Rating: 8/10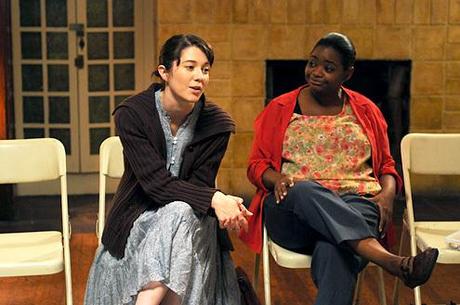 Winstead with her sponsor, Octavia Spencer, who had a surprisingly small role