- By Ben L.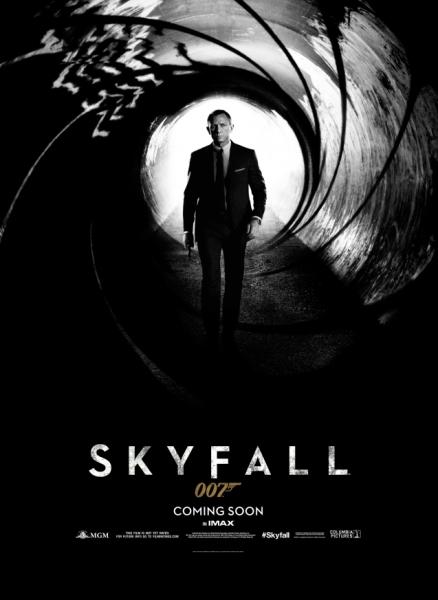 "You know the rules of the game. You've been playing it long enough," M tells 007 at the beginning of Skyfall. Bond's been at it for 50 years in fact, and this year's release of the 23rd Bond film celebrates the anniversary in style, bringing nostalgia to audiences familiar with the series, as well as reinventing the formula which may very well set the tone for future movies in the franchise.
The last time we saw Daniel Craig in a tuxedo on the big screen was four years ago, in a disappointing outing known as Quantum of Solace. It wasn't a bad film, but one that took itself a little too seriously with its convoluted environmental terrorism plot. With Skyfall, the writers have picked themselves up and delivered a stripped down and much more coherent story that visits both Bond's and M's past.
The film begins in Turkey with Bond working alongside new partner Eve Moneypenny (Naomie Harris) to retrieve a stolen hard drive containing the list of NATO agents working undercover in terrorist organisations. Chasing through the city on car, motorbike and then culminating in a fight on top of a moving train, the entire sequence is exhilarating and indicates Bond's resurgence after Quantum of Solace.
Bond is erroneously shot and falls off the train into the river below, leading to a beautifully crafted opening credits scene played to the classy Bond track sung by Adele – all signs pointing to director Sam Mendes' ability to direct action and make it visually stunning, which carries on throughout the film. Mendes has achieved a wonderful balance of story and action; whereas in many Bond films the action sequences seem to overwhelm the plot and get carried away, Skyfall sees the action as a vehicle to deliver the more crucial story forward.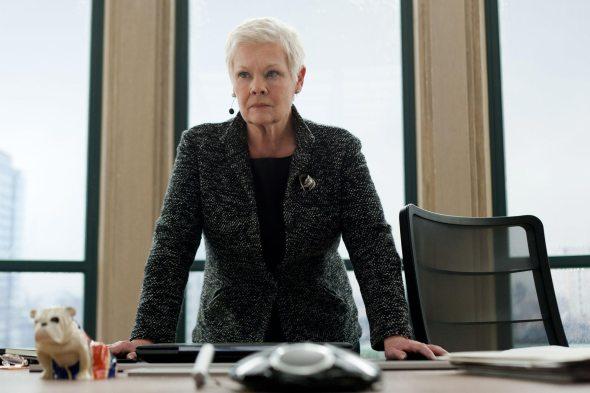 Judi Dench – the new Bond girl. Who would have known?
Back home, Bond's chief M is facing the wrath of the British government for losing the hard drive, which has led to the deaths of undercover operatives. With her job on the line, M has no choice but to resort to deploying 007 to hunt down the terrorist, even when Bond has been declared unfit for duty. This is where the relationship between M and Bond builds up – whereas in previous films Judi Dench's character had been primarily a supervisor overseeing Bond's missions and often at loggerheads with her agent, Skyfall sees the MI6 chief become more of a surrogate mother to her trusted agent, whose orphaned past first hinted at in 2006's Casino Royale is explored in greater detail this time, thankfully without any unnecessary cheesy flashbacks.
Daniel Craig looks very comfortable in his third outing as 007, exuding suavity and wit that were sorely missed in the previous film. His casting once doubted by critics, the actor has now cemented his place among the other legends who have filled 007's shoes and looks set to be the mainstay of the franchise for as long as he chooses.
Interestingly, Skyfall also marks the first time that Bond has entertained the ladies much less than any of his predecessors. His characteristic philandering ways are hardly existent this time, with the sexiest scenes showing Bond getting an intimate shave from Eve, and sharing a steamy shower with Bérénice Marlohe's Séverine. Instead, the main Bond girl is M herself, which Dench delivers with great tenacity – another example of how Mendes has rewritten the formula of a Bond film.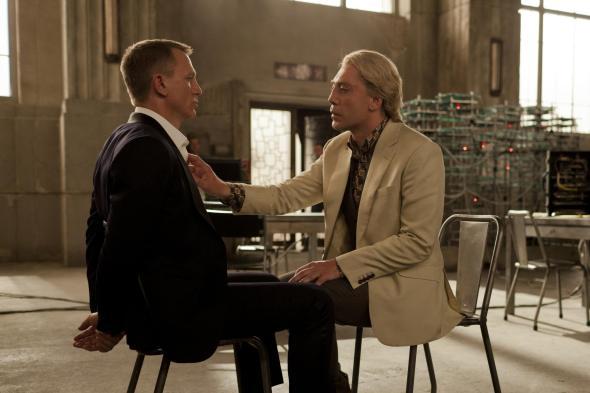 Silva (Bardem) explores Bond's sexuality in a terrific scene charged with tension and wry humour.
But the biggest star other than Craig is his starring opposite Javier Bardem. The Academy Award winner plays Raoul Silva, the film's main antagonist with a spooky charm, and is quite simply the best villain the Bond series has seen. Half-persuasive and half-lunatic, Silva has a dark history and is not the typical one-dimensional villain bent on world domination. He has a personal vendetta against M, yet his carefully conceived plan is never fully revealed, allowing him to always stay one step ahead of Bond and keep the audience guessing.
Bardem brings an element of twisted humour to contrast Craig's coolness, and is in many ways similar to the late Heath Ledger's portrayal of the Joker character in The Dark Knight. In fact in an interview with The Playlist, director Mendes mentioned that Skyfall drew many influences from the Batman film and it shows in the film's visibly much darker tone, especially when Bond's past is visited. Bond now belongs to the league of extraordinary orphans, alongside Bruce Wayne, Peter Parker and Clark Kent.
Ben Whishaw brings a fresh face and geeky drag as the iconic gadget master Q, who was missing in the previous three Bond films and has now evolved to a younger computer genius who is also Bond's one chance at defeating the cyberterrorist Silva. The meeting between Q and Bond at an art gallery contains some cheeky references to older Bond films and the smart banter is enjoyable to watch.
Ralph Fiennes also contributes to the stellar supporting cast as Chairman of the National Intelligence Council Gareth Mallory, a largely ambiguous character whose true intentions are unknown until the end as he exudes a sense of authority while keeping a close eye on M and Bond.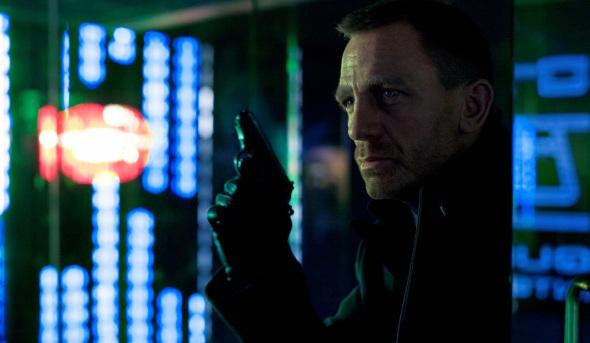 Shadows and dark places are Bond's best friends
Skyfall's story may be grim, but cinematographer Roger Deakins ensures that it is delivered in the prettiest fashion and a few notches above the series's norm. The colourful neon lights of Shanghai provide a spectacular backdrop for a nighttime assassination, while the final confrontation between Bond and Silva in Scotland is a deadly game of cat and mouse played in shadows and silhouettes – a throwback to the film's theme of fighting terrorists in a shadowy world. Reflections, colours and wide-angle shots are a staple in Skyfall, and no other Bond film comes close to this level of stylish presentation.
The Bond franchise may be 50 years old now, but Sam Mendes has shown that it is still possible to teach an old dog new tricks. Skyfall continues the modern evolution of the series, injecting intelligence in the plot while keeping the film just as fun as it is cool. With masterful directing and cinematography, Skyfall is nearly flawless and is quite simply the best Bond movie yet. Here's a happy 50th birthday to you, Mr Bond.