A few years ago, I holed myself up in my dorm room because I was reading the Hunger Games trilogy. I could not be bothered with things such as "class," or "homework," or "food and sleep." I read them quickly and was extremely glad that I could finally take part in the celebration of another great series!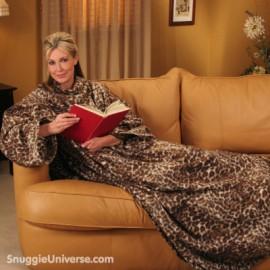 Real* photograph of me (circa 2011) reading The Hunger Games Trilogy. I was so comfortable and fancy back then.
Soon after, the first Lionsgate film "The Hunger Games" was released in theaters and my friends and I made sure to be at the midnight premiere.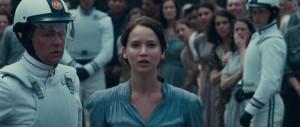 I cry in this scene.
Last Friday, the final installment of the movie series Hunger Games: Mockingjay Part II, which is destined to be a top grossing film this year, was released! I was able to see a showing of the film on the night it came out and in my opinion it was a fabulous ending to a great series. I knew how the books ended, of course, but since I read them a few years ago I was able to be "re-surprised" about a few things when I saw this final film. To the best of my remembering, the movie hit all the major plot points of the book and did a great job of bringing each one to the screen.
[Beware! Spoilers Below!]
My favorite part of this movie was the journey that Katniss and her team made through the Capitol city. This segment of the film, while definitely the most anxiety-provoking, was also very sweet. This was the first time that we really were able to see Katniss and Peeta reunited after a bit of healing from his hijacking. Although their new partnership had a very rocky start, it soon became very apparent that as they traveled through the city in order to take back what Snow stole from them, the relationship between Katniss and Peeta was already being healed. I do not remotely remember this happening in the books. Perhaps I was much more concerned with the dangers in the city, so I am really glad that the movie was able to provide me with a new way to look at this part of the story.
My least favorite part of the movie was probably the ending scene. Somehow, I feel uncomfortable when I watch two characters that I have been rooting for finally get happiness. I do not know what to do with myself, because my only relationship with these characters has been me shouting internally, "Win! Don't die! Win!" Suddenly, my internal cheering seems out of place when I see them happily sitting in a field thinking about how good life finally is. However, I am glad it was there. I actually probably would have been more sad if it wasn't there since I was expecting it so much. All in all, it was a good way (maybe the only way) to end this series–even if it was strange for me to watch!
In the end, I give the movie 4 out of 5 stars! I really enjoyed it. Now I just have to look forward to a new book series to movie series event!
Images Retrieved from:
http://tickets.thehungergames.movie/
http://www.snuggieuniverse.com/
http://www.hark.com/collections/kjqtklwbjm-the-hunger-games