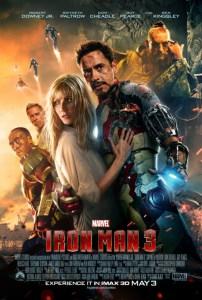 It feels like Iron Man 3 really snuck up on us, the advertising campaign (at least from my point of view) didn't feel as grand or as big as the previous Marvel films. But I am kind of glad, because this came as a wonderful surprise, it certainly is the biggest and most ambitious of the three. Seeing Iron Man (and now the films in Marvel's loop) have become a tradition with my mum, the previous two films came out here around Mother's Day and that was my treat for her. With this coming out a few weeks early to Mother's Day, we celebrated early. Mum declared this as "the best Iron Man yet!" and seeing the joy she had while experiencing this film was worth the price of admission. I kind of agree with her, I think that certainly rivals the first and despite having some new creative people on board, it didn't miss a step.
The story here takes place after the events of The Avengers, and Tony Stark (played once again by the man who owns the role Robert Downey Jr) is feeling the affects of having saved the world from aliens. He can't sleep, he has nightmares, so he tinkers around in his house and works on his Iron Man suits. Meanwhile his lovely lady Pepper Potts (Gwyenth Paltrow in possibly her best role) is running Stark Industries, with Happy (Jon Favreau) at her side. She gets a visit from an old friend Aldrich Killian (Guy Pearce) who wants to work with Stark Industries. Col. Rhodes (Don Cheadle) has become the Iron Patriot, and works with the President's security, who are under attack from a terrorist called The Mandarin (Ben Kingsley). Tony feels the need to get involved, and well you can watch the film and find out what happens.
The film does have a lot going on, but it fits everything in well and it all flows rather nicely. Our characters have certainly evolved, and it shows. The writing for Tony is fabulous, we really see the side effects of being a superhero and the toll it plays on his mental health. He is a man suffering, and it starts to affect Pepper and their relationship. Pepper also has come along way, it really shows and she is a much stronger character after all she has been through. Her progression is natural, and again the writing is excellent for her. It is great to see that Favreau has returned on the screen, and even though he has always been a side character, we see his evolution as well. Col. Rhodes may not have featured as much, but when he is on his progression as a character is really well handled. The collection of new characters are nicely handled as well, they fit into the story and it really does come together. The script blends everything perfectly, we have the humor we expect from Iron Man and the action is as grand as it has ever been.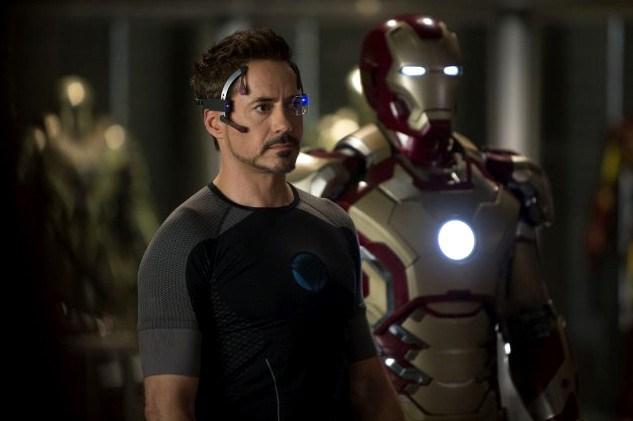 The cast is excellent, there is simply nothing to fault here at all. Robert Downey Jr is Tony Stark, no one else could play the role the way he does. It is his fourth outing, and he is right at home in the role. The man really conveys Tony's mental health issues well, yet he still is that man we love. The chemistry he shares with his co-stars is as strong as ever, whether it be with Paltrow or Cheadle. Dare I say this may be his best outing as Tony? Gwyenth Paltrow has always made an excellent Pepper Potts, and she absolutely shines here. I do believe this is her best role, and Pepper certainly has come full circle. The role is much more physical for her, and she handles it with some true bad ass attitude. The chemistry between Pepper and Tony is as strong as it has ever been, between the script and the actors natural talents, they light up the screen. Don Cheadle owns as Rhodes, I am actually glad they cast him in the role because he works a lot better than Terrance Howard (no offense to him) and he has made the role his own.
Our new additions are great, Guy Pearce is just amazing, he shows up and really commands his role, a stroke of casting genius. Also a stroke of casting genius is Ben Kingsley has The Mandarin, seriously this is the best the man has been in recent years (at least in bigger films) and he steals the scenes he has. Rebecca Hall is under used, but it's nice to see her here. James Badge Dale (a surprise as I didn't know he was in the film) was great, he looked like he was having an absolute blast here and I loved him. William Sadler made for a fine President, and I did like that casting. Ty Simpkins (you may remember him from Insidious) was a big surprise, his character shows up and he really does win us all over. The kid is a great actor, he avoids falling into the annoying trap and he worked toe to toe with Downey.
I was really happy when I heard Shane Black was taking over as director, and I wasn't let down at all. As I mentioned his script with Drew Pearce is excellent, they had a great understanding of the characters and they knew exactly what sort of story they wanted to tell. Shane Black himself does shine through, his flavor certainly isn't lost here and the film is all the better for it. It is a wonderful ride, one that has some twists and turns along the way and it felt so fresh. Iron Man has lost none of his appeal, and I can't imagine fans of the series will be disappointed. The action is epic, visually everything is quite stunning to look at. I honestly can't recommend this enough, go see it!
Rating: