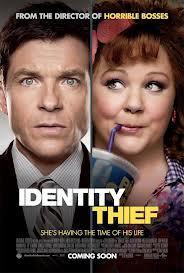 STARRING: Jason Bateman, Melissa McCarthy, Amanda Peet, Robert Patrick, Eric Stonestreet, Morris Chestnut, Jon Faverau, TI, Genesis Rodriguez, John Cho, Jonathan Banks, Ben Falcone.
WRITTEN BY: Craig Mazin
DIRECTED BY: Seth Gordon
Melissa McCarthy is a pretty big deal now. That has to be the reason why a rather so-so comedy ended up with 124 million domestically at the box office. It couldn't be that this was a breakout hit that audiences loved, because this film has a 5.6 on IMDB, which is below the average 6-7 that you usually see for 'OK' movies. This film was fueled purely on what I'm calling McCarthy mania. Hopefully, she can steer clear from films like this in the future, and choose funnier films.
Sandy Patterson (Jason Bateman) works in accounts at a big firm. There's a beginning part to the story where his douchy boss (Jon Faverau) issues bonuses to the partners in his firm, but not the employees (because the economy has been hard). Of course, the bonuses going to the partners are six and seven figures, so Sandy and some other co-workers leave and start their own firm. After this happens, he finds out his identity has been stolen by Diana (Melissa McCarthy), a woman who makes a life out of stealing other peoples identities and spending their money. Sandy now has a problem, because he's in deep debt, and his new job can't keep someone with that much debt in charge of their money. So Sandy devises a plan to go get Diana and bring her back to clear his name.
The second half of the movie is a road trip comedy, pretty standard, with things happening along the way to slow down their journey. On top of natural disasters, there's a bounty hunter (Robert Patrick) who is trying to bring Diana back because she skipped court, and two drug dealers (Genesis Rodriguez and TI) who are hunting her down because she sold them bad credit cards. Those characters are added just to have a little danger in the situation, because there's only just so many times they can have a car breakdown. In fact, they go through three different cars in this film, pretty high by any road trip comedy standards.
First of all, the people in this film are unforgivably stupid. Even Sandy, who gives his information to Diana over the phone after she claims to be with his credit company. Diana's really the only smart character in the film. Morris Chestnut's police officer is one of the dumbest cops I've ever seen written on screen. In the scene where Sandy is trying to explain that he's never been to Florida, and brings up the idea that there are purchases being made that day in Florida, while he's in Denver, Chestnut's cop doesn't connect any dots. It takes him a while, and then later, he still decides to search Sandy's place of employment for drugs because his ex-boss claimed he was a drug dealer.
Throughout the film, Diana dupes everyone with ridiculous stories, and you'll find yourself wondering if people out there really are that stupid. I felt the same way while watching Compliance, but I was at least reminded through that film that it was based on a true story. This film just hopes that you can suspend disbelief and go for the ride. But the ride isn't that funny. The film hinges entirely on McCarthy, who takes a poorly written character and makes the best out of her, fleshing her out and actually making her into the most likable character in the film. Bateman's Sandy is whiny, dismissive, and has rather terrible survival instincts. He watches McCarthy be abducted by one of the aforementioned goons, and then proceeds to try and have a conversation with him about it while speeding down the road. He's an idiot, the film is absurd, and it's beneath McCarthy.
However, you'll learn to appreciate McCarthy more, because of the arc of her character. Every scene she's in, she controls. She has moments that will break your heart, and moments that will make you hope she'll somehow come out alright, even though she starts out as a deplorable character. It's easy to credit the writer for this, but if McCarthy was a lesser actress, it wouldn't matter. She's the big deal here. A lot of people recognize McCarthy as a funny woman now, but she spent years on Gilmore Girls honing her dramatic chops, and she finally gets to use them a little bit here. When someone decides to finally challenge her as a dramatic actress down the line, like they have with Jonah Hill, she'll absolutely knock everyone dead.  The only other performance worth mentioning is Eric Stonestreet as a guy that they meet in a bar. He's really great in this part, and it is a complete departure from what he does in Modern Family.
As far as Identity Thief goes, McCarthy's career is rather new in terms of being an A-lister, and I think this will fade away with time. In ten years, this will just be "that one movie" she did "a while back". As far as Bateman goes, he's done much funnier work. He needs to break out of this type of character though, and go into more of what he played in Juno. I'm tired of seeing him play unlikable duds who just don't know how to have fun. Jason Bateman seems like he'd be a lot more fun, and someone should let him try.
FINAL GRADE: C+